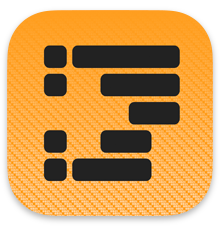 OmniOutliner for Mac 5.0.2
April 10, 2017
Requires OS X 10.11
Recent Changes
Version 5.0.2 - Monday, April 10, 2017
Interface — There are more ways to set the outline column to auto-size with the window. This option is now available in the contextual menu for the outline column and under View > Columns.
General — Fixed issues with unlocking the Pro Edition while the trial was in Essentials mode. This will fix the issue with only the Essentials templates appearing in the Resource Browser and documents temporarily showing the warning about Pro features at launch.
Copy/Paste — Pasting data from Excel no longer results in a PDF.
Copy/Paste — Pasting data from Numbers will retain the column structure.
Outline View — Text no longer starts to blur at wide widths when editing a row.
Toolbar — Fixed the vertical alignment of toolbar buttons in small size mode.
Interface — Stopped the outline view and word count from shifting unnecessarily while toggling the sidebars.
Interface — Resizing the sidebar in overlay mode while in full screen will keep the outline view positioned correctly.
Outline View — Column titles will always display their background color.
Attachments — Duplicate attachment names will be renamed in a more friendly manner.
Copy/Paste — Attachments can be pasted directly into row or notes instead of resulting in a file path.
File Upgrading — Converting .oo3 or .oo3template files will result in the flat format to avoid unexpected size increase due to being uncompressed.
File Upgrading — Converting an .oo3 file that is set to a dark theme will have the filter tab in the sidebar immediately after conversion.
Resource Browser — The Templates section of the Resource Browser will show the subfolders when the app is launched for the first time.
Stability — Fixed a crash when trying to edit a filter that ended up set to a setting not supported by the column type.
Stability — Fixed a crash when trying to edit a filter that has been set to filter for a pop-up list entry that no longer exists. The filter will still be set to the missing entry and will continue to work if that entry is re-added to the column. After changing the filter away from the entry, it will no longer appear.
Stability — Fixed a crash when tabbing out of the column width field after clearing the value.
Stability — Fixed a crash triggered by changing the column type while the pop-up list is open for that column in the outline.