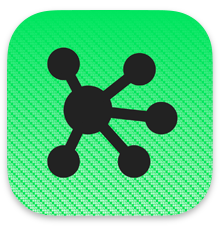 OmniGraffle for Mac 7.15
April 2, 2020
Requires macOS 10.14
Version 7.15
OmniGraffle 7.15 is focused on improving compatibility with Visio.
Visio Export — Added support for top/bottom text margins.
Visio Export — PANOSE data is exported when available. This helps decide what font is used for substiution when necessary.
Visio Import — Added RelQuadBezTo support for .vssx files which improves Visio stencil compatibility.
Visio Import — Fixed cases of text objects not being created large enough to fit the text.
Visio Import — Documents previously triggering the Incorrect Block error are able to be imported.
Visio Import — Unexpected characters in unsupported attributes were causing some files to fail to import. Those attributes are now ignored.
Visio Import — Fixed a bug causing some EMF images in vsdx files to have components flying off into space.
Visio Import — When a Visio file type is associated with an UTI OmniGraffle doesn't expect, check the file extension instead to determine if the file can be imported. This should fix compatibility problems when other applications are installed that use Visio file types.
Visio Import — Text placed inside groups is imported.
Visio Import — Fixed a crash when importing .vss files containing EMF images.
Visio Export — Fixed multiple bugs with exporting images. Images are now exported to PNG format unless already in BMP, WMF, or EMF. This results in significantly smaller file sizes than previously.
Visio Export — Corrected export of text alignment and offsets values.
Visio Export — Override Visio's auto-routing in the exported file so that lines retain their path set in OmniGraffle. This will cause some files to appear with connection lines on top of objects. Adjusting any object should fix that.
Visio Export — Objects are positioned on the canvas when the canvas is using a non-zero origin in OmniGraffle.
Visio Export — Line labels are exported as line labels instead of separate text objects.
Images — PDFs that are cropped and rotated will scale consistently.
SVG — Imported SVG graphics always automatically appear without further action.
Drag and Drop — Dropping an image onto an existing object will add that image to the object instead of creating a new shape.
Stability — Added safeguards to deal with corrupted images.
Stability — Fixed a crash with activating a site license.