We've been talking about OmniOutliner 5 since last November, and I'm pleased to announce that the day has finally arrived: OmniOutliner 5 is shipping!
When an app has been in open development for months, it's easy to wonder what there is to say about it that hasn't already been said—in our original announcement of the public test, or our annual roadmap update, or in our introduction of OmniOutliner Essentials.
Well, perhaps nothing… but perhaps it's all worth saying again in one place!
OmniOutliner now comes in two editions: Pro and Essentials. The Pro edition has all the power that we've always brought to OmniOutliner, with support for multiple columns, attachments, focus, automation, and so on—and for version 5 we've added even more, with advanced filtering, word count, typewriter mode, customizable keyboard shortcuts, and so on. (See the release notes for details!)
For the new Essentials edition, our goal was to introduce the joys and benefits of outlining to a much broader audience than our core Pro customers. Our focus for this edition was on making OmniOutliner much simpler, and much more affordable.
As I said in the blog post which introduced Essentials in February:
With that background, I'd like to introduce you to OmniOutliner Essentials: a svelte, focused, and extremely affordable outlining app. In OmniOutliner's new Essentials edition, your entire focus is on your own content: there are no distracting sidebars or panels. You can choose to work in a window or in a distraction-free full-screen mode, selecting from a set of beautiful built-in themes. As you write, you'll be able to see some key statistics about your content so you can track progress towards your goals. But our goal is to help you focus on your content and whatever task you're working on—not on the tool you're using.
[Update 27 August 2019: The below prices were current when this article was published in April 2017. The prices have changed since then. Visit the Omni Store for current pricing.]
With the Essentials edition, we've lowered OmniOutliner's entry price from $49.99 to an extremely affordable $9.99. And since we want our upgrade price from Essentials to Pro to be $49.99, the new list price for Pro has been lowered to $59.99: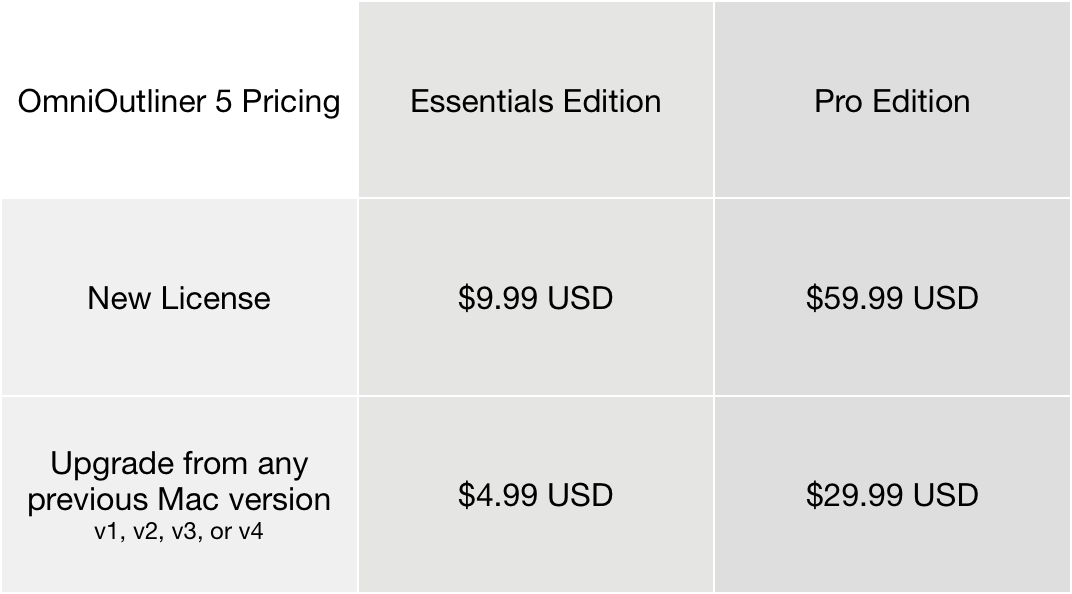 As I said before, anyone who upgrades from any previous version of OmniOutliner (even those free copies Apple bundled with all those Macs a decade ago) is eligible for a 50% discount—so you can upgrade to the new Essentials edition for $4.99, or to the new Pro edition for just $29.99. And anyone who purchased OmniOutliner Standard within the last few months will get a free upgrade to OmniOutliner 5 Pro. (If you purchased directly from us, please check your email!)
Thank you all for your support through the years. And welcome to OmniOutliner 5!