Since January, I've been blogging and tweeting about free updates to our iPad apps to make them into Universal apps that worked on both iPad and iPhone. In March, we shipped OmniGraffle for iOS, OmniPlan for iOS, and OmniOutliner for iOS. Today (April 2, 2015), we're releasing the last of those universal updates: OmniFocus 2.1 for iOS!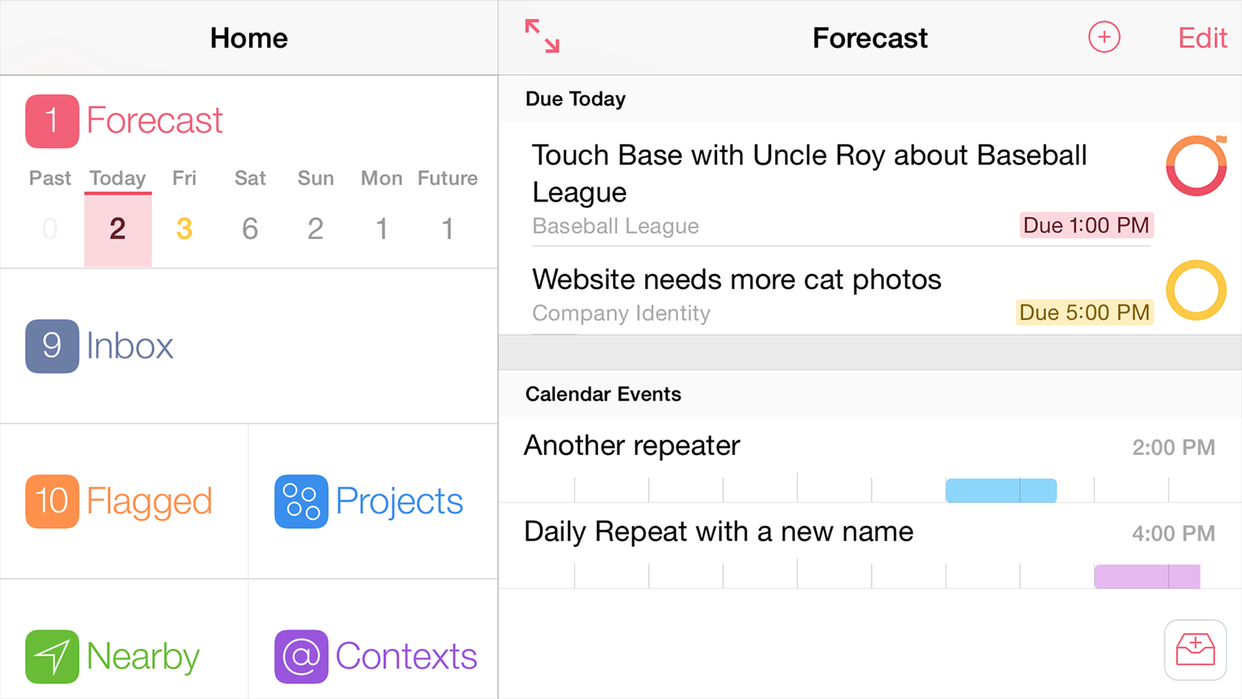 OmniFocus for iPhone was our first iOS (or rather, iPhone OS) app back in 2008. With OmniFocus for iPad in 2010, we added features like Forecast and a dedicated Review mode to take full advantage of the form factor. Both apps have seen major updates since then, and most of their features have spread across the OmniFocus family, but now that Apple has blurred the line between tablet and phone devices with the iPhone 6 Plus it seems like the right time to combine the iPhone and iPad feature sets.
That means that as of today's release, you can do the following things on an iPhone:
Use OmniFocus in Landscape mode with a Sidebar (iPhone 6 Plus)
Use the Review perspective
Create Perspectives (Pro)
View perspectives with Project hierarchy (Pro)
This release isn't just about bringing iPad features to iPhone—we've also added a couple of items to both iPad and iPhone that were pretty popular with our TestFlight testers (thanks folks!):
Show a custom perspective in the Today extension (Pro)
Completely customize your home screen and place perspective tiles in any order using drag and drop (Pro).
OmniFocus Universal contains a lot of smaller improvements and bug fixes, too.
To try to make the differences between the new Universal app and the existing iPhone app as clear as possible, we've created a little table listing supported devices and features: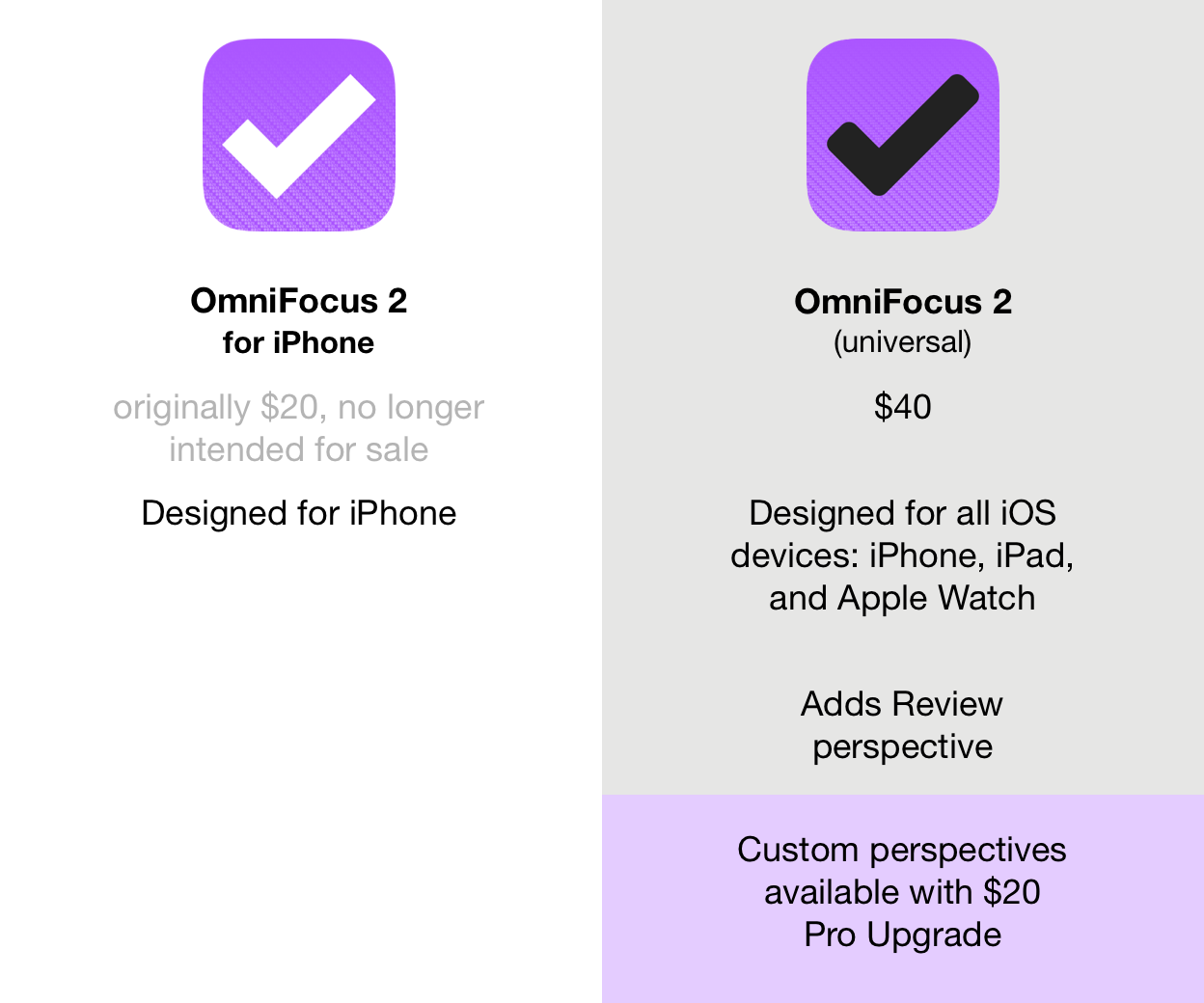 For customers who already own OmniFocus, we've tried very hard to preserve your existing investment:
If you already own OmniFocus 2 for iPad, you're getting the Universal version as a free update today. If you've already purchased Pro, that carries over too. (If you don't see it right away, try restoring your purchases.)
If you've been using OmniFocus 2 on your iPhone and would like to start using it on your iPad as well, you can buy the OmniFocus Universal Bundle using Complete My Bundle to preserve the money you invested in the iPhone app.
If you own OmniFocus 1 for iPhone or iPad, you can get the Pro In-App Purchase for free.
And, for those of you who already own OmniFocus 2 for both iPhone and iPad:
Customers who bought both OmniFocus 2 for iPhone and OmniFocus 2 for iPad prior to this update are also eligible for a $10 rebate through May 15, 2015, reducing their cost ($20 + $30) to the current price of the Universal app ($40).
Also, please note that this isn't a forced upgrade! If you're not sure you need to move from OmniFocus for iPhone yet, that's just fine: starting with version 2.5, we'll be updating the iPhone app in lockstep with the universal app so that they both get improvements at the same time. (Version 2.5 will bring the universal app's landscape support to the iPhone.)
I encourage you all to check out the new OmniFocus page on our site, to watch the app preview video in the App Store or on Vimeo, and to read our free user manual. If you have any questions, please don't hesitate to contact our support or sales teams—and you can always find me on Twitter as @kcase.
Enjoy!