In January, I announced that we would be providing free updates to our iPad apps to make them into universal iOS apps, designed to feel at home on both iPad and iPhone. The first of these universal apps is now available!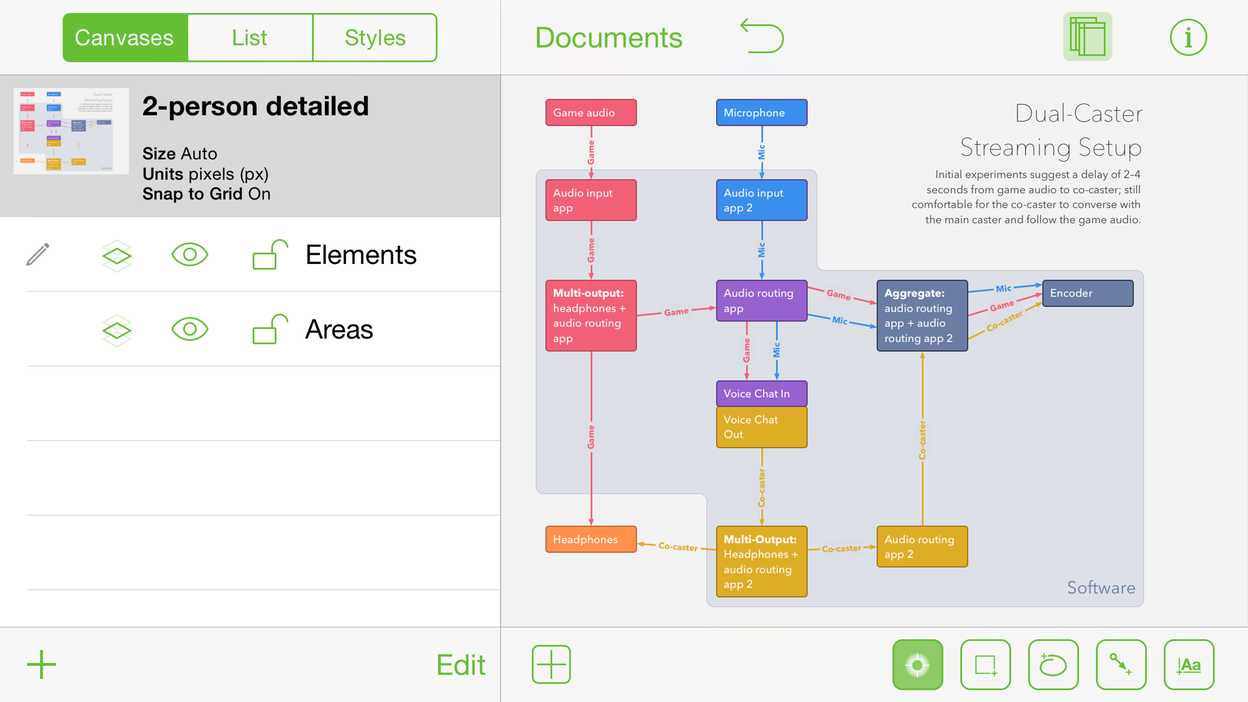 OmniGraffle 2.1 shipped on March 5, 2015, and is available on any device which runs iOS 8.1 or later. To meet the needs of our worldwide customers, it's now available not only in English, but also in Dutch, French, German, Italian, Japanese, Russian, Simplified Chinese, and Spanish. This free update also adds support for the new Fill Effects and Filters which we recently introduced in OmniGraffle 6.1 for Mac, and fixes a number of bugs and other issues.
To get OmniGraffle for iOS, please visit the App Store. You can learn more about OmniGraffle by browsing our website, or by downloading our free, comprehensive user manual. You can also watch 30-second preview videos of OmniGraffle running on different iOS devices over on our vimeo page.
For those who have already been using OmniGraffle on iPad, here are some highlights from the release notes:
Fill Effects (Pro) — Fill Blend and Filter effects are now available, making it possible to blur, pixelate, and magnify content behind a shape. (These effects are also available in OmniGraffle Pro for Mac, starting with v6.1.)
Editing Points — We've added a mode for editing the points of the current shape which you can access by selecting a shape or line, then tapping the new double-bordered diamond icon in the bottom toolbar. This mode makes it much easier to drag existing points, add points, and remove points.
Updated Layout — The layout of the interface has been adapted to work on smaller iPhone and iPod touch screens as well as larger iPad screens. As a result, some controls have moved to new homes and some adapt themselves depending on your screen size and orientation. We hope we've done this in a way that makes the app even easier to use efficiently, but if you have any comments about any of the changes please don't hesitate to email us!
OmniGraffle for iOS has been very well received so far, and we're incredibly honored to have been featured by the App Store as one of the iPhone's best new apps (both on the home screen and in the Productivity section):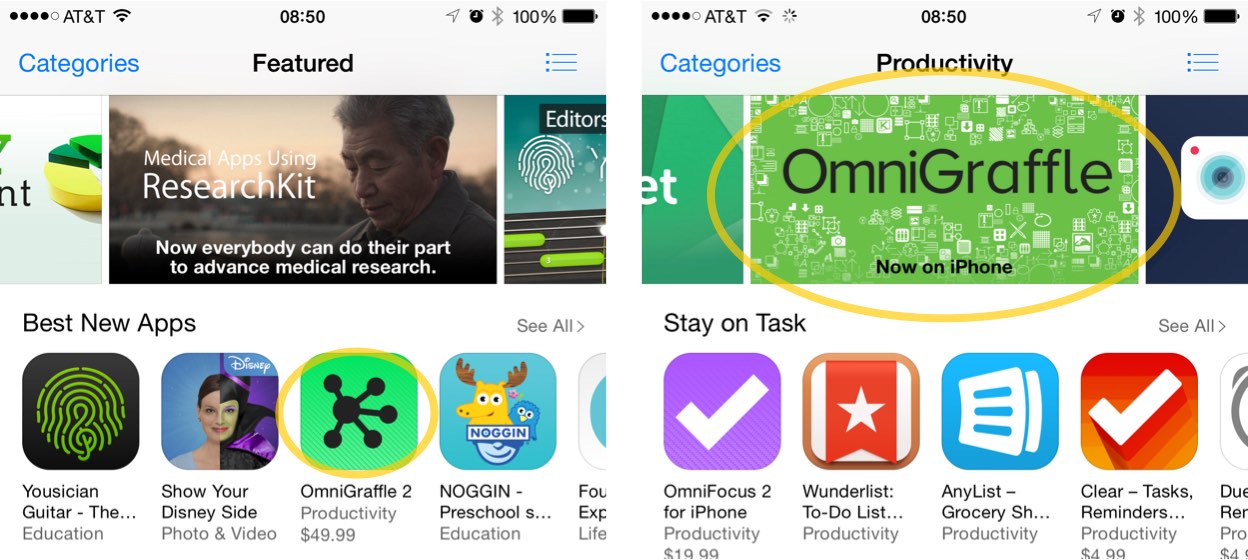 This is the first major iOS app we've shipped since TestFlight launched, and it was really great to be able to test this app with hundreds of customers. This let us smooth out the rough edges before we shipped, rather than having to scramble to fix issues afterwards. Our thanks to Apple for TestFlight, and our thanks to all of you who volunteered to help test our apps!
That's one universal app down, three to go. Next up: OmniPlan!