In January, I announced that we would be providing free updates to our iPad apps to make them into universal iOS apps, designed to feel at home on both iPad and iPhone. We shipped the first of these universal apps two weeks ago, and last week we shipped the second!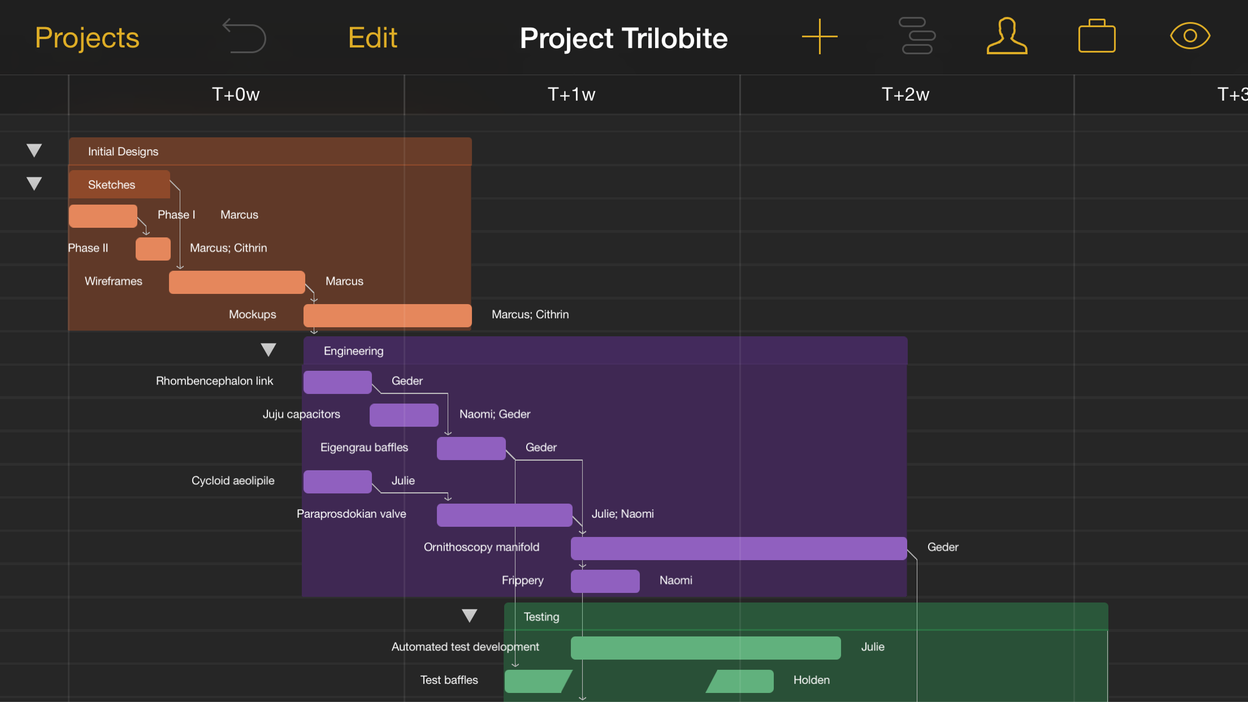 OmniPlan 2.1 shipped on March 12, 2015, and is now a universal app which runs on iPhone, iPad, and iPod touch devices! With the Pro upgrade, OmniPlan can now import Microsoft Project (.mpp) documents created by Microsoft Project 2013 (in addition to 2003, 2007, and 2010)–and for the first time on iOS, OmniPlan Pro can also export documents to Microsoft Project (2013 only).
To get OmniPlan for iOS, please visit the App Store. You can learn more about OmniPlan by browsing our website, or by downloading our free, comprehensive user manual. You can also watch 30-second preview videos of OmniPlan running on different iOS devices over on our vimeo page.
For those who have already been using OmniPlan on iPad, here are some highlights from the release notes:
MS Project 2013 Compatibility (Pro) — The In-App Purchase feature for MS Project Support (OmniPlan Pro) has been updated with import and export support for MS Project 2013 (.mpp) files.
Touch Gesture Granularity — Dragging a task bar's duration will now move in more sane and manageable increments, based on the gantt chart's current time scale.
Gantt Chart Performance — Horizontal pinch-to-scale is much smoother now.
Updated Layout — The layout of the interface has been adapted to work on smaller iPhone and iPod touch screens as well as larger iPad screens. As a result, some controls have moved to new homes and some adapt themselves depending on your screen size and orientation. We hope we've done this in a way that makes the app even easier to use efficiently, but if you have any comments about any of the changes please don't hesitate to email us!
OmniPlan is having a great first week on the iPhone, and we're incredibly honored to be currently featured on the App Store as one of the iPhone's best new apps (both on the home screen and in the Business section):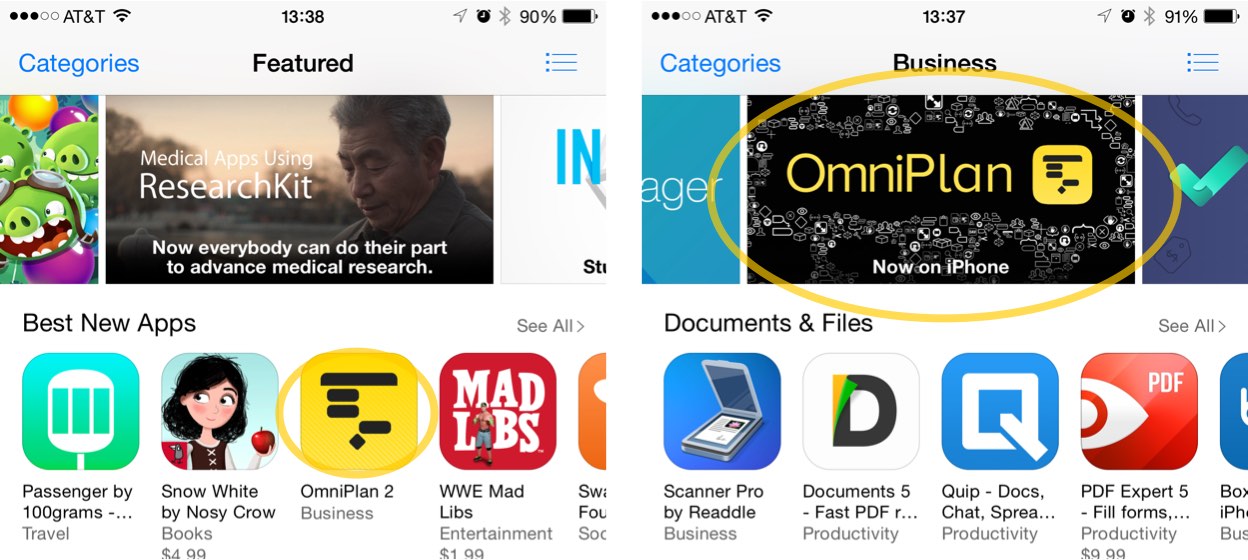 As I mentioned in my earlier blog post about OmniGraffle for iOS, we're really appreciating being able to test our apps with hundreds of customers now that TestFlight is available! Thanks to everyone who volunteered to help test our apps!
That's two universal apps down, two to go. Tomorrow's release: OmniOutliner!