In January, I announced that we would be providing free updates to our iPad apps to make them into universal iOS apps, designed to feel at home on both iPad and iPhone. We shipped OmniGraffle for iOS two weeks ago,OmniPlan for iOS last week, and this week we're shipping the third!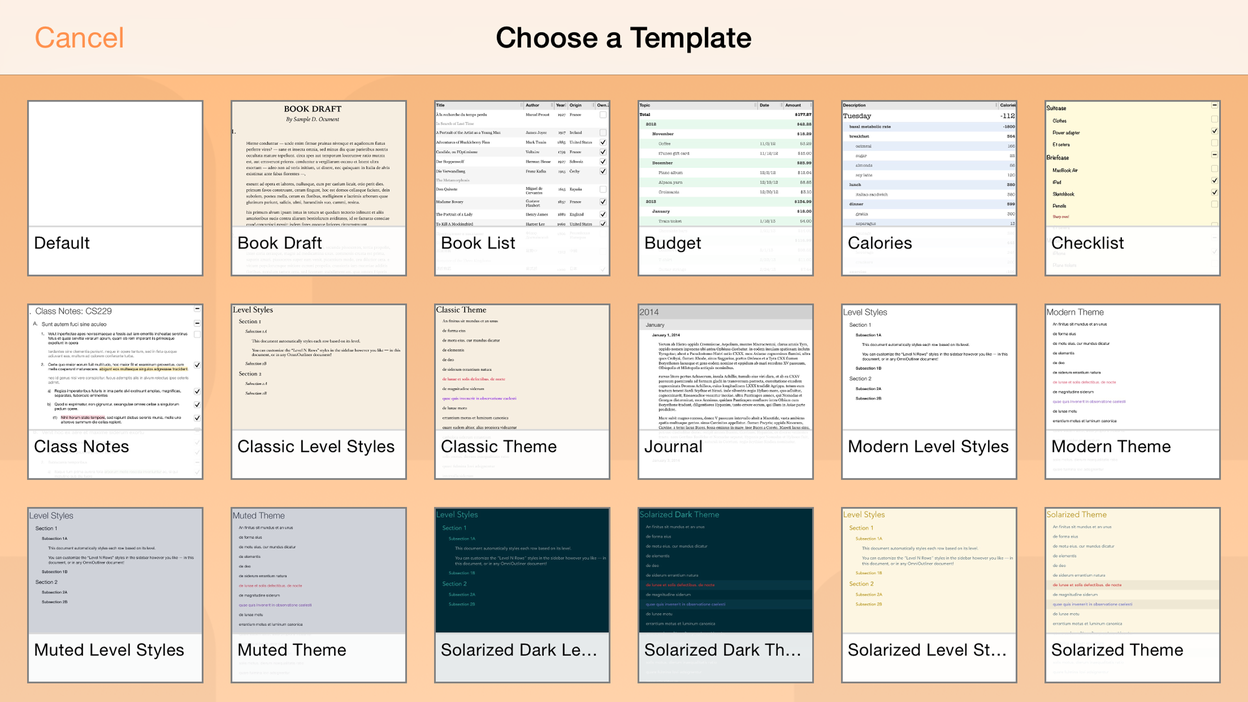 OmniOutliner 2.3 ships today (March 19, 2015) and is a universal app for iPhone, iPad, and iPod touch! We've worked hard to bring OmniOutliner's design and features to all of your devices running iOS 8.1 or later.
To get OmniOutliner for iOS, please visit the App Store. You can learn more about OmniOutliner by browsing our website, or by downloading our free, comprehensive user manual. You can also watch 30-second preview videos of OmniOutliner running on different iOS devices over on our vimeo page.
This particular app release has been long-anticipated: we've been wanting to bring OmniOutliner to iPhone for years. After all, our customers—you!—started requesting it the day the App Store opened in 2008, and when we shipped OmniOutliner for iPad in 2011 it sold 10,000 copies in the first three weeks! But for OmniOutliner to be really useful on an iPhone, we felt it was important to start by getting a solid syncing solution in place (which shipped in Q2, 2013). And then to modernize the iPad app for iOS 7 (Q3, 2013) and finally to ship OmniOutliner 4 for Mac (Q1, 2014). All of that work added up to a much longer delay than we wanted—but all of that work is now done, and we're very pleased to (finally!) be shipping OmniOutliner for all iOS devices.
I personally use OmniOutliner for so many different things that I struggled over what to use as the screenshot, so finally (as you can see) I settled on showing a sampling of all its built-in templates. But I'm sure OmniOutliner is new to some of you, so perhaps I should back up and answer a basic question: What is OmniOutliner?
OmniOutliner is a tool for writing structured text. OmniOutliner stands apart from many other editors with its rich outlining capabilities, flexible column types, and support for embedded attachments (images, sound, or any other reference material). Our customers use OmniOutliner to write screenplays, budgets, inventories, books, class notes, legal briefs and contracts, syllabuses, and speeches. (In pop culture, Veronica Mars even used it to track a suspect's browser history.) OmniOutliner is also flexible enough that many of our customers used it to manage their own task lists (with scripts like Kinkless GTD) before OmniFocus came along.
For those who have already been using OmniOutliner on iPad, here are a few highlights from the release notes:
Free Scrolling Outline — The outline view now freely scrolls, so the outline column can be scrolled off the screen.
Images — Image attachments will automatically scale down to fit the width of the column.
Updated Layout — The layout of the interface has been adapted to work on smaller iPhone and iPod touch screens as well as larger iPad screens. As a result, some controls have moved to new homes and some adapt themselves depending on your screen size and orientation. We hope we've done this in a way that makes the app even easier to use efficiently, but if you have any comments about any of the changes please don't hesitate to email us!
That's three universal apps down, one final app to go. Next up: OmniFocus for iOS!1
---
OmniFocus is already available on iPad and iPhone, of course—but we're building a free update to the iPad app which will make it into a universal app which runs on both iPad and iPhone. Current owners of the iPhone-only app who wish to upgrade to this universal app will receive a 50% discount. ↩︎