OmniFocus is flexible enough to be used however you want. Start with a workflow or system you know, like GTD®, or craft your own from the ground up.
Need another suggestion? Check out Inside OmniFocus.
Never lose a thing
With OmniFocus for iOS and Apple Watch around, you'll never miss out on a game-changing idea. Walk by a grocery store and your wrist will get a tap; pick up some milk and bread. There's no need for you to keep track of all that yourself. And OmniFocus has its own, bespoke, sync engine that uses web standards. Enjoy it with our free Sync Server, or use your own.
Quick Entry
The quickest way to add an action on each platform. Just a tap or keyboard shortcut away. You can even add actions using the system-wide share sheet or with 3rd party apps.
Location Awareness
With an iPhone or iPad that supports location notifications, use proximity alerts to know when you're near a grocery or hardware store.
Siri Capture
Hey Siri, can you please add check out the museum of history and industry to my OmniFocus list? Thanks.
Drag and Drop
Move text into and out of OmniFocus on your iPad—if the dragged item is in the right format, OmniFocus automatically brings in Flags or Start and Due Dates. You can even rearrange tasks by dragging them above, below, or inside other tasks or projects on iPhone and iPad.
Siri Integration
Speak directly to OmniFocus using Siri. Access your lists, create new tasks and projects, and more. You can even add reminders to tasks and mark them as complete!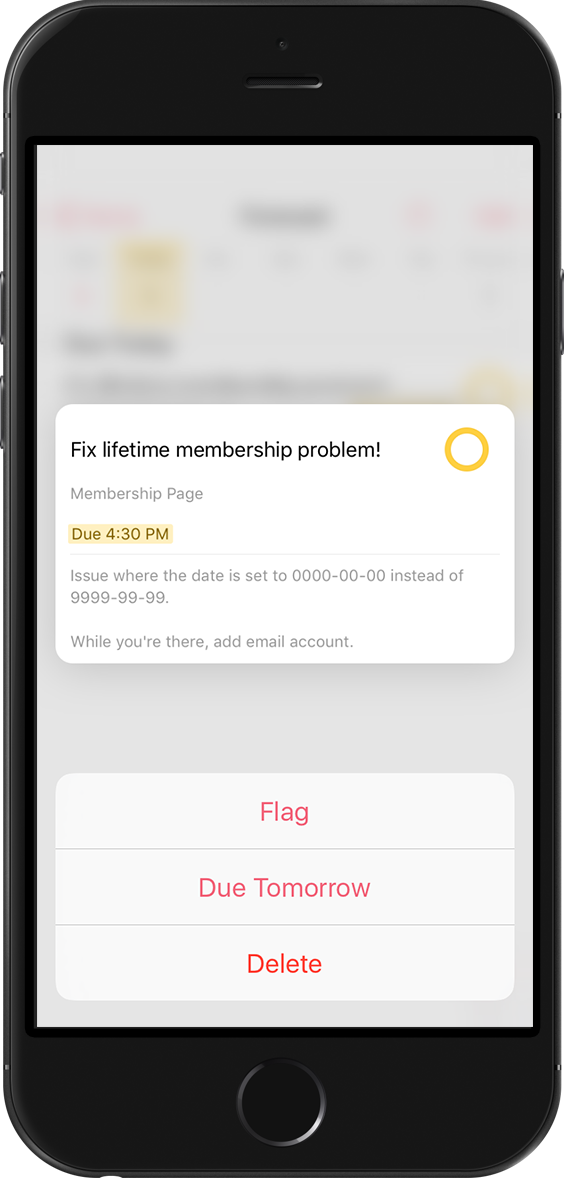 Peek
Get a quick look at the details of an action—just lightly press (not a tap!) an action, project, or context.
Pop
Press a little further to pop into the editor.
Swipe Up
Flag, Complete, Delete, or change the Due Date. When you're done, you're right where you need to be.
Quick Actions
Jump straight into a recently used perspective, or right to Quick Entry for a new Inbox item.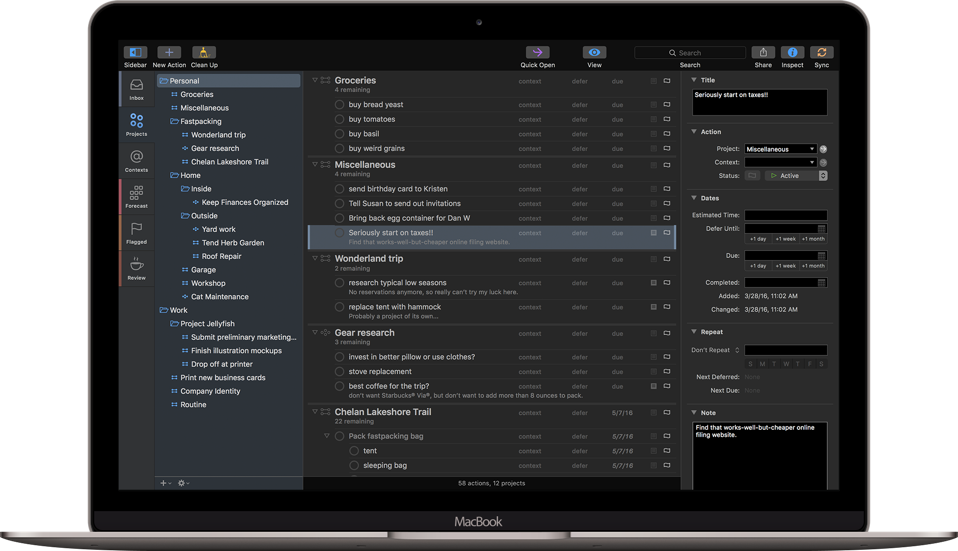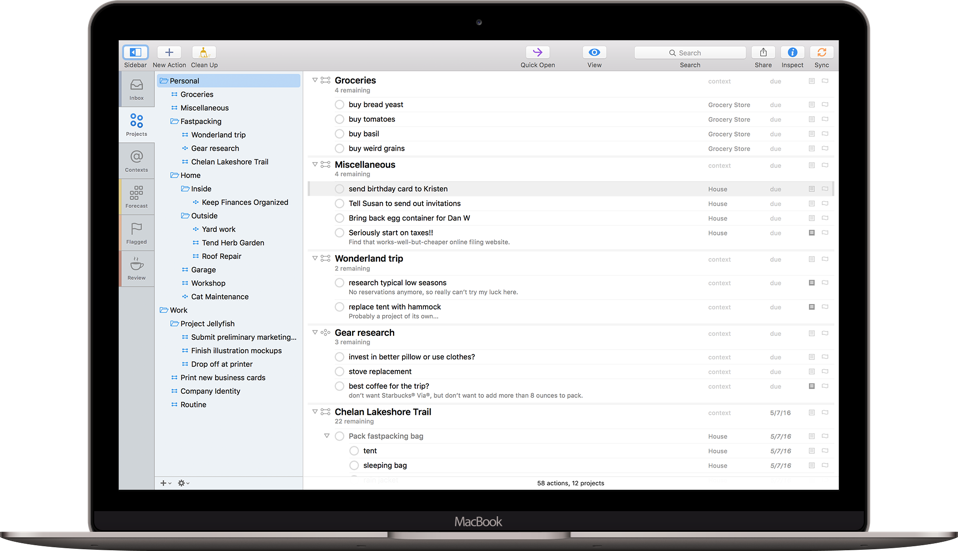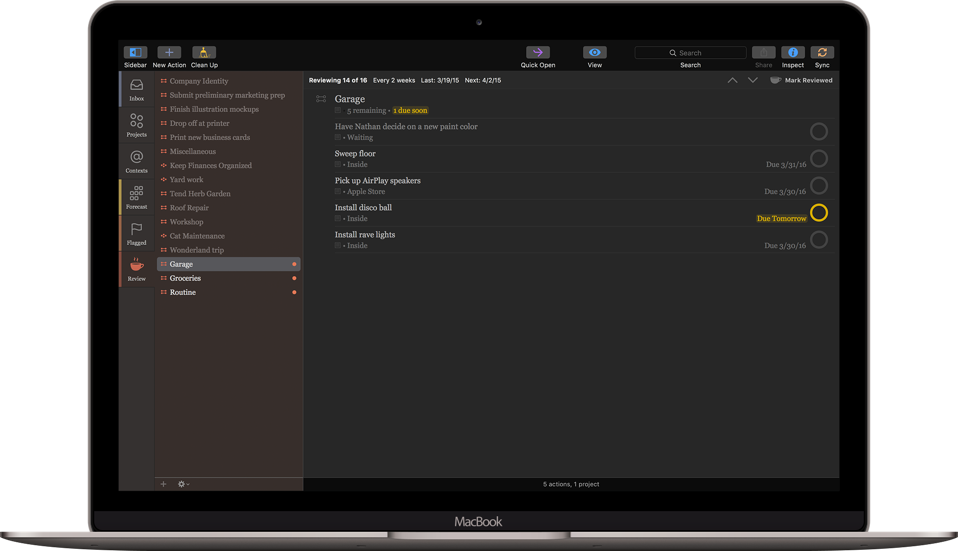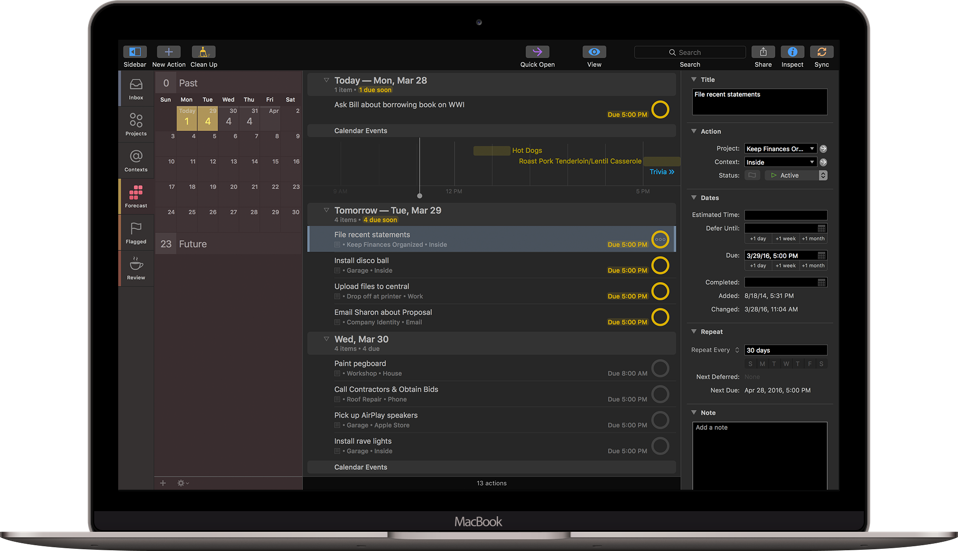 OmniFocus Light & Dark
OmniFocus for Mac includes two built-in Color Palettes: light and dark. Both are easy on the eyes and look fantastic in full screen.
Font Collections
We've selected and customized three fonts just for OmniFocus. San Francisco, Georgia, and our own variant of Proxima Nova.
What makes OmniFocus 2 so special is an extra emphasis on simplicity—anyone can get started. But extra power reveals itself when you need it. We've tucked a bunch of powerful things into the Professional upgrade, like focusing on projects or folders, scripting, and creating perspectives for your every whim.
Workflow Automation with AppleScript
But that's not all
Multitasking for iOS
On your iPad and iPhone, work faster and get more things done with Split View multitasking.
Hardware Keyboard Support
OmniFocus for iOS has serious keyboard support and shortcuts. Just hold the Command, Option, or Control keys down to bring up a list.
Encrypted Sync
OmniFocus's Sync architecture delivers changes from one device to another, while encryption working behind the scenes keeps your data secure in transit and at rest on the server. Really secure.
Spotlight
Search for your projects directly from Spotlight. For both iOS and macOS. (On iOS, you can search for actions, too.)
Complications
Dress up your Watch face with a friendly reminder about What's Next in OmniFocus.
Sharing
Send an action to a partner right from the toolbar. Or share directly to your OmniFocus Inbox from any app in macOS or iOS that support it.
Attachment Support
Record audio to transcribe later, add photos from your Camera Roll, or view files you've attached from your Mac.
Calendar Integration
At-a-glance context to your day. Work around your events in Forecast view.
Quick Open for macOS
Press Command-O on Mac to jump directly to a specific Project or Context.
Inside OmniFocus
Check out different workflows from a few OmniFocus users, tools or services that integrate well the suite, and explore systems like GTD®, or design one of your own design. All original, and all at Inside OmniFocus.
Buy OmniFocus
14-day trial included
Mac and iOS apps are sold separately. More info
Mac
iOS
Quick Entry

Attachment Support

Forecast

Custom Views

Calendar Integration

Encrypted Sync

Notifications & Alerts

Today Extension

Share Sheet

Data Export

Review Mode

Spotlight Search

Hardware Keyboard Shortcuts

Dark Palette

Siri Capture

Swipe to Flag

Location-based Alerts

Multitasking on iOS

Quick Actions

Drag and Drop in iOS 11

Custom Styles

Quick Open

Custom Columns

Custom Perspectives

PRO

PRO

Customizable Sidebar

PRO

PRO

Focus

PRO

AppleScript Support

PRO
After a 14 day trial, Standard and Pro features are unlocked with an In‑App Purchase.
Mac: macOS 10.12
iPad & iPhone: iOS 11, watchOS 4
Mac: v2.12.2
iPad & iPhone: v2.22.4
If your Mac doesn't meet the system requirements, you may have better luck with a previous version from the downloads archive.
Mac
:
Deutsch
,
English
,
Español
,
Français
,
日本語
,
Nederlands
,
Italiano
,
Русский
,
简体中文
,
Português do Brasil
,
한국어
iPad & iPhone
:
Deutsch
,
English
,
Español
,
Français
,
日本語
,
Nederlands
,
Italiano
,
Русский
,
简体中文
,
Português do Brasil
,
한국어