•
World-class phone and email support
•
OmniFocus is flexible enough to be used however you want. Start with a workflow or system you know, like GTD®, or craft your own from the ground up.
Need another suggestion? Check out Inside OmniFocus.
Never lose a thing
With OmniFocus for iOS and Apple Watch around, you'll never miss out on a game-changing idea. And? Walk by a grocery store and your wrist will get a tap; pick up some milk and bread. There's no need for you to keep track of all that yourself. And OmniFocus has its own, bespoke, sync engine that uses web standards. Enjoy it with our free Sync Server, or use your own.
Quick Entry
The quickest way to add an action on each platform. Just a tap or keyboard shortcut away. And with iOS 8, you can even add actions using the system-wide share sheet or with 3rd party apps.
Location Awareness
With an iPhone or iPad that supports location notifications, use proximity alerts to know when you're near a grocery or hardware store.
Siri Capture
Hey Siri, can you please add check out the museum of history and industry to my OmniFocus list? Thanks.
What makes OmniFocus 2 so special is the simplicity—anyone can get started. But extra power reveals itself when you need it. We've tucked a bunch of powerful things into the Professional upgrade, like focusing on projects or folders, scripting, and creating perspectives for your every whim.
Workflow Automation with AppleScript
Workflow Automation with AppleScript
Pair OmniFocus with its extensive AppleScript support for quick workflow additions like emailing out a project, creating a new project from a template, or integrating OmniFocus with another app.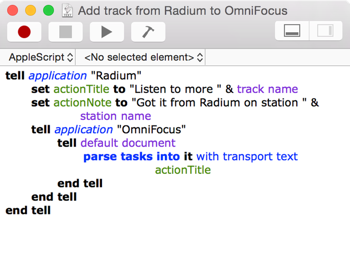 Focus
Blow everything else away to focus on just one thing—whether it's a project or a folder, you'll be able to concentrate on work instead of home, or Project X instead of Y. (Save it for later with a Custom Perspective, too!)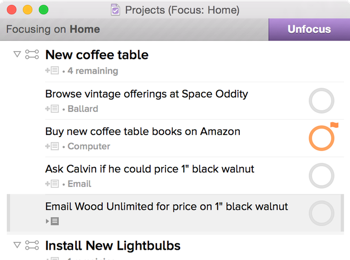 Custom Perspectives
On both iOS and OS X, create brand new views with custom sorting, filtering, and grouping. Slap on a custom icon for a quick visual and you've just added a new tool to your toolbox.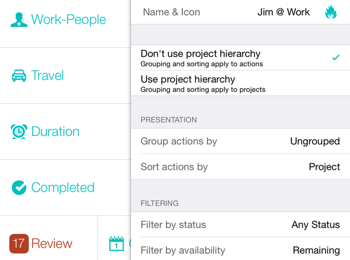 Custom Sidebars
No one's more in charge of your workflow than you. Put your top perspectives up where they belong to get at them quickly with a keyboard shortcut. Or, on OmniFocus for iOS, rearrange your Sidebar & Home Screen for super fast access.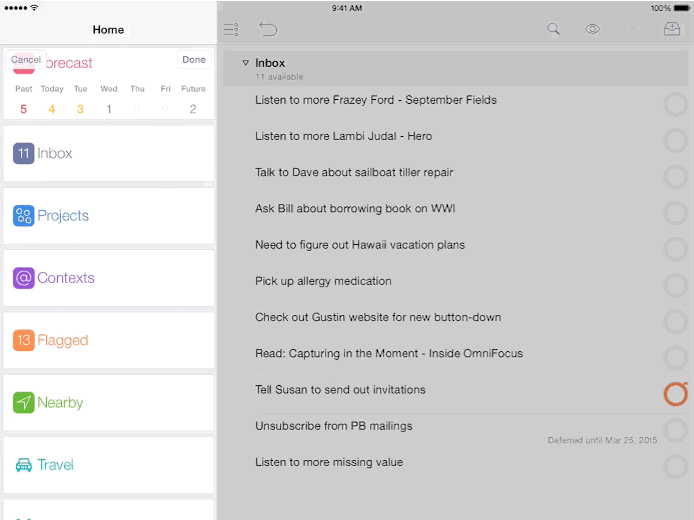 But that's not all
OmniFocus has even more features that make it awesome, like Attachment Support for images and audio, Calendar Integration so you can do work around your events, Local Notifications on actions with a deadline, TextExpander support, Quick Open to get somewhere fast, Exporting as CSV, Sharing, and a whole lot of updates. Just added: Dark Palette for iOS!
Mac
iOS
Quick Entry

Add actions quickly no matter where you are in the app
Attachment Support

Throw in images, audio, and PDFs on the Mac, or add pictures and audio notes on iOS
Forecast

A view to get a grip on your day and week. Even more on Mac
View Options

Filter out the unnecessary to concentrate on the now
Calendar Integration

See your calendar events in Forecast mode
Reliable Syncing

Use our own Sync Server, or set up a private server
Notifications

Never miss a due date — customizable notifications everywhere
Today Extension

A quick glimpse of your day right from the Notification Center. Customizable on iOS
Share Sheet

Add to OmniFocus using the native Share Menu on iOS and Mac
Exporting

Save to common formats like plain text and HTML on Mac, or CSV on iOS
Review Mode

Periodically review each project's status to stay on top
Siri Capture

Ask Siri to remind you of something, and we'll take it from there
Swipe to Flag

Flag the important things right away by swiping left!
Location-based Alerts

Coming or going, we'll remind you of your tasks
Dark Palette

Save your eyes in low lighting. A brand new color palette for iPhone and iPad
Quick Open

Find your folder, project or perspective lightning fast
Custom Perspectives

PRO

PRO

Save frequently used views for later
Customizable Sidebar

PRO

PRO

Move your most frequent perspectives to the top
Focus

PRO

Concentrate only on what you need to see
AppleScript

PRO

Script away! Use an extensive AppleScript library to do everything
Inside OmniFocus
Take a look at different workflows from a few OmniFocus users, tools or services that work well with the suite, and systems like GTD® or one of your own design. All original, and all at Inside OmniFocus.
Mac: OS X 10.10
iPad & iPhone iOS 8
Mac: v2.2.5
iPad & iPhone: v2.6.2
If your Mac doesn't meet the system requirements, you may have better luck with a previous version from the downloads archive.
Mac: German, English, Spanish, French, Japanese, Dutch, Italian, Russian, Simplified Chinese
iPad & iPhone: German, English, Spanish, French, Japanese, Dutch, Italian, Russian, Simplified Chinese