Earlier this month, I shared that OmniFocus 2 for iOS is now available as a "universal" app which runs on all iOS devices. Today, Apple launches their most personal device yet, Apple Watch—and I'm very pleased to share that OmniFocus for Apple Watch is available right at launch, included in v2.5 of our universal app!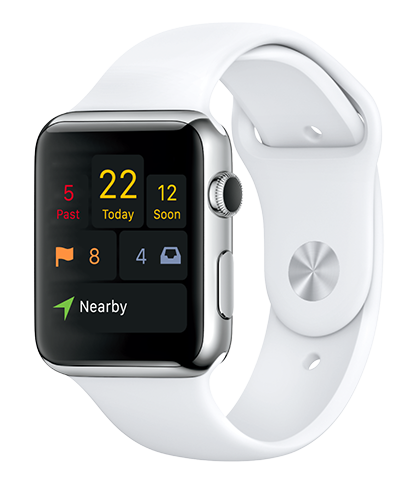 Designed deliberately for Apple's most personal device, OmniFocus for Apple Watch brings your tasks into greater harmony with how you move through the day.
We built OmniFocus for Apple Watch to specifically address situations where having OmniFocus on your wrist is the best option, distilling it to the essence of what you need right now.
---
At a Glance

Use the OmniFocus Glance for the quickest possible access to the shape of your day. When you're in the car trying to decide whether there's time to squeeze in a stop at the drug store before picking up Fido from the vet, the OmniFocus Glance comes to the rescue with the time and title of your next due action.
---
OmniFocus Today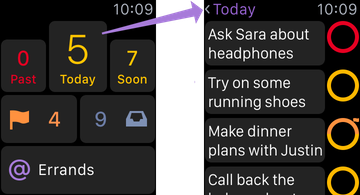 When you have a bit more time (and another hand free), the OmniFocus for Apple Watch home screen fills in the canvas of today's most essential items so you can plan ahead. Jog your memory about the juice boxes for tonight's soccer game, or if they're stowed safely in the trunk, check off that task!
---
Continuity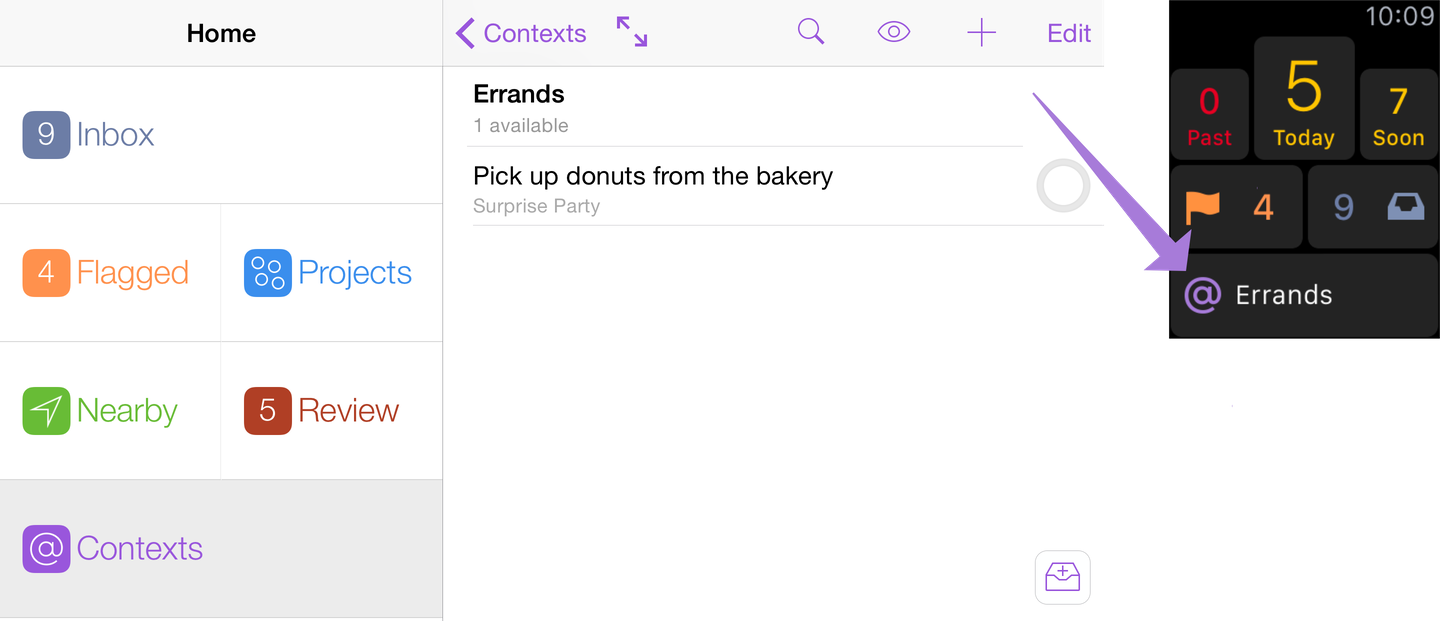 When you're using OmniFocus for Apple Watch, you're not using it alone. Actions you check off are also marked completed on your iPhone, and from there, synced with your other devices. And views carry over, too! Get set up for a meeting by visiting the Weekly one-on-one context on your phone, then put it away — it's available right there on your Apple Watch.
---
A Relevant Presence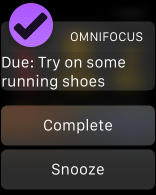 OmniFocus for Apple Watch is with you when you need it. Notifications — shared with iPhone — give you a gentle reminder on your wrist, just as you've set them up to do. Never miss an item on a grocery list, and never miss a thought for that new novel — raise your wrist with the OmniFocus app, and with a Force Touch and a tap, speak to add the idea to your database.
---
To learn more about OmniFocus for Apple Watch, please see the live web demo (at the top of our product page) and our support article.
The universal OmniFocus 2 app supporting all iOS devices is available on the App Store, priced at $39.99 for the Standard edition and $59.99 for the Pro edition. Customers who have purchased OmniFocus 2 for iPhone and would like to start using OmniFocus on their other iOS devices can use Complete My Bundle to receive full credit for their existing investment. (And customers who own OmniFocus 1 for iPhone or iPad are eligible for a free upgrade to Pro after purchasing the universal app!)
We hope you enjoy this latest addition to the OmniFocus family! If you have any feedback, I'd love to hear from you: I can be reached on twitter at @kcase, or by email at kc@omnigroup.com.