Today we're very happy to announce that new versions of OmniOutliner for iPad, OmniPlan for iPad, and OmniFocus for iPhone are available to everyone via the App Store!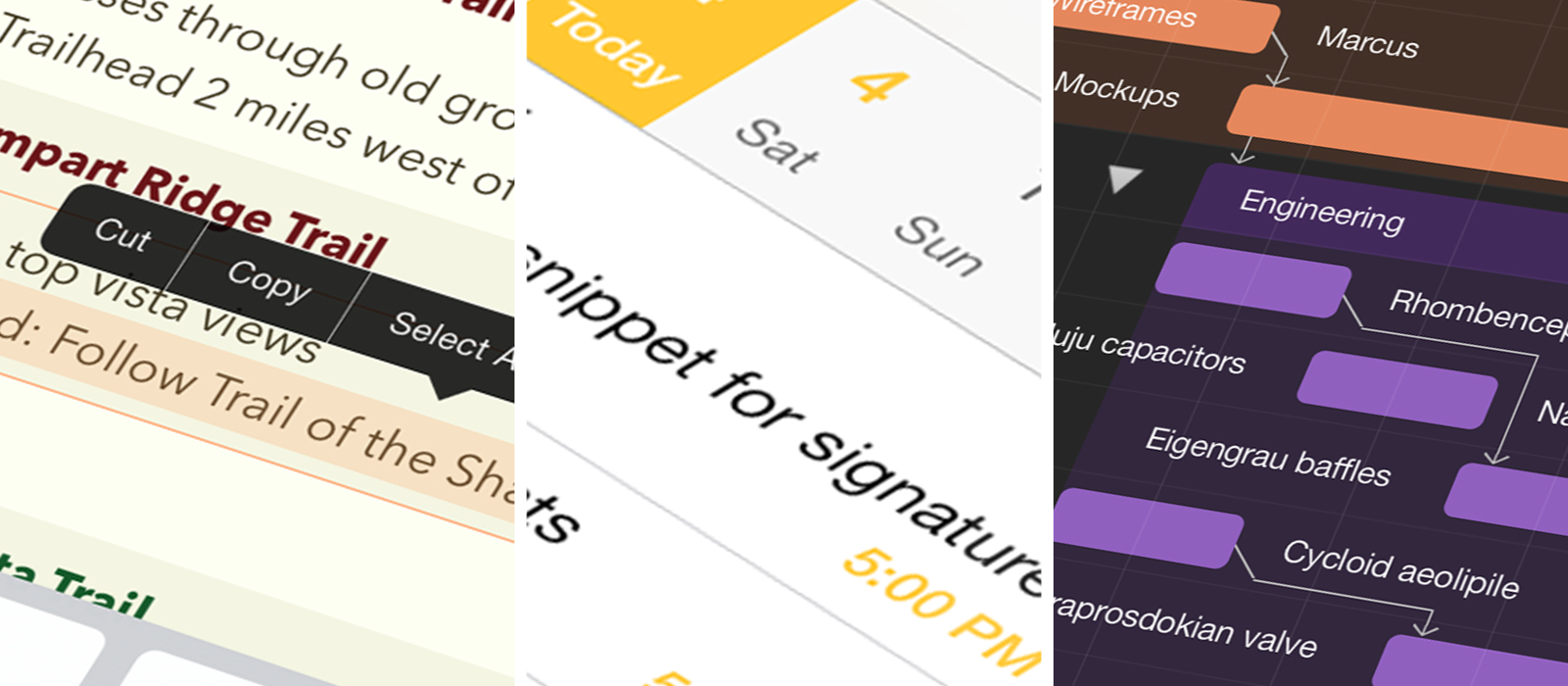 We're really proud of these new apps and have spent a lot of time adapting to both the new design aesthetic and overall improvements in iOS 7. These apps are gorgeous, offer more functionality, and—we think—really represent Apple's suggestion of deference, clarity, and depth.
OmniFocus 2 for iPhone was truly developed from scratch for iOS 7. First, we put together a home screen that was capable of showing a bit more than before. We all love Forecast — in OmniFocus 2, you'll get a peek at your week on page one. With iOS 7's tint colors, each badge and each view of the app has a specific feel. And if you need to go all the way to the Home screen, tap-and-hold the back button to get there.
All with iOS 7's new Background App Refresh.
In OmniOutliner 2 for iPad, there's of course the brand new look for iOS 7 — and a lot more, too. We've added dozens of hardware keyboard shortcuts so you can stay in the zone and leave your fingers on the keyboard while you work. We completely redesigned and rewrote the Doc Picker, too. Outlines are downloaded via OmniPresence in the background, and you can organize your files by folder. (The same folders you'll find on the Mac, if you're using OmniPresence there!)
New templates make it easier than ever to get started without fiddling, and theming support means you can change the look of your entire outline after the fact rather than worrying about that up front.
And in OmniPlan 2 you'll see a fresh, iOS 7-inspired interface—and the new Doc Picker. But we've also added a number of powerful features which were previously only available in the desktop edition. View a task's scheduling influences, or highlight the critical path so you can understand which milestones are most essential to keeping your project on track. Sharing is easier than ever: you can still do collaborative editing with others using OmniPlan, but you can also AirDrop HTML and PDFs.
There's also a new in-app purchase for importing Microsoft Project™ files. It's designed with a try-before-you-buy model, so you can preview the result before you tap Purchase.
Each are a new app and a new purchase — separate from v1. OmniFocus 2 for iPhone is $19.99; OmniOutliner 2 for iPad is $29.99; OmniPlan for iPad is $59.99. OmniPlan's in-app purchase for Microsoft Project™ support is $39.99.