Today we released OmniFocus 2.6 for iOS with a new Dark Palette, Swipe to Flag, and Push-Triggered Sync, a new feature in OmniFocus that helps keep your database up to date. We're starting a gradual rollout to our customers now—read on to find out when you'll start seeing push and how to tell if it's enabled for your account.
What it means for you
When Push-Triggered Sync is enabled, OmniFocus for iOS will start syncing more frequently in the background as you make changes on other devices. This means that OmniFocus on your iPhone or iPad will have your latest changes right away, no matter where you make them. Because you'll be syncing more frequently, the amount of data in each sync should also go down; your syncs will finish much faster.
Push-Triggered Sync doesn't change how OmniFocus is already syncing your data. Whether you're using Omni Sync Server, another hosting provider, or running your own server, Push-Triggered Sync just sends a timely notice to OmniFocus: "Sync now, please".
Since this feature is still new, you won't see the full benefit until all of your iOS devices are upgraded to the latest version of OmniFocus for iOS or OmniFocus for iPhone (the latter is currently waiting for App Store approval). This isn't just a server-side change; the copies of OmniFocus that you run on your devices need to be updated to support push. We're starting with iOS and iPhone in version 2.6 and then adding push to the Mac later this summer.
When you'll see it
If you're syncing with a service other than Omni Sync Server, Push will be enabled for you as soon as you install version 2.6. No matter where you sync, you'll need to have OmniFocus for Mac 2.2.1 installed in order for your iOS devices to receive push triggers from your Mac.
Omni Sync Server users: we want to make sure we don't start a fire in the server cabinet. To start, only our OmniFocus 2.6 TestFlight testers will have Push-Triggered Sync enabled. When all is well and we've determined how quickly we can bring new people in, we'll start adding more. It's a big jump from 1,000 TestFlight users to over 100,000 active Omni Sync Server users—multiplied by all of their iOS devices!—but we expect this rollout period to be weeks, not months.
You'll be able to check your status by tapping on Push in OmniFocus Settings. If you see "Awesome," you're in! You'll start seeing Push entries in the (new) Sync log! If it's "Holding" instead, you're still in line.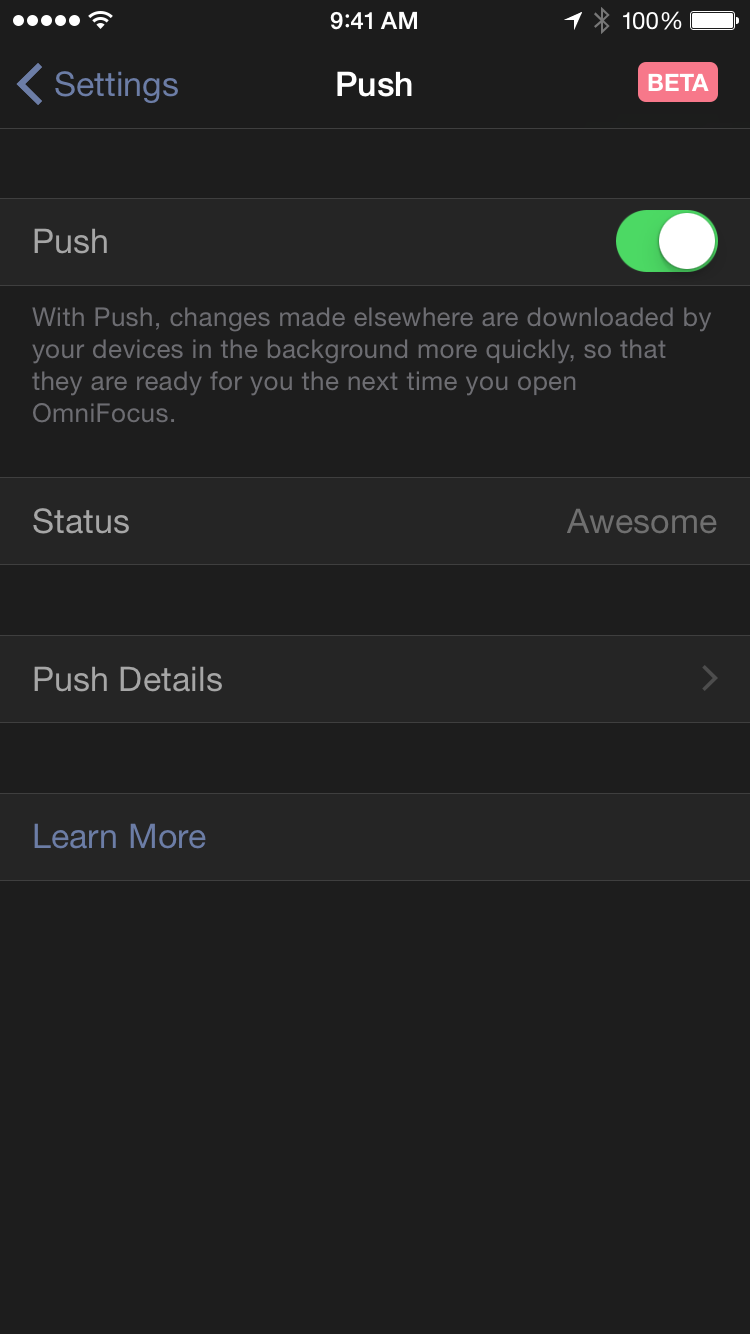 Privacy
This implementation of faster sync changes the amount of anonymous data that is sent to Omni from OmniFocus, but presents no new privacy implications for task information in your database. Check out our support article for all of the technical details.
As always, if you have questions about any of this, send us an email!