With macOS Monterey we now have Shortcuts available on the Mac! With today's launch of Monterey, we're shipping updates to all of our apps which add support for both Monterey and Shortcuts.
There are other Monterey features we're also excited for people to use with our apps, including Focus mode for reducing distractions and Live Text for capturing text from photos and screenshots.
But the headline feature from our point of view has to be Shortcuts. Why? First, bringing power to the hands of the user using automation has always been important to us. We've invested several years building automation technologies that work across Mac, iPhone and iPad. This means that for our apps, the same script or plugin can run on any device in the Apple ecosystem.
This multi-platform automation for our apps—called Omni Automation—is now extended by Shortcuts to the rest of the platform's automation world. Shortcuts on the Mac makes that power more accessible than ever, both to end users and to developers creating the app ecosystem.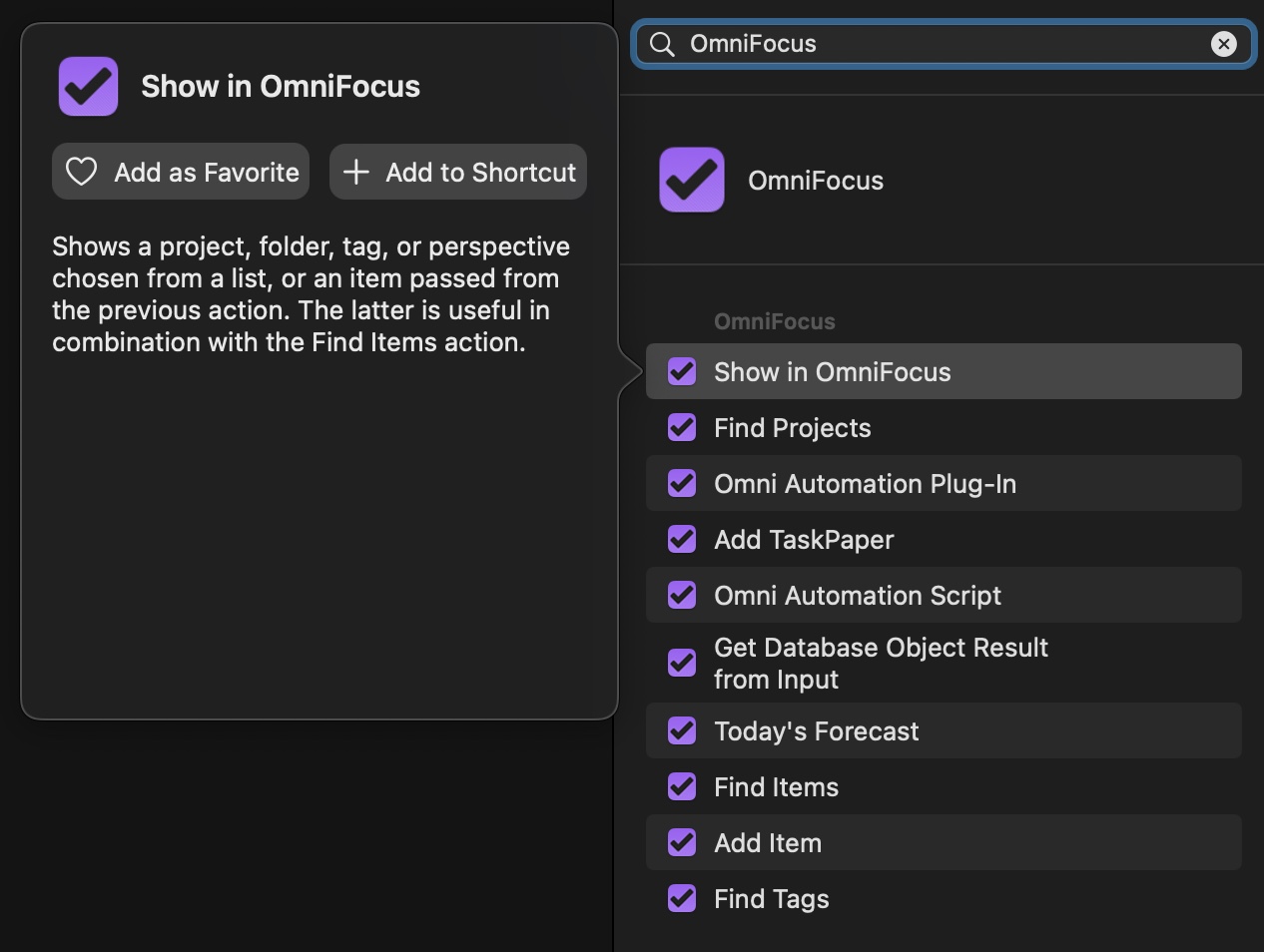 In addition to bringing over the OmniFocus Shortcuts actions we already support and ship on iPhone and iPad, we've added two new Shortcuts actions to all our apps which integrate with Omni Automation. By including "Omni Automation Script" and "Omni Automation Plug-In" actions with each of Omni's applications, our robust device-independent application scripting merges with Apple's updated Shortcuts automation frameworks in the iOS, iPadOS, and macOS operating systems.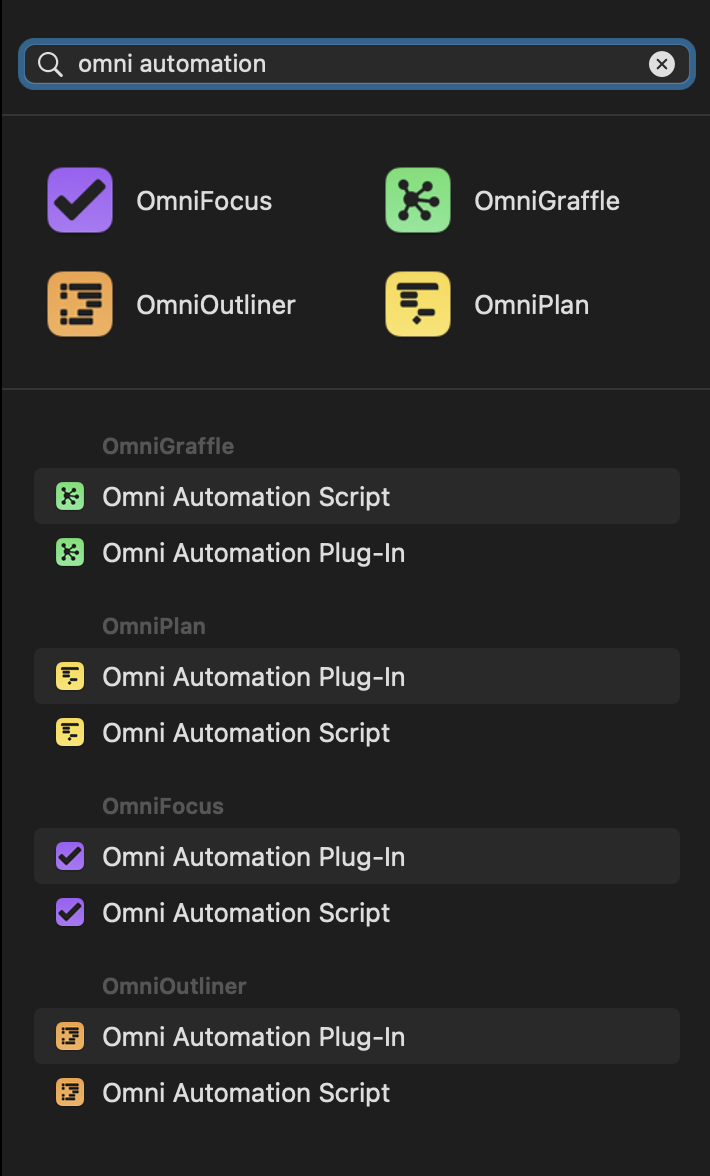 We've had test builds of these new actions available, and one of our fantastic beta testers came up with a pretty useful and clever example. He used a script to automatically change a tag status in OmniFocus when the OS's Focus feature is enabled on his iPhone. Now, when he moves from a "work" Focus to a "home" Focus, his active OmniFocus priorities automatically shift as well. Slick.
We posted a functionally similar example for macOS Monterey on the Omni Automation Shortcuts page.
When talking about it with our resident automation expert, Sal Soghoian, he said, "It shows what happens when you combine robust app-level scripting with Apple's universal automation architecture. It's showing what is possible. It lays it out there. It proves the point.
"On its own, Shortcuts is great; but you can't have a Shortcuts action for everything that you do. The change in a top-level control can translate and effect a change in an OmniFocus database. That's pretty incredible. Now, I'm picking a global setting on a device and my application changes to fit that. Very powerful."
Gregory Laguarigue, the beta tester, added, "The rich functionality of the Omni Group productivity apps, their powerful scripting environment, and tight integration with Apple Shortcuts opens up a world of automation possibilities. I'm excited about making OmniFocus automatically present relevant tasks and projects when I choose a type of activity on my Mac, when my iPhone detects an event, or according to the time of day."
To update an Omni app you downloaded from our website, choose the "Check for Updates…" command from the application menu. If you don't see the "Check for Updates…" menu item, that means the app was downloaded from the Mac App Store, and you can update the app there. All our apps come with a two-week free trial, so if you have been meaning to check them out, now is a great time to take them for a spin and maybe check out Shortcuts as well.
If you're using older major versions of our apps, don't forget to take advantage of our 50% discount on upgrades. Now's a great time to upgrade and benefit from the full performance of Apple's latest hardware as well as new features like Shortcuts integration.
---
(Feedback? I'd love to hear from you! You can find me on twitter at @kcase, or send me email at kc@omnigroup.com.)