It's hard to believe that it's only been three months since Apple's Worldwide Developers Conference. We had just finished shipping OmniFocus 2.0 for Mac—a huge release for us—and suddenly we were on the receiving end of a firehose of information from Apple about iOS 8 and Yosemite and Swift. All three were incredibly exciting, but the one which would immediately change our app development was iOS 8.
With iOS 8, Apple gave us new ways to interact with the operating system and with other apps. For the first time ever, we could provide extensions which could run inside other apps. We could add Today extensions to Notification Center. We could build new Sharing options to easily capture content shared by other apps. We could share documents between apps without making extra copies that get out of date. And even in places where our code wasn't running, we now had more flexibility—like the ability to provide interactive notifications with multiple choices. All that and much more. Far more than we had time to adopt in one summer—particularly since we also had two major app upgrades to ship for iPad: OmniFocus 2 and OmniGraffle 2.
Fast forward a few (very busy!) months, and iOS 8 is finally right around the corner—and the iPad and iPhone editions of OmniFocus 2 are both ready with two great new extensions. The new OmniFocus Sharing extension will let you capture content from Safari and other apps, and with the new OmniFocus Today extension it's easier than ever to get a grip on your day's commitments: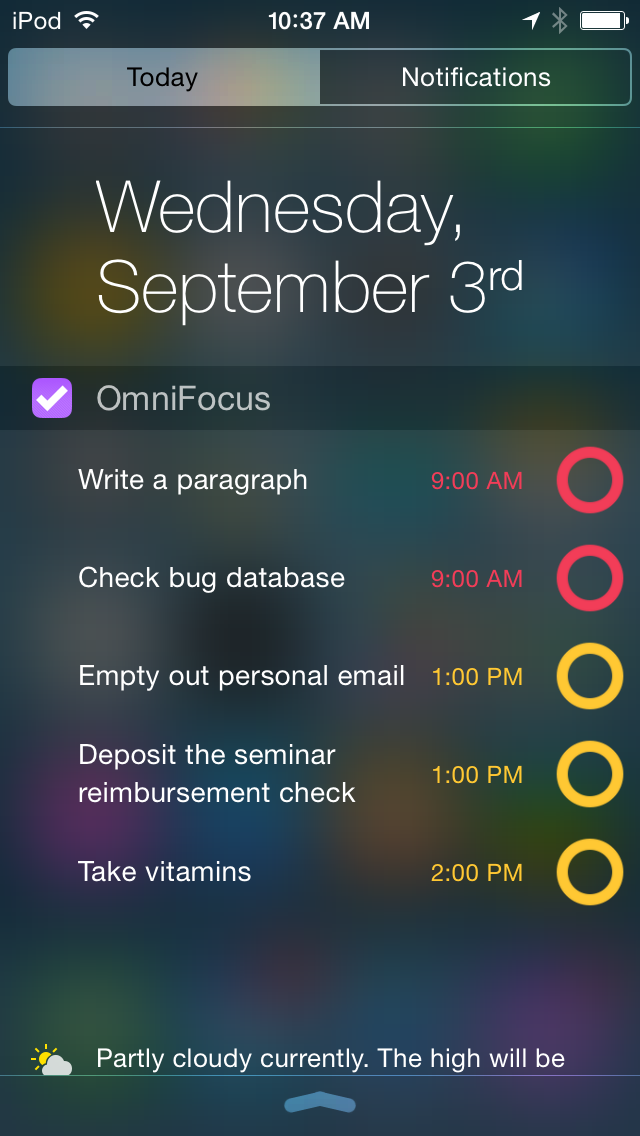 These new extensions are just a taste of what's now possible with iOS 8. I'm looking forward to doing even more with extensions in our apps—and I'm also looking forward to seeing what other developers have been cooking up over the summer!