Your all-purpose design and diagramming tool.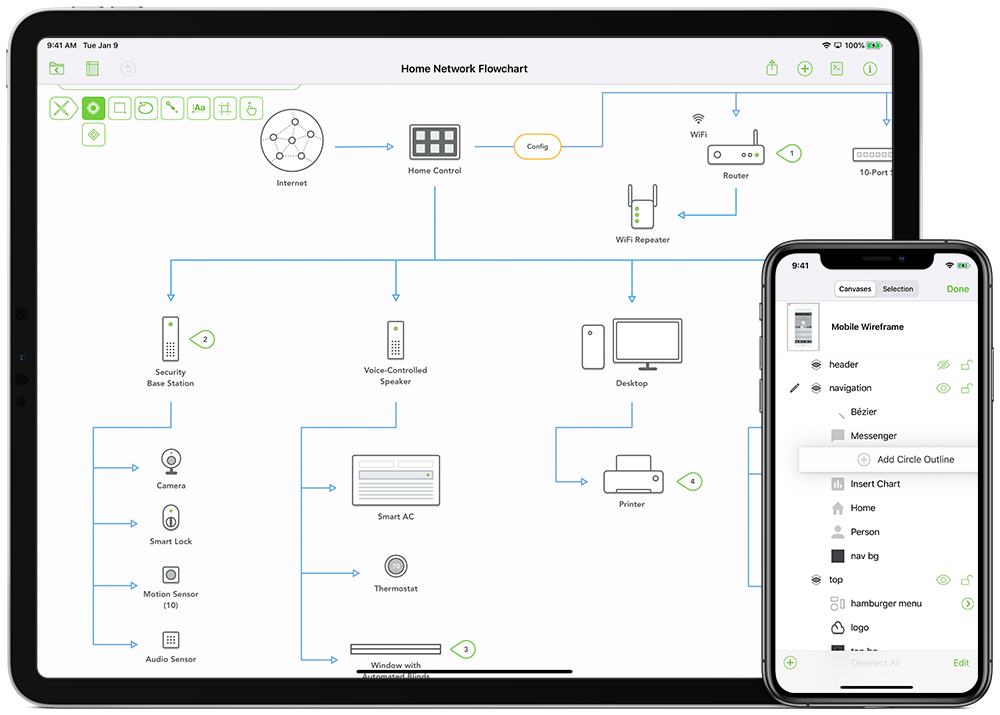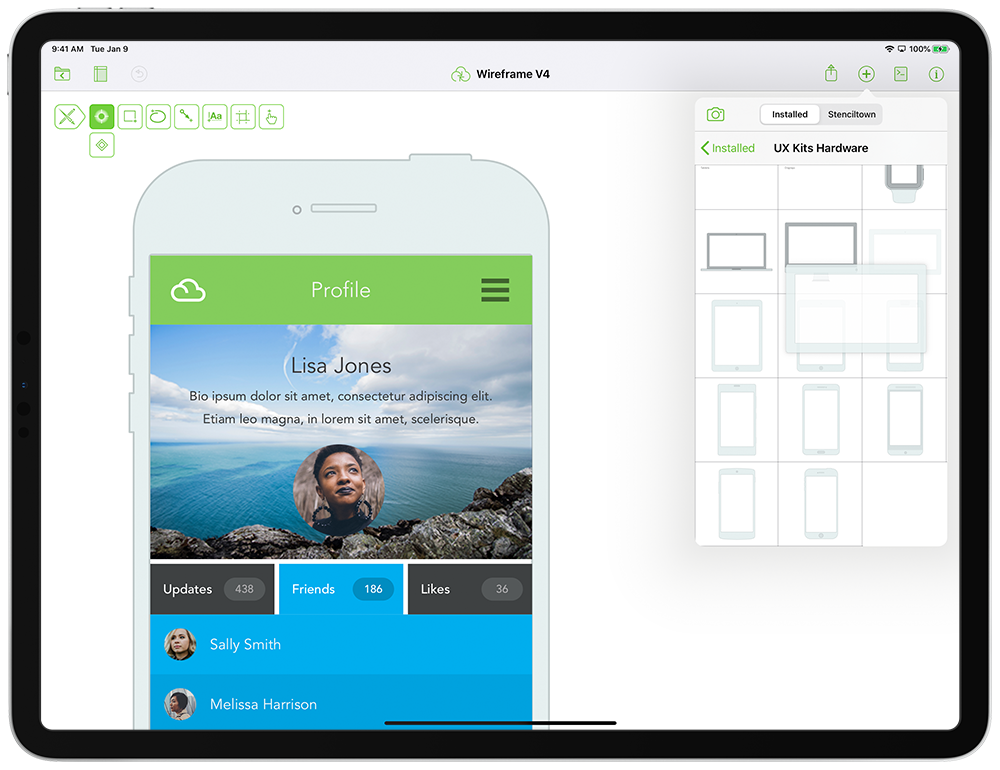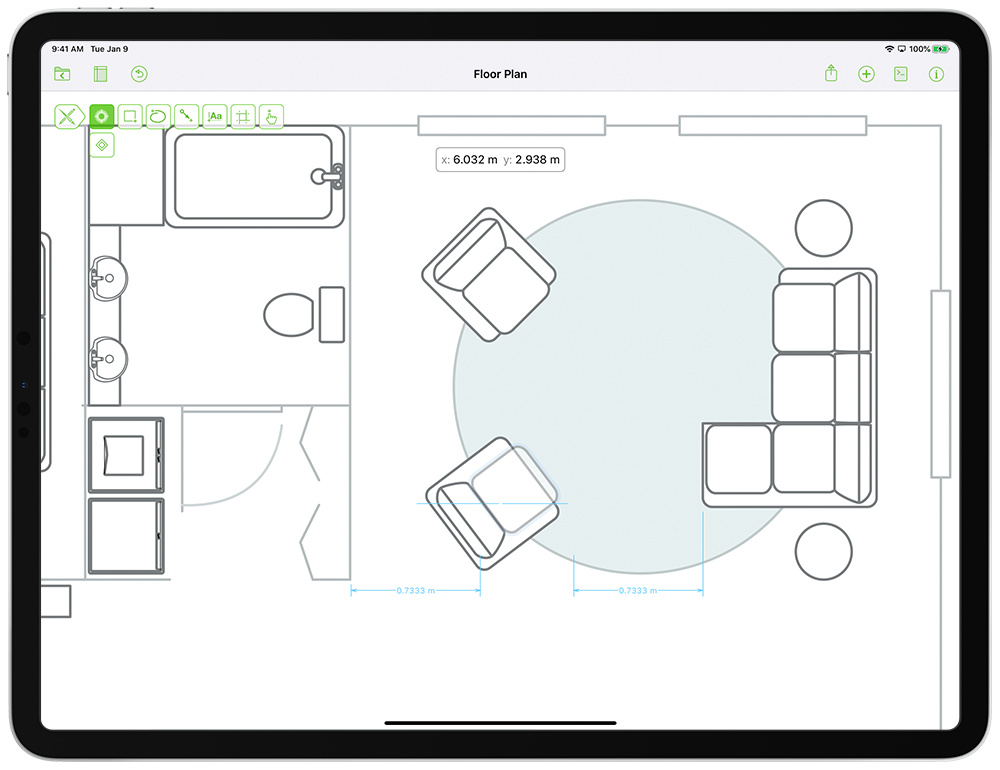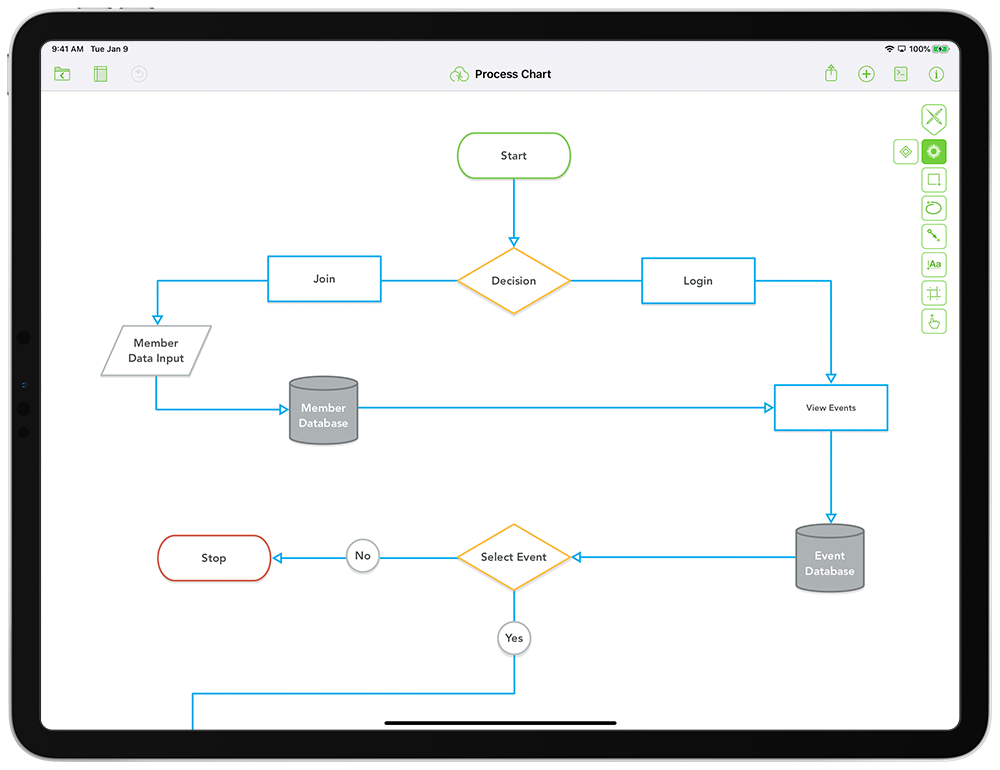 Purpose-built, and faster than ever.
A new, sleek implementation of OmniGraffle's inspectors on the right with more commonly used tools at the top; OmniGraffle's unified sidebar with each and every object is on the left. A new tool palette you can move wherever you'd like...or collapse completely. It's built so you can navigate complex layer and group hierarchies and still move fast. And on iOS 11, rearranging everything in the sidebar is incredibly easy with Drag and Drop.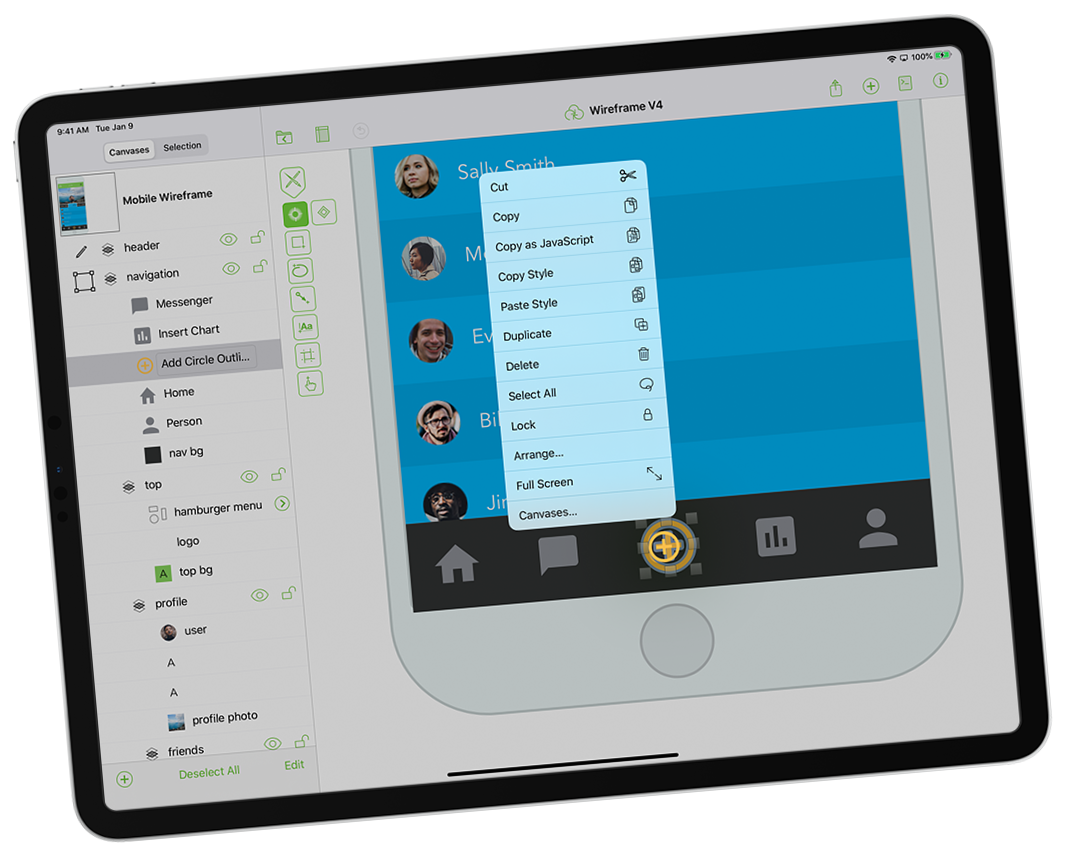 Sweat the details. Especially on iOS.
This is more than just a place for your first draft. OmniGraffle for iOS has all of the controls you'll need to fine-tune everything. Just like on Mac, you have access to pixel-perfect spacing, alignment, and sizing. You'll even see the same sort of spacing or alignment guides when moving and resizing objects—all the things that make OmniGraffle, OmniGraffle.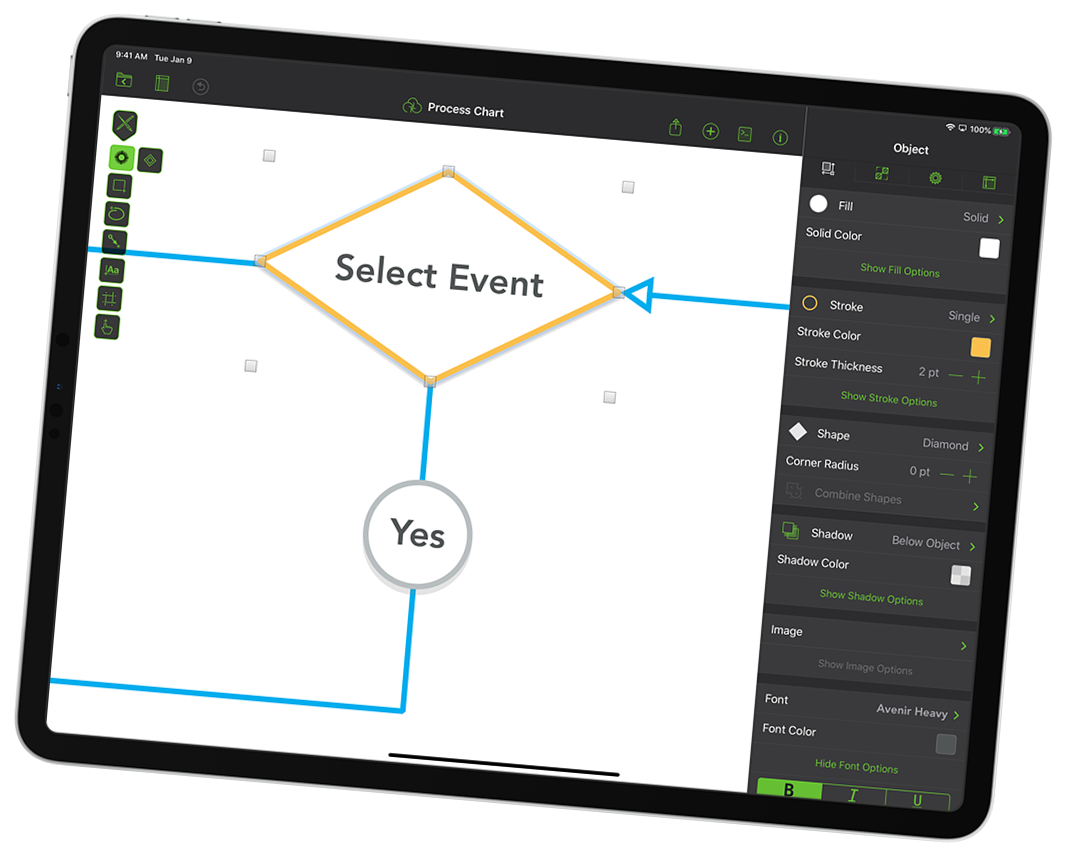 Professional Layer Work

Standard Layers
Add layers to categorize your objects, maintain order, add hierarchy to your canvas, or hide whole swaths of objects when you don't need them.

Artboard Layers
Pro
Artboards make managing objects on each layer above them super easy. Artboards can be anything from simple squares to custom Bézier shapes.
Multi-Column Layout
Access, edit, and rearrange your objects, layers, groups, and canvases in the new unified sidebar on the left. On the right, OmniGraffle's smarter inspectors show more common properties at the top. When OmniGraffle is too narrow for a sidebar, its inspectors still keep your canvas visible by popping up from the bottom.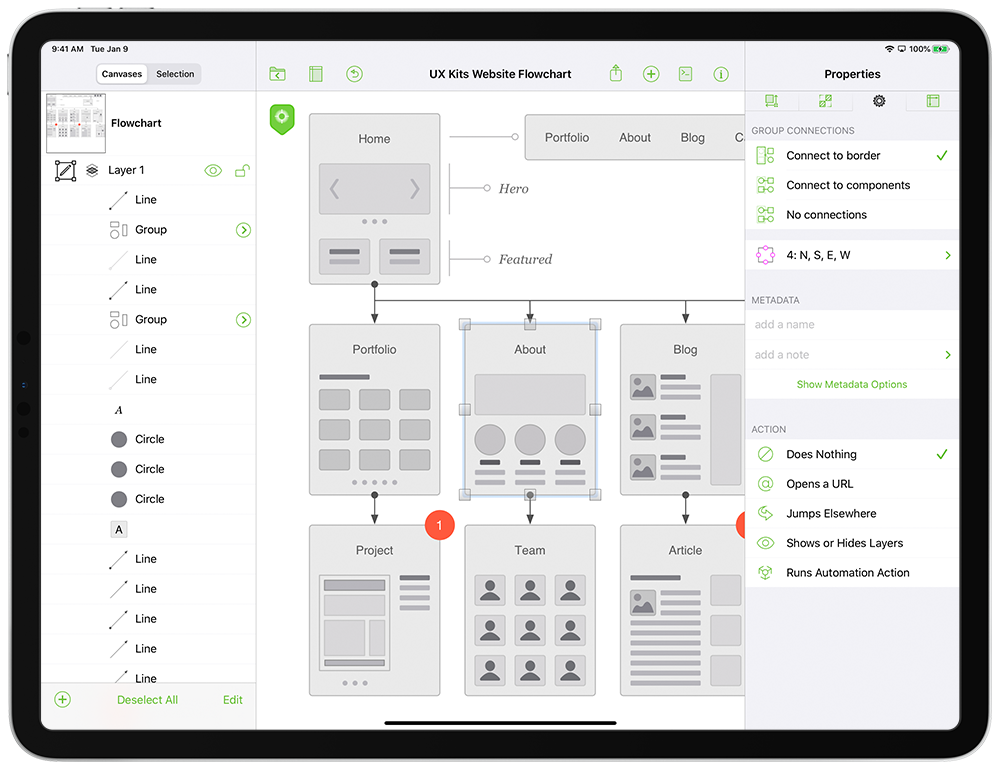 The Floating Tool Palette
Leave your tools right where you'll find them next time. Designed for lefties, righties, and folks that can't decide.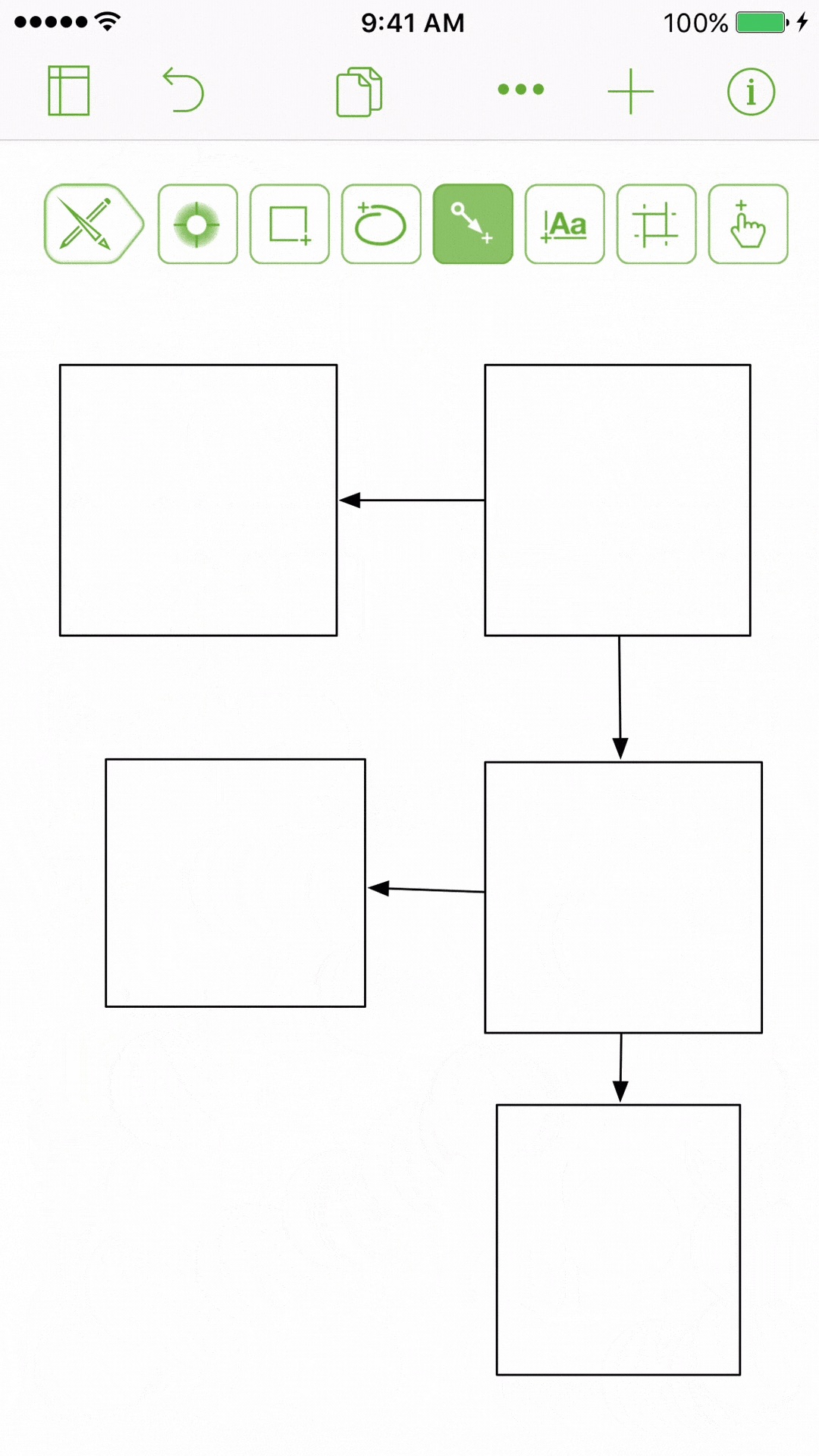 Automate with JavaScript
Build powerful Plug-Ins that work across platforms with a well-known language: JavaScript. We've spent a lot of time with scripting legend Sal Saghoian getting this just right. Check out Omni Automation for examples and sample code.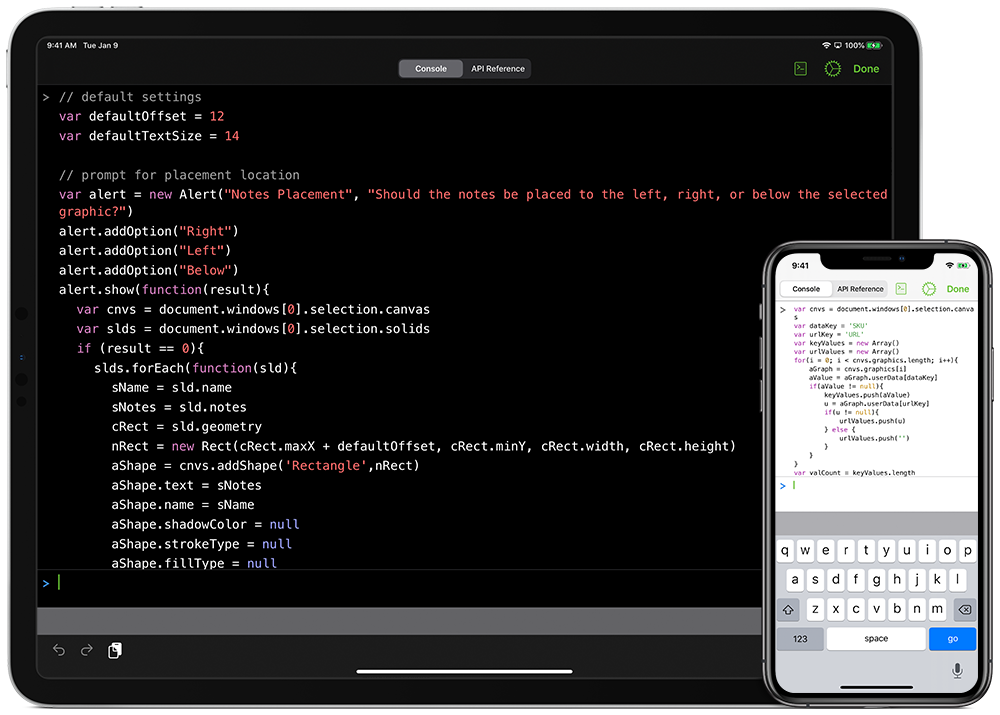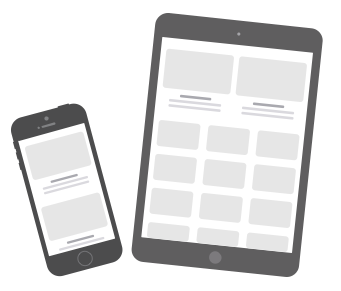 Built just for that device. And that one, too.
OmniGraffle is fully functional on every single device. OmniGraffle is the app you can actually use to create a new diagram on the iPad mini. Or the brand new iPad Pro with an Apple Pencil. Even your iPhone can handle creating a mockup from scratch. Plus, OmniGraffle for iOS is a free OmniGraffle file reader to show off your desktop creations.
Mac and iOS apps are separate purchases.
OmniGraffle for Mac
Document Syncing via OmniPresence
Sync your documents with a secure, reliable sync platform. OmniPresence and our own Omni Sync Server are built with OmniGraffle files in mind.
It's even powered by technology you can install on your own server to keep your data completely yours.
In Your Language
iOS: Deutsch, English, Español, Français, 日本語, Nederlands, Italiano, Русский, 简体中文, Português do Brasil, 한국어 , with more languages on their way!
Comparison Chart and Version Information