Hot on the heels of Touch Bar support in OmniGraffle, today we're happy to announce the same in OmniPlan!
OmniPlan 3.6 is packed with the usual bug fixes and improvements, but made even better with features just for Apple's brand new MacBook Pro.
Project Planning With the Touch Bar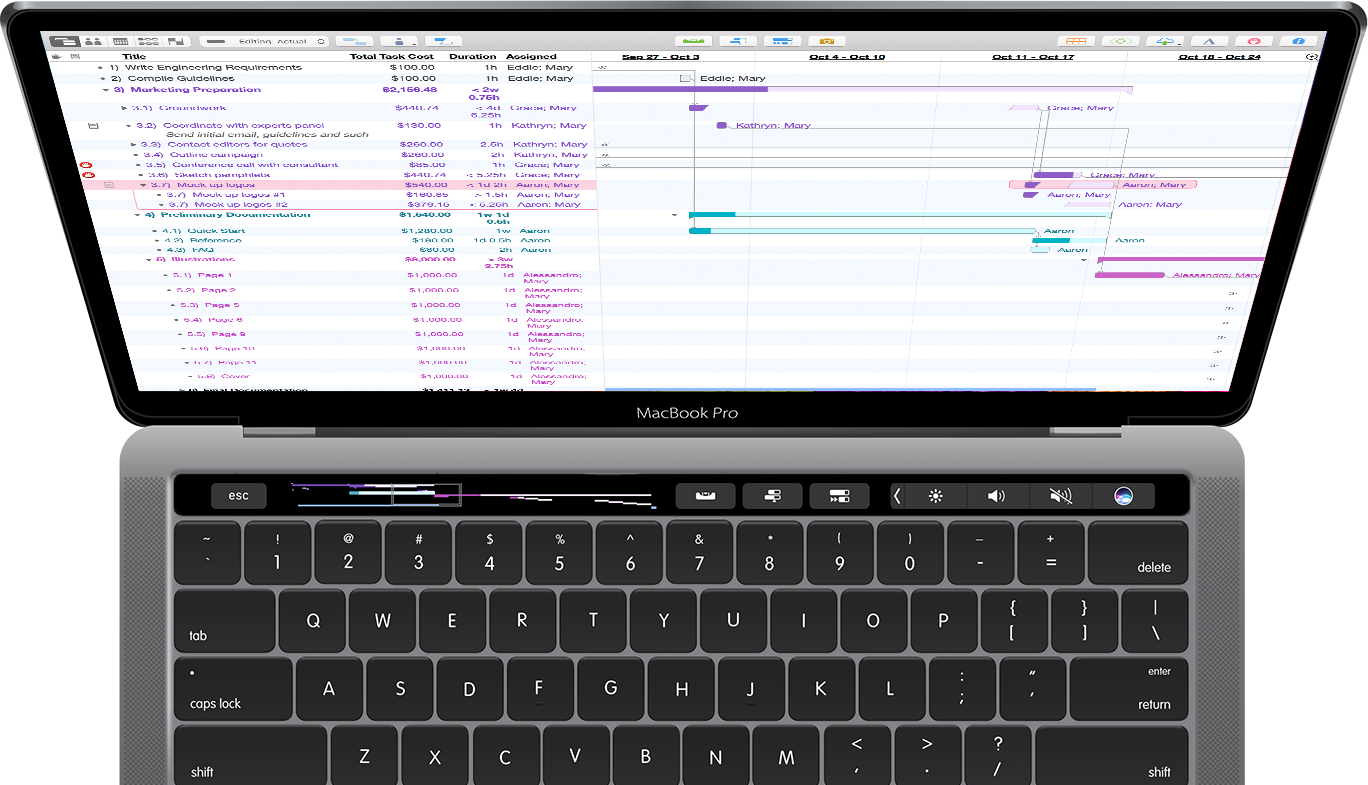 When we first saw the Touch Bar demoed on stage a month or so ago—specifically as a scrubber for Final Cut Pro X—we knew that investigating a Gantt chart control would be worth our time: your entire project, right there above the keyboard as primary input, with dynamic scrubbing.
But as well as being a Gantt Chart scrubber, you can customize the Touch Bar with everything else you'd find in the toolbar: leveling, rescheduling, Publish & Update, and more. When a specific task is selected, scroll through your resources to quickly assign them to said tasks.

Free Trials on the Mac App Store
So that we can offer free 14-day trials, OmniPlan for Mac is now available as a free download on the Mac App Store. OmniPlan will continue to operate as a read-only viewer when the trial is over, too. (It's exactly like the free trial that debuted with OmniGraffle 7.)
If you're downloading OmniPlan 3 from the Mac App Store for the first time, you'll have 2 weeks to demo, and switch between, Standard and Pro. Once it's over and you're ready to purchase, just use the In-App Purchase option via the OmniPlan menu bar. (If you own OmniPlan 2, you'll be offered discounts; upgrading is quite easy.)
If you choose Standard, you can always upgrade to Pro later for the difference in price.
Plus a little bit more
In addition to Touch Bar Support and free trials through the Mac App Store, we've added a new chapter about Touch Bar in OmniPlan's Help (plus a new chapter on menu commands and more exhaustive explanations all around), cell highlighting to indicate the row you're currently editing, and new Preference icons! Full release notes here.