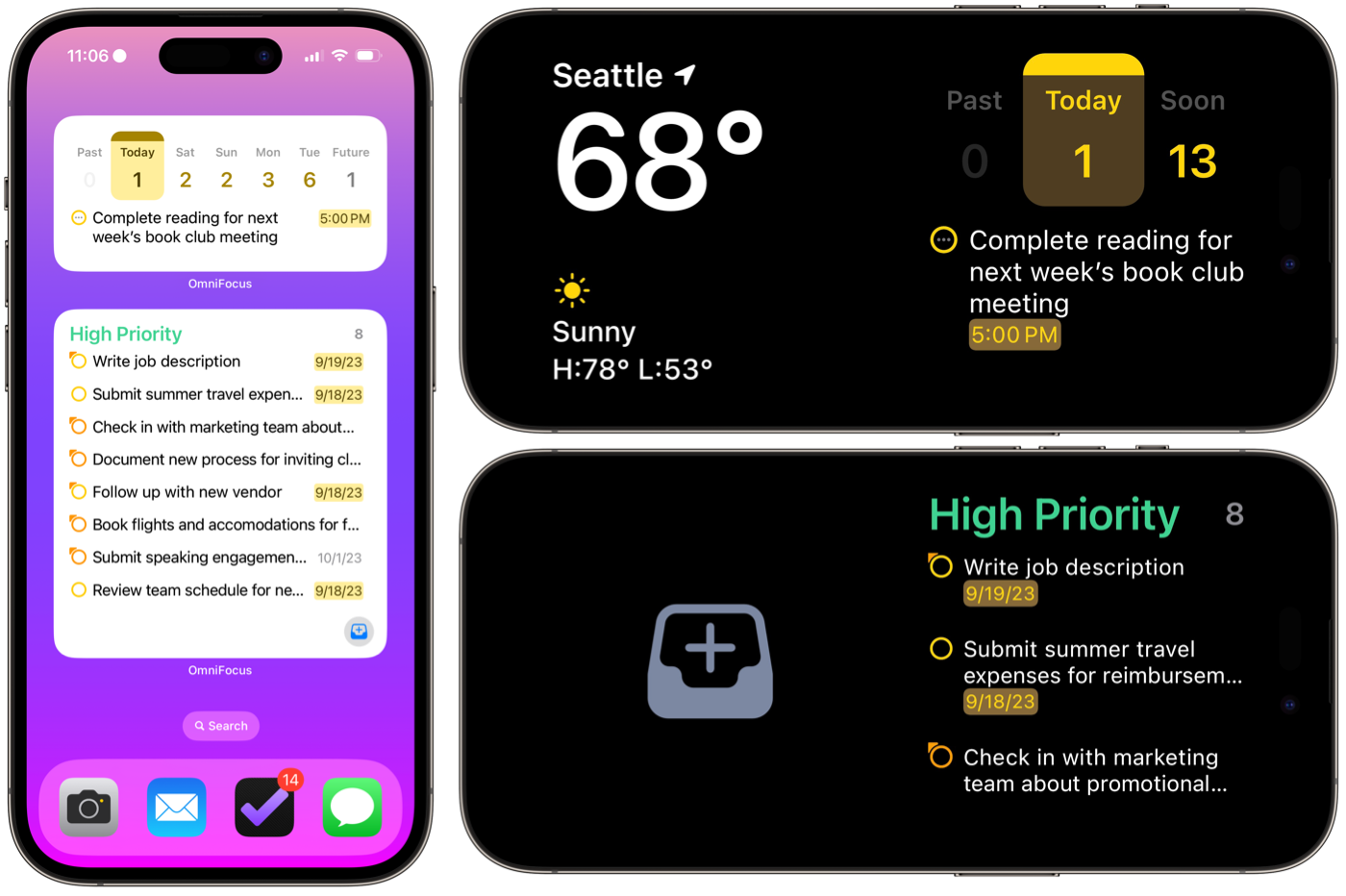 Apple introduces new features to their platforms every year, and we're very excited about the features introduced with today's launch of iOS 17, iPadOS 17, and watchOS 10!
We know that many of our customers are as excited to upgrade to Apple's latest technologies as we are, so each year we make it a priority to have all of our apps ready for new systems on the day they become available. We're pleased to share with you today that we've tested (and updated as needed) all of our currently shipping apps for compatibility with iOS 17, iPadOS 17, and watchOS 10—so if you're eager to use the new operating systems, our apps are ready.
One caveat: if using Omni Automation with our apps is essential to your iOS or iPadOS workflow, you may wish to hold off upgrading the operating system for now. More details on that below, but for the most part this upgrade is smooth sailing.
Testing and updating our apps for compatibility is always "job one," and on that front our apps are ready. But of course we're also eager to leverage new features which have been introduced. For today's operating system updates, the feature most interesting to our apps is their improved widget support. iOS 17 and iPadOS 17 now have support for interactive widgets everywhere, including the iPhone's new StandBy mode; and watchOS 10 now has quick access to widgets in the Smart Stack—available from any watch face by turning the Digital Crown.
We're excited to share that our latest OmniFocus 4 TestFlight builds support both interactive widgets and Smart Stack widgets, and are available through TestFlight today.
Interactive widgets work on the home screen, lock screen, and the iPhone's new StandBy mode. As the "interactive" part of the name might suggest, widgets allow you to interact directly with a widget's contents. For our OmniFocus 4 widgets, this means you can complete OmniFocus items directly from the widget without having to open the app.
The iPhone's new StandBy mode is a new full-screen experience available when your phone is on its side while charging. You can configure multiple interactive widgets for each side of the screen, and quickly swipe through them.
Here's what StandBy looks like with Apple's built-in clock widget on the left and our interactive OmniFocus 4 Forecast widget on the right: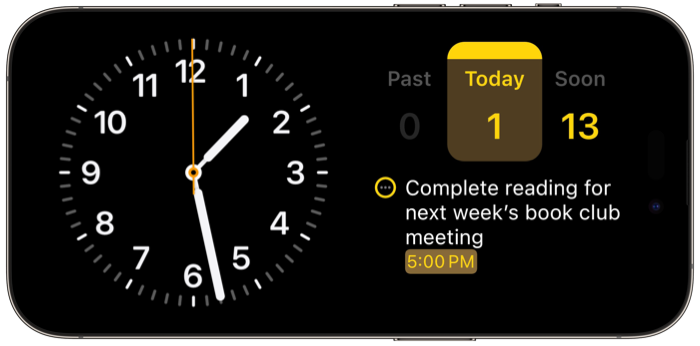 Though our TestFlight has already reached Apple's limit of 10,000 testers, we continue to charge full steam ahead on OmniFocus 4 and it's on track to ship this year. Anyone who has purchased (or will purchase) OmniFocus 3 during the OmniFocus 4 TestFlight period will receive a free upgrade to OmniFocus 4 when it ships.
Earlier, I mentioned that users using Omni Automation on mobile devices may wish to hold off upgrading. Late in the iOS/iPadOS beta cycle, a memory issue was introduced in Apple's JavaScriptCore framework which can (but doesn't always) trigger crashes when JavaScript code is used in an app. Since Omni Automation plug-ins and scripts are all written in JavaScript, this can cause our apps to crash any time they load or run code from those plug-ins and scripts. This doesn't happen all the time, but it happens enough to be bothersome.
We've consulted with Apple about this intermittent JavaScript crash, and hope it gets resolved soon. In the meantime, there doesn't seem to be much we can do other than to stop using JavaScript—i.e. to disable plug-ins and scripts. Thus, if Omni Automation plug-ins or scripts are core to your iOS or iPadOS workflow, you may wish to hold off upgrading at least one device until this issue is fixed. Alternatively, you can run your Omni Automation plug-ins on macOS since this bug is not present there.
We're confident that Apple will address the intermittent JavaScript crash, and overall we're still utterly thrilled about the improvements in these three new operating systems. We've been enjoying interactive widgets ourselves over the summer, and are glad to be sharing them with those of you in the OmniFocus 4 TestFlight today.
All of our apps come with a two-week free trial; so if you have been meaning to check them out, now is a great time to take them for a spin!
If you're using older major versions of our apps, don't forget to take advantage of our 50% discount on upgrades. Now's a great time to upgrade and benefit from the full performance of Apple's latest hardware and operating systems, alongside their new features.
(Feedback? I'd love to hear from you! You can find me on mastodon at @kcase@mastodon.social, or send me email at kc@omnigroup.com.)