With today's iOS release, we're matching some of OmniPlan's biggest features on the Mac, and we're excited to get it in your hands! New, advanced features make OmniPlan 3 for iOS an incredible upgrade for a wide range of project managers' needs. We'd love for you to check out all it has to offer right now!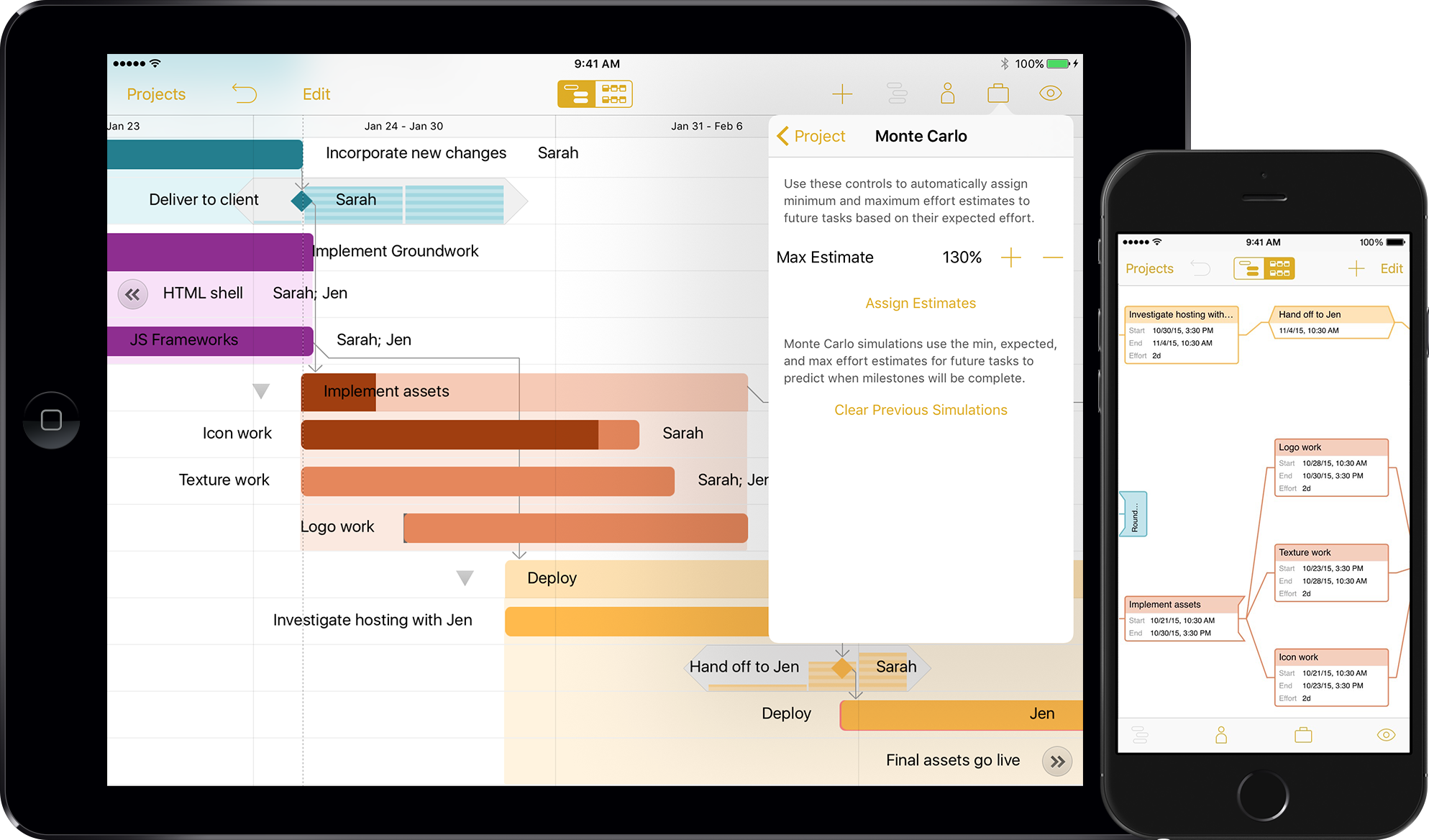 Standard Features
Network Diagrams help visualize projects, and it's a big addition in OmniPlan 3. The mode adds an extra view that shows flow and context within your project, but also enables an easy way to set up dependencies. And it fits in well on iOS! (Plus, it was one of our most asked for requests, so we had to do it!)
You can now Catch Up and Reschedule your project very quickly, define a task as a Meeting to make sure everyone actually can attend, and even let OmniPlan assign resource percentage on tasks with Unlinked Duration and Effort.
Pro Features
One of the biggest features in OmniPlan 3 for Mac that assisted big projects in running on time was Monte Carlo Simulation—and now it's on iOS! Tap a button to simulate different scenarios that take effort, duration, and resource efficiency into account to get an estimate on when the project might plausibly finish. Then, make adjustments.
With Auto-Effort Estimation you'll automatically know the best- and worst-case scenarios on each task you're not sure about. Not everything runs on time, so OmniPlan will help out on estimates.
Pricing & Availability
OmniPlan 3 is available today from the App Store for $74.99. Customers who upgrade from an earlier release of OmniPlan for iOS will receive a free Pro Upgrade. For new OmniPlan users, Pro features are a $74.99 In-App Purchase.
For more information on upgrading to OmniPlan 3, check out our support article.
Video Overview