Users, do we have news for you.
OmniPlan has a new Sneaky Peek* out there for everyone to enjoy — especially if you're an importer/exporter.
Our Microsoft Project import/export functionality has been rewritten, so we'd love it if you relayed any and all bugs back to us; if you can send us the Project file as well, that'd be even better. We really want to make sure this new process works well.
(For those wondering why it's been rewritten: with the Mac App Store, we had to move our Project importer/exporter functionality to a plugin—installed separately—because it required Java. We want that to be built-in.)
Also new and notable! We're getting started on multi-project support.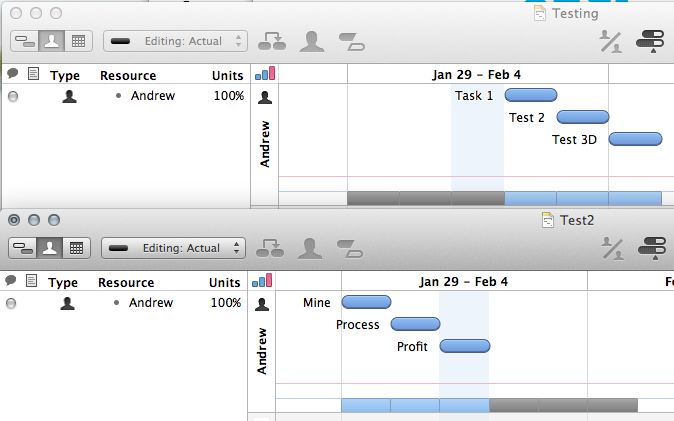 If you select an Address Book entry (with an email address) for a resource and then publish your plan files to our Sync Server, we'll determine just how much that person can do for each project they're participating in. All other Sync Repository projects are leveled as you update them.
Speaking of leveling: we now automatically level resources on the fly. It can be turned off, though, by visiting the Project menu.
Keep in mind that we're not yet done and there may be issues we're not aware of. (Issues we'd love to hear about!) If you need help getting it figured out, shoot us an email. Multi-project support has been a popular feature request for a while now, and we're happy to push out what we've come up with so far.
It's now also possible to resize Gantt chart bars; they're now equivalent to the "Whole Document" font size.
"Anything else?" you're asking. Well, sure. We've fixed quite a few bugs!
*Standard warning: Our Sneaky Peeks are not for the faint of heart. There will be bugs. We want to know them.