OmniPlan and OmniOutliner with new iOS 13 features are now available via TestFlight! We'd love to have your help testing them — you can sign up for OmniOutliner or sign up for OmniPlan (or both!). These builds require iOS 13.
Both apps now use Apple's standard document browser, replacing our older home-grown document browser.
We wrote about this in our late-July blog post Adopting Apple's Standard iOS Document Browser:
In 2019, we think it's time to retire our custom document browser in favor of using Apple's built-in document browser—and with our iOS 13 updates this fall we'll be doing just that. Instead of seeing our custom file browser, you'll be presented with the standard iOS document browser—just like in Apple's own iWork apps. Using Apple's browser, you'll be able to store and sync your documents using Apple's built-in iCloud Drive, or third-party commercial options like Box—or even in cloud- or self-hosted collaborative git repositories using Working Copy.
There are a number of other iOS 13 features now supported:
Multiple windows (multitasking): you can now work simultaneously on projects (OmniPlan) or outlines (OmniOutliner) in multiple spaces on iPadOS.
Dark Mode: now used when the system's appearance is set to dark
Context Menus: you can perform common actions quickly, via 3D Touch or a touch-and-hold gesture (OmniPlan only)
Here's a "Show All Windows" screenshot showing window groupings, Dark Mode, and the new document browser.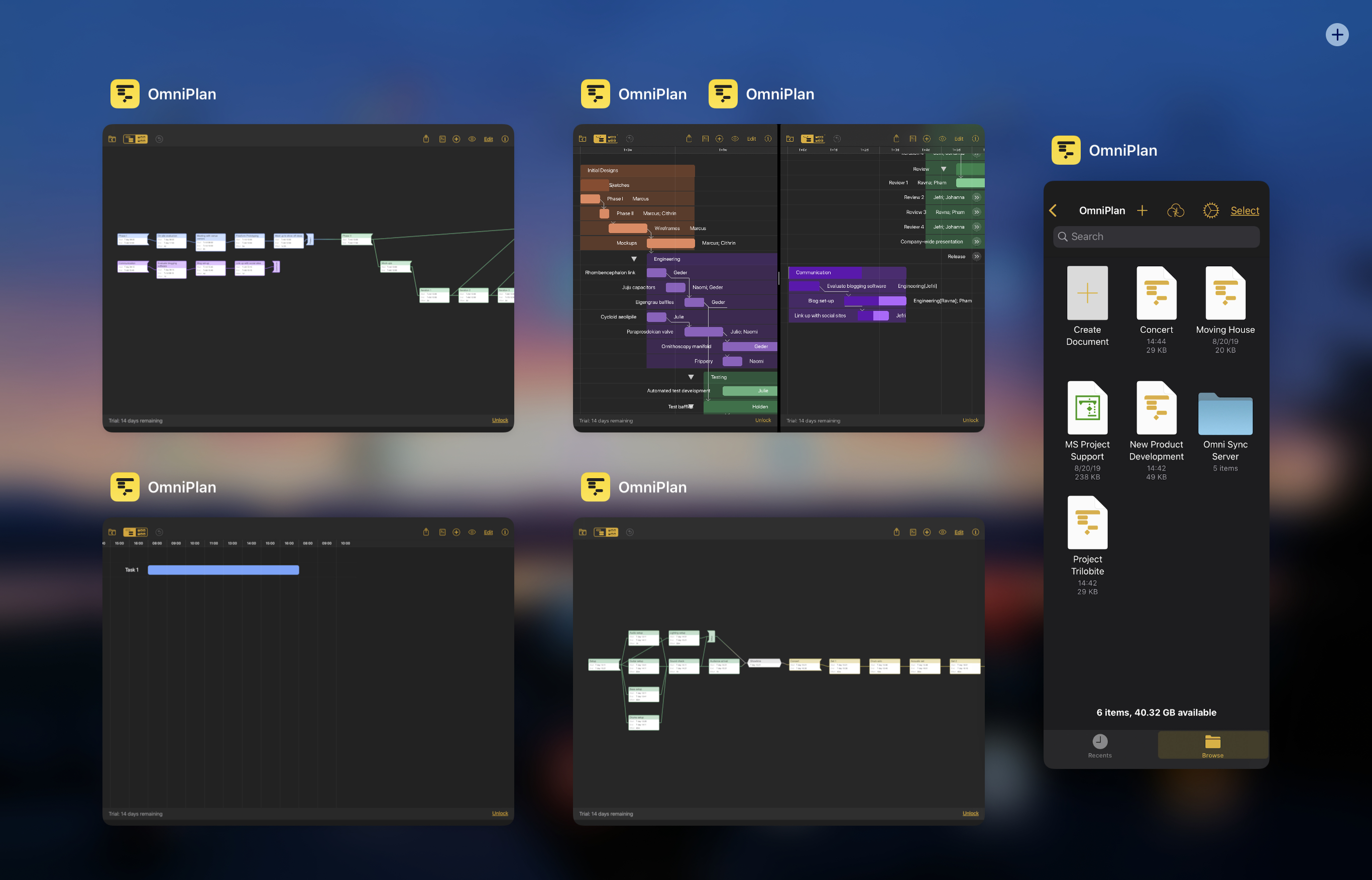 Having support for these important features in testing gets us a long way toward delivering on our WWDC 2019 summer plans, and we very much appreciate your help by signing up for TestFlight builds.
But we should remind you that these apps are test builds running in iOS 13 — which is also a test build — and you may run into bugs nobody could anticipate. So please do use your judgment when deciding to install unfinished software. Thanks!
Also note: you can sign up to help test OmniFocus and OmniGraffle for iOS, but we don't have test builds ready just yet.