As mentioned in our 2020 Roadmap, the OmniPlan team has been hard at work on OmniPlan 4 for Mac. This last month has been full of rough transitions for everyone—including us—but if we're going to make it through this time we need to pull together and keep moving forward. To that end, we're pleased to be starting the public test of OmniPlan 4 today.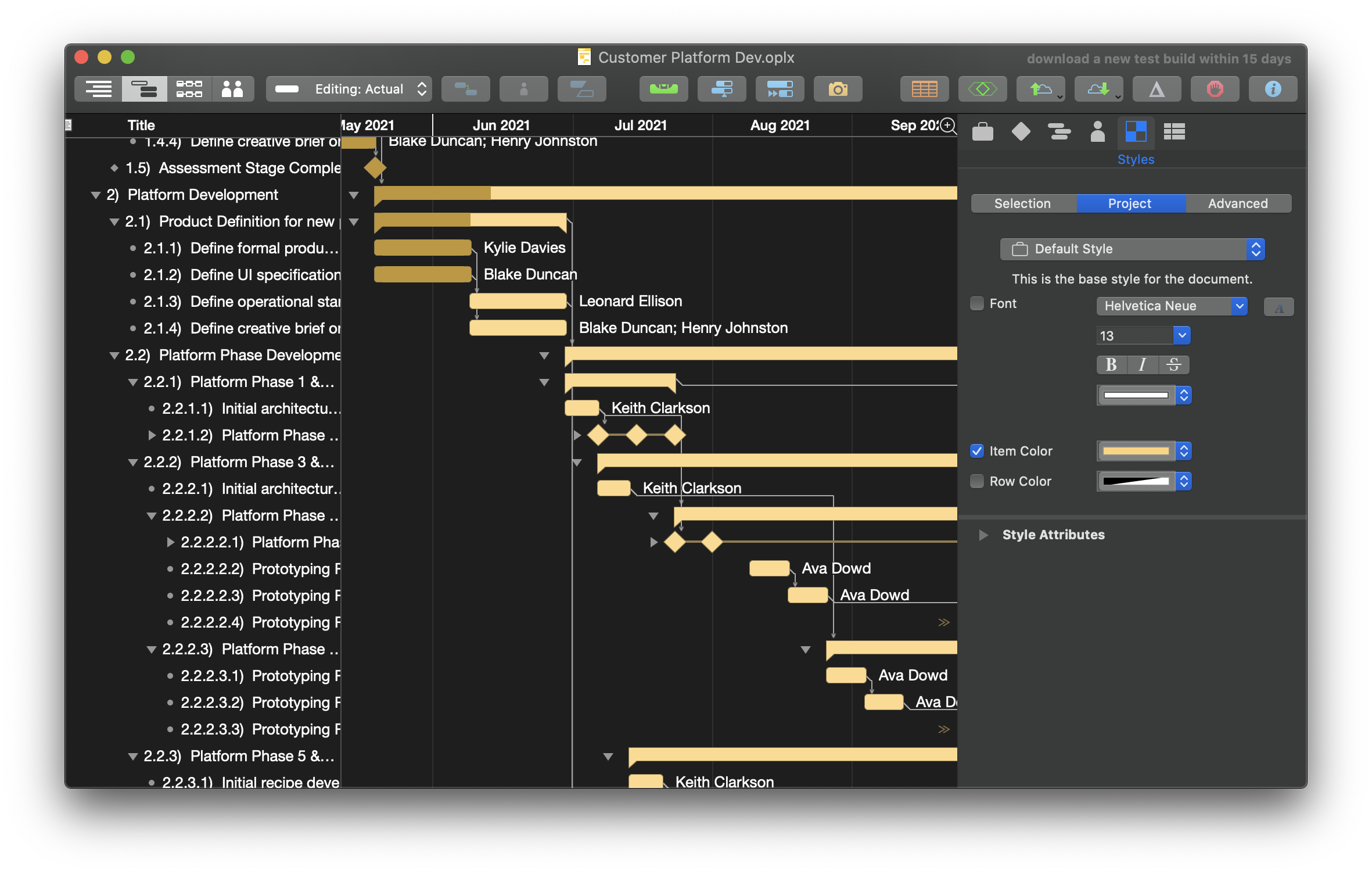 What's new in OmniPlan 4 for Mac
When planning OmniPlan 4, we focused on the feedback we've received from project managers since we shipped the first edition of OmniPlan for Mac over 14 years ago. We asked ourselves how we could make OmniPlan easier to use for the day-to-day tasks of project management, simplifying the ease of use for our existing feature set and adding some of our most commonly requested features (like recurring tasks, and cost and effort tracking).
New features include:
Recurring tasks: Tasks can now be scheduled to occur at daily, weekly, monthly, or yearly intervals.
Task Roll Up: Group tasks can now be set to "When closed, roll up children" in the Task Inspector. When this option is set, sub-tasks and milestones are displayed in a single line when the group is collapsed. There are multiple use cases for this feature - we expect it to be particularly useful for displaying multiple milestones in a single row.
Manual task scheduling: Tasks now support manual scheduling. Tasks which are set to be scheduled manually will use the start and end dates you provide; OmniPlan will not attempt to automatically reschedule them.
Interval tracking: Cost and effort tokens can now be added as labels below tasks in the Gantt or displayed in the Gantt header. These tokens display the total cost or effort for the current time increment, or the cumulative total cost or effort up to that time increment.
New file type: OmniPlan projects can now be saved as flat files or package files. The file type for a project can be modified in the new Document section of the Project Inspector. Package files can be faster to save, but flat files are more compatible with third-party sync services such as Dropbox and Box.
Automatic light/dark mode: Projects created with default OmniPlan templates now automatically switch between light and dark mode when your system does.
Project outline view: New, dedicated top-level project outline view.
Unified resource view — Project and resource work-hour customization has been consolidated into an enhanced Resource View. This view provides easier access to existing functionality and introduces a new schedule exception popover and customized day list, which allow for titling schedule exceptions and creating exceptions that span any length of time.
In addition to these new features, we've made many smaller changes and improvements throughout the app. Please see the OmniPlan 4 release notes for a detailed list of the changes currently included in this release.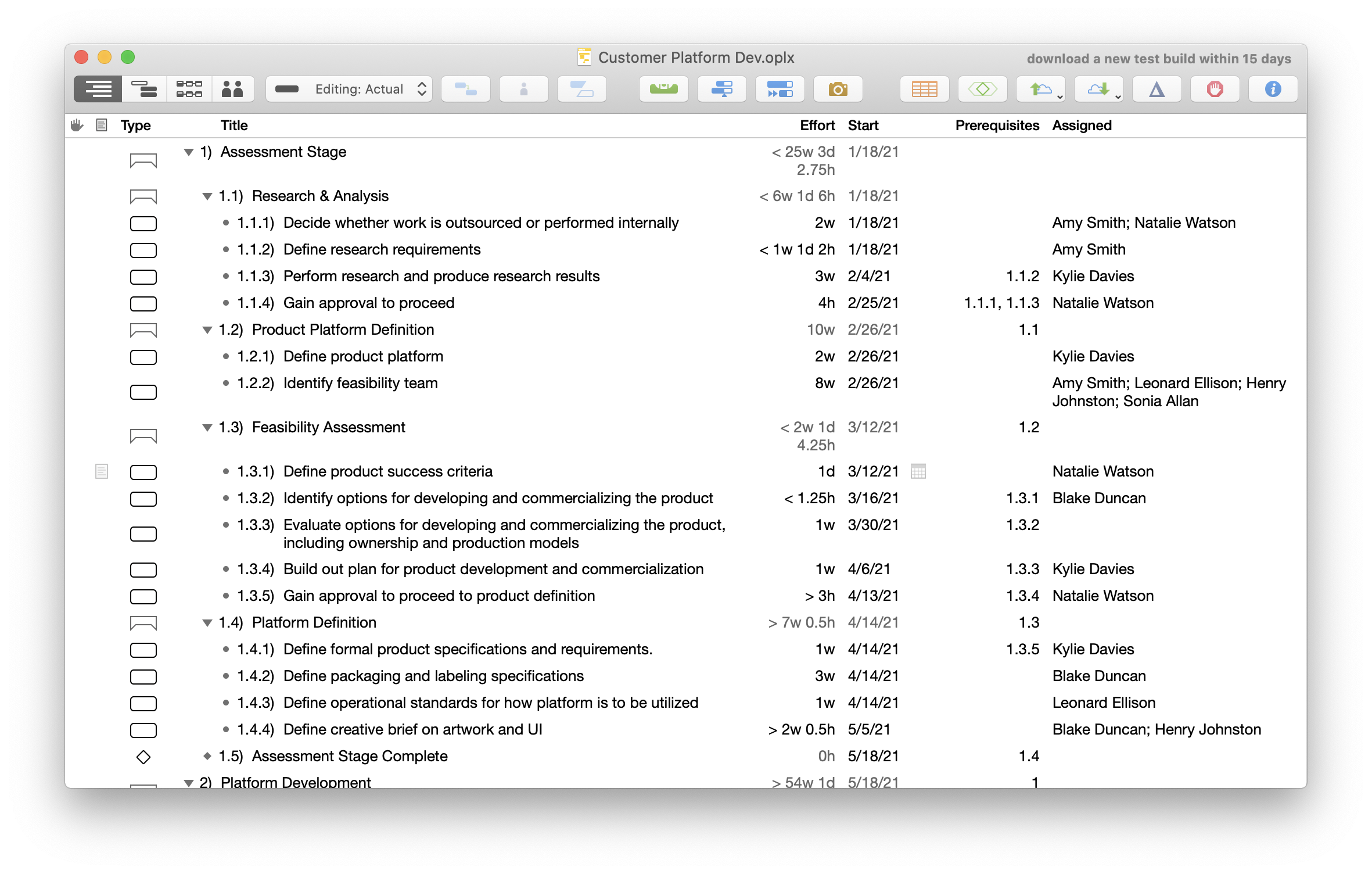 Pardon our dust!
While OmniPlan 4 is ready for customer eyes (and projects!), please be aware that this is not yet a finalized release. As such, you may encounter unexpected behavior or notice that pieces of the UI shift between builds as we fine tune changes. These are the major areas we expect to continue changing between now and the final launch of OmniPlan 4:
Major inspector update: Appearance, layout, and organization of all inspectors has been updated to increase discoverability and improve access to functionality (this work is currently in progress).

Updated task schedule inspector: Support for scheduling tasks manually has been added to the Task Schedule Inspector and the workflow for setting up task constraints has been updated. Task baseline information has been split out into a new Task Baseline Inspector.
New scheduling influences inspector: The functionality previously offered by the "Show Scheduling Influences" popover is now displayed in a dedicated Task Inspector.
Overhauled styles inspector: The Styles Inspector has been redesigned to offer easy access to all of OmniPlan's advanced styling functionality in one place, replacing OmniPlan 3's Styles View.
Unified custom data inspector: The Custom Data and Attachments Inspectors have been updated and consolidated into a single inspector.

View customization UI: View customization options are being reorganized to make them easier to find and use.
Interval tracking: Interval tracking data can not yet be exported. We're planning to add this functionality before wrapping up the public test period for OmniPlan 4.
Documentation: OmniPlan's in-app Help has not yet been updated for OmniPlan 4. Please keep an eye on the release notes for information about when this documentation is available in-app!
Stability: While we believe current OmniPlan 4 builds are reasonably stable, there are likely bugs in the app we have not discovered that may trigger crashes. If you encounter a crash while running an OmniPlan 4 build, please send a crash report with any relevant details when prompted.
How to help test
If you'd like to help us test OmniPlan 4, please make sure you're comfortable running software that hasn't been fully tested, and that you back up important data regularly. It's also important to make sure you're in a position where you have internet access and can install/check for updates regularly. Test builds automatically expire after a few weeks, and we anticipate our OmniPlan 4 test builds to continue to change rapidly.
You can sign up to help us test OmniPlan 4 for Mac here.
Feedback about OmniPlan 4 can be sent to our Support team by selecting Help > Contact Omni… in the OmniPlan menu bar, or by emailing our Support team directly at omniplan@omnigroup.com.
A note about backwards compatibility: OmniPlan 4 for Mac contains changes to OmniPlan's scheduling logic and file format. While some versions of OmniPlan 3 are able to open files created in OmniPlan 4, those versions of OmniPlan will not use the same scheduling logic when computing project schedules and you may notice scheduling inconsistencies. We do not recommend syncing OmniPlan 4 projects with OmniPlan 3 for iOS or previous versions of OmniPlan for Mac.
Thank you!
We're so excited to hear what our customers think about this big OmniPlan update. Thank you in advance to everyone who takes the time to help us test OmniPlan 4!