When I announced last week that OmniOutliner for iPad had been submitted to the App Store, I noted that we were still busy putting together our marketing materials which explain what the app does in more detail. Well, we just finalized our App Store description and screenshots, so I'd like to share those with you now:
OmniOutliner starts as a blank page. But as you collect, compose, and rearrange text, its powerful outlining features emerge to organize your ideas. Hierarchy, columns, styling, notes — use them all in concert or keep things simple, depending on the project at hand. From basic lists and tables to serious writing and data wrangling, OmniOutliner understands how to keep your work structured and tidy.

Why choose OmniOutliner for iPad?

COMFORT: OmniOutliner was designed with speed and ease in mind, especially for data entry. Carefully-planned keyboard interactions and the ever-present Edit bar make it straightforward to add and rearrange items. Your ideas are what's important — OmniOutliner just helps you get them in order.

STRUCTURE: Expand and collapse groups to concentrate on what's important now. Use the flyout Plus buttons to put new items right where you need them. And of course, just drag items around when you need to rearrange the order. If you need to make a bigger change, use Edit mode to move or modify a bunch of rows at once.

COLUMNS: Checkboxes, formatted numbers, pop-up lists, dates… Keep track of any number of different fields in each row. If you have too many columns to see at once, you can hide some. Or just temporarily slide them underneath the main outline column to get at the ones you're interested in. You can even sort your rows by any column, then restore their original order.

STYLES: Thanks to the included sample documents and styles, you may never need to adjust anything yourself. But if you want to, check out our custom rich-text editor, with more detailed styling than you're likely to find anywhere else on iPad. Save your favorites as named styles, for quick and consistent styling across your document. Even chain styles together to automatically change rows based on their position in the hierarchy.

NOTES: Inline notes make it easy to keep track of ideas for future revisions, ancillary content, reviewers' comments, ill-considered notions, snide jokes, and other miscellaneous info. You can attach notes to any row in a document, and show or hide them individually or en masse. And of course, notes can be styled just as precisely as the main content.

LINKS & ATTACHMENTS: Web addresses you type automatically get linkified. And any image you can copy and paste, from tiny embellishments to sketches from a drawing app to full-sized photos, can be placed right in your outline.

SHARING: OmniOutliner has no shortage of ways to share your documents. Import and export via iDisk, WebDAV, or email, in several formats: OmniOutliner (compatible with OmniOutliner 3 for Mac), OPML (compatible with other outlining applications), HTML, or good old-fashioned plain text. You can even choose a dynamic HTML export with expandable and collapsible groups.

SUPPORT: If you have any feedback or questions, we'd love to hear from you! The Omni Group offers free tech support: you can reach us by email at omnioutliner@omnigroup.com, by phone at 1-800-315-6664 or +1-206-523-4152, or on twitter at @omnioutliner.

Thank you!
And now, the screenshots!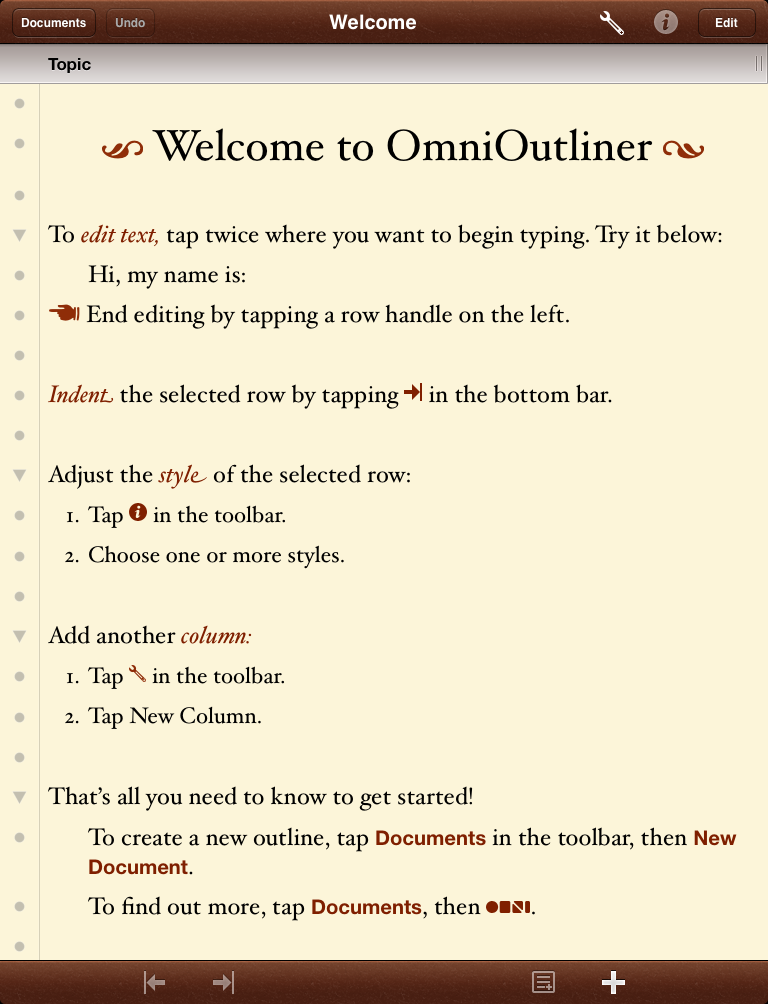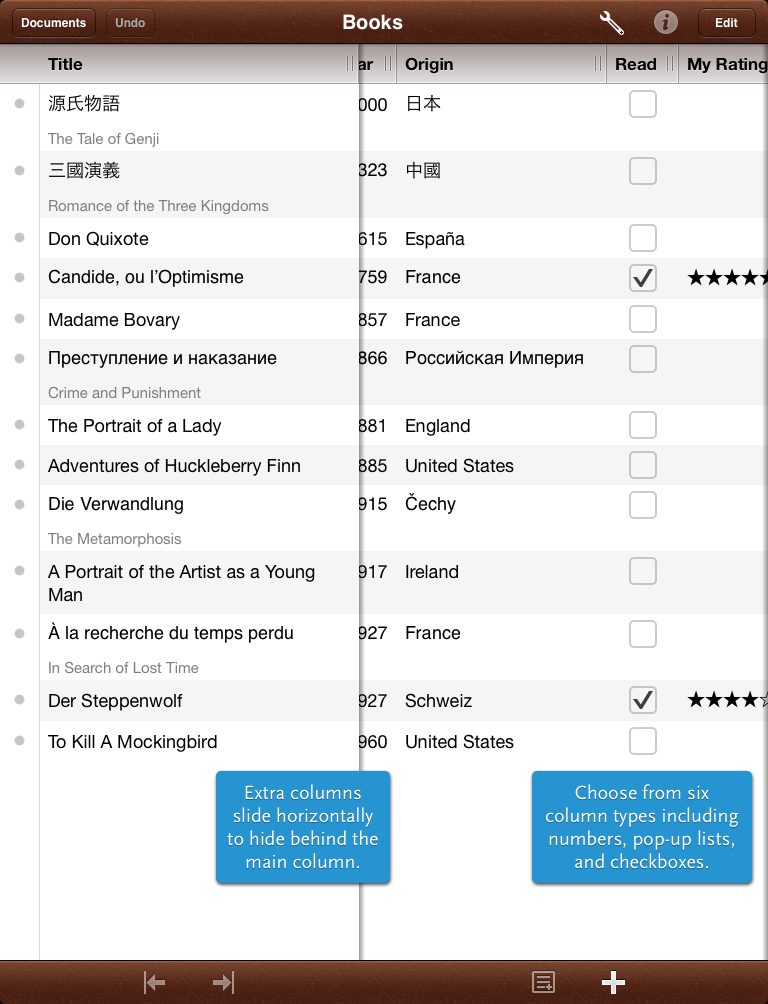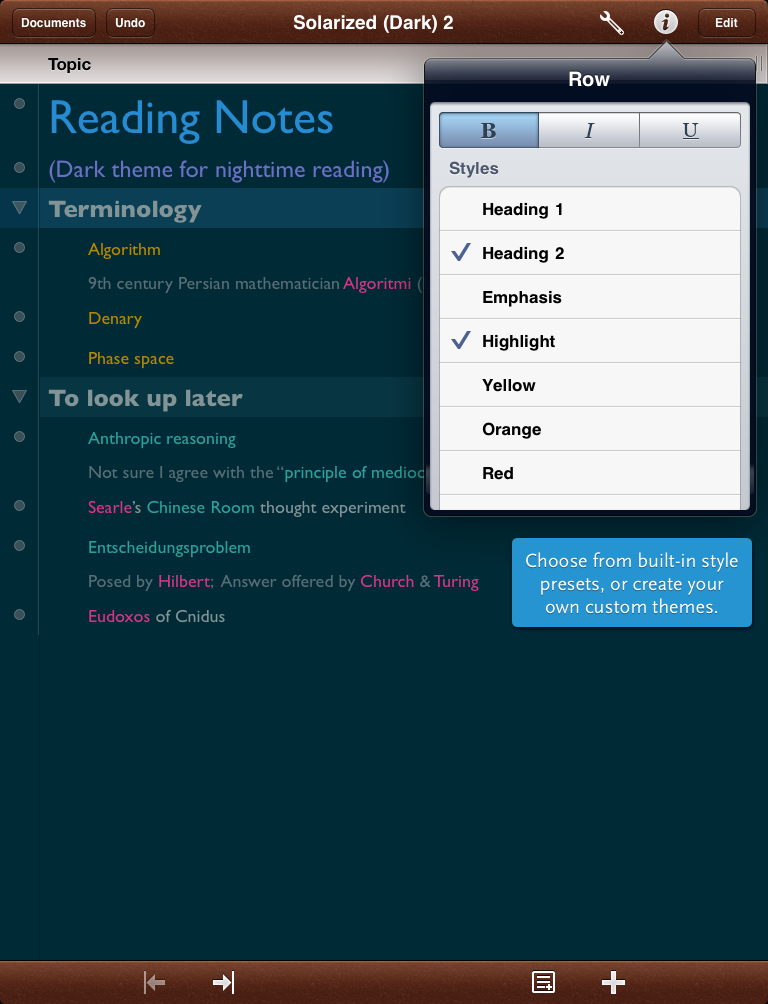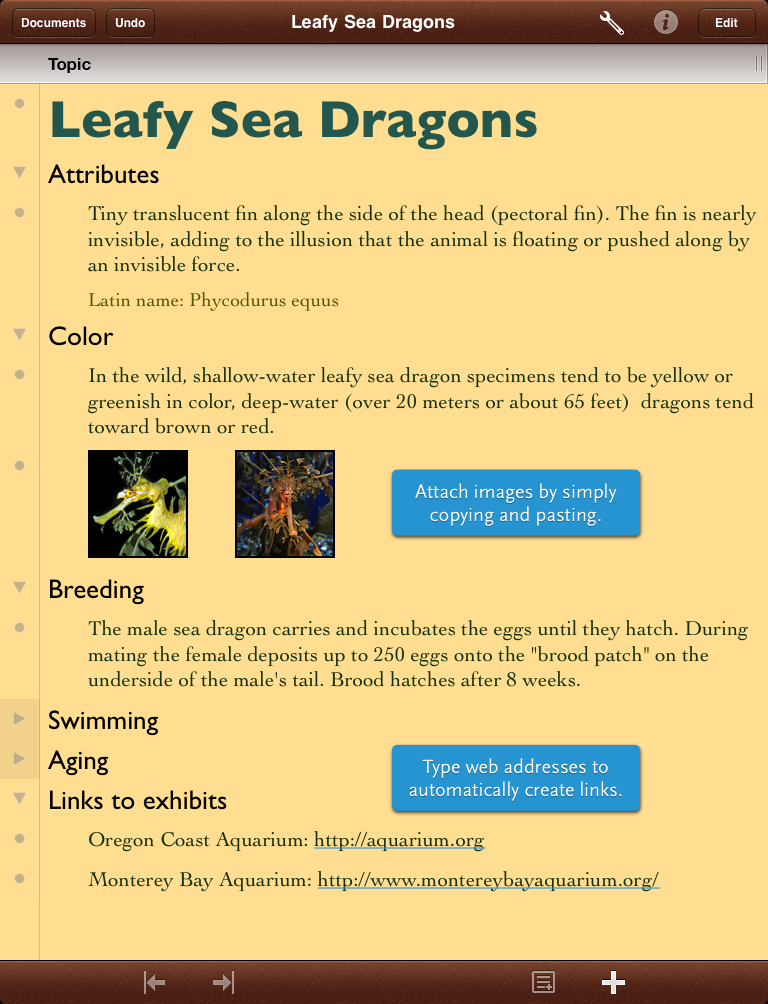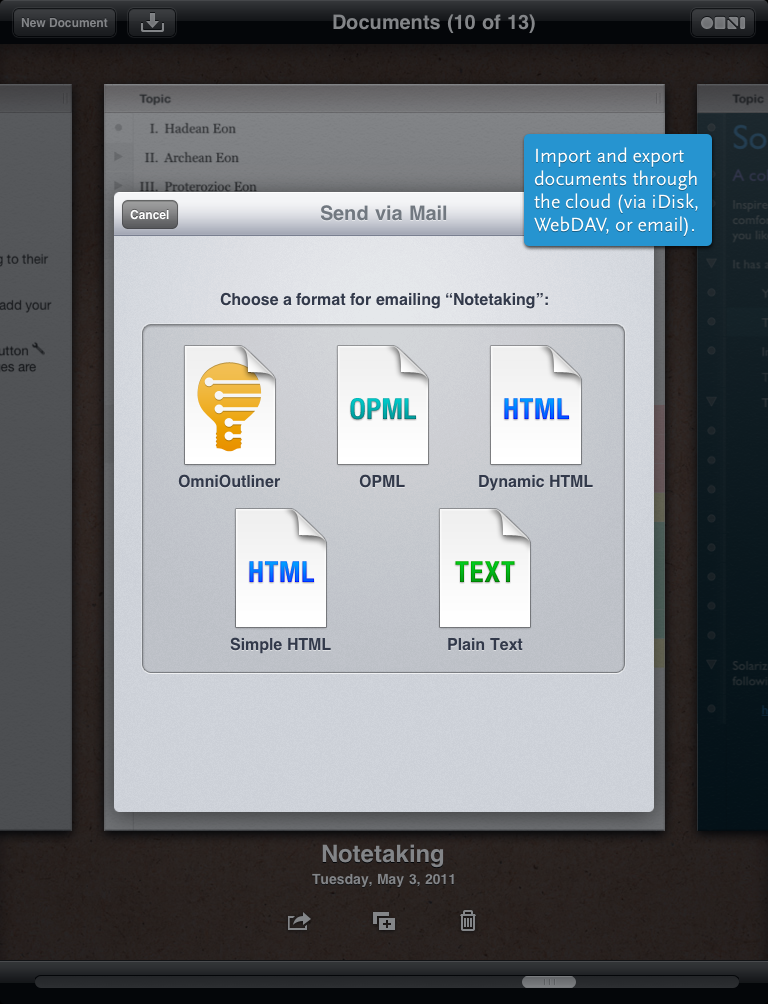 Sadly, the App Store only allows for five screenshots. Fortunately, our blog has no such limitation, so here are a few more!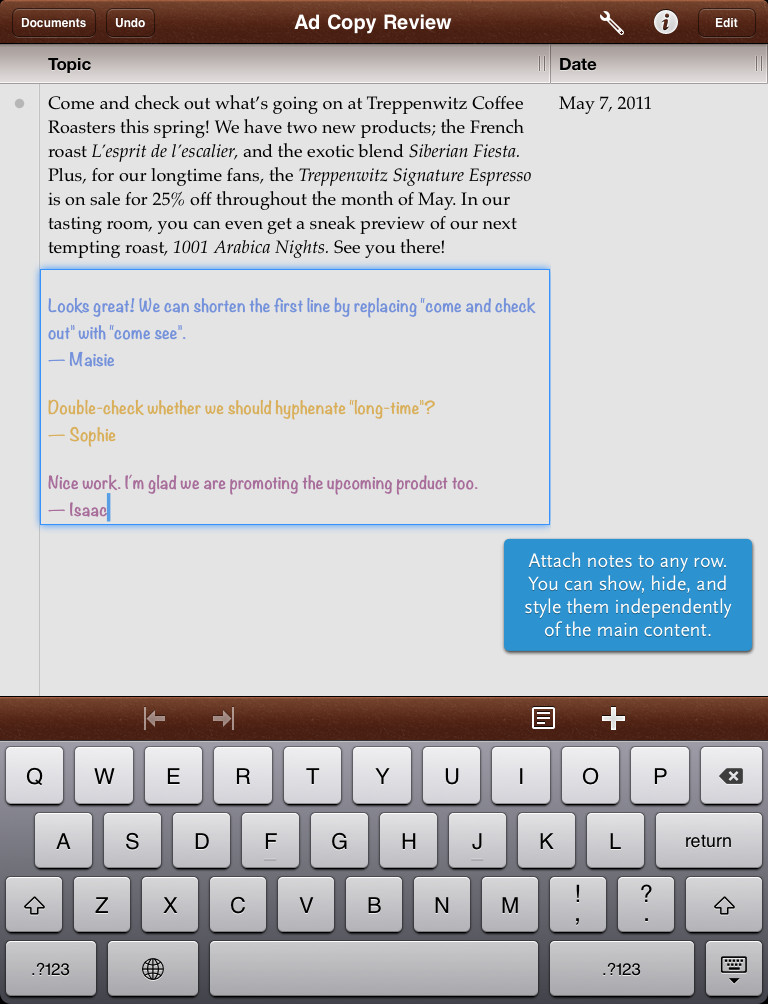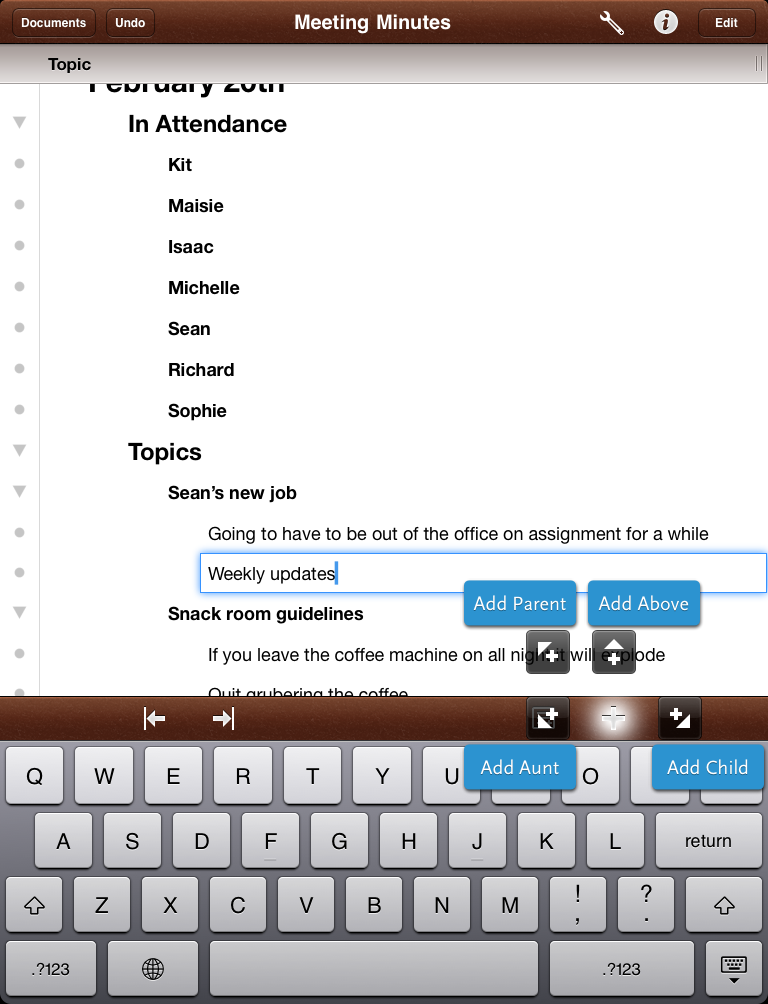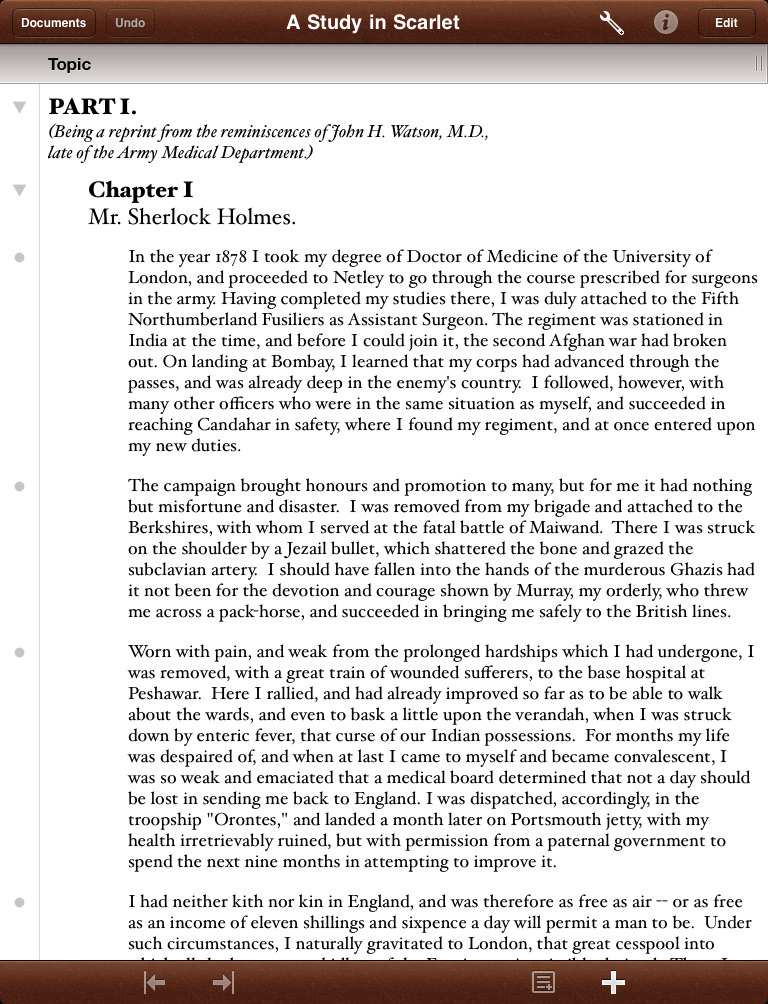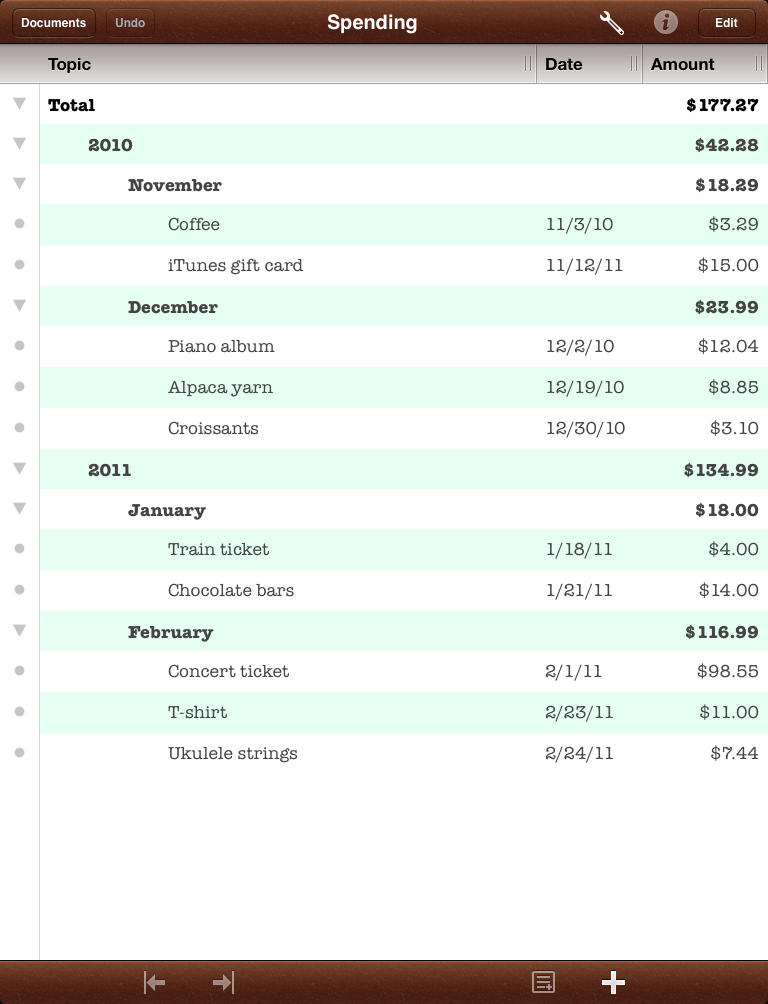 Again, we don't know exactly how long it will take for OmniOutliner to be reviewed, but hopefully it won't take too much longer. Once it has been approved, we'll post a specific launch date and time—so if you haven't seen anything here yet, there's no need to keep checking the App Store. In fact, if you'd like to be notified by email the moment OmniOutliner is available on the App Store, you can subscribe to our low-traffic OmniNews mailing list or to our OmniOutliner Users mailing list. Or you can follow @omnigroup or @omnioutliner on twitter.
As always, I'd welcome any feedback you might have: leave a comment here, or send me a message on twitter (where you'll find me at @kcase). Thanks for taking the time to read this!