It's only been a week since the last huge release, so we're following up with another: OmniGraffle 6 is ready for your graffling needs! While last week's releases started 3 months ago (and turned out really, really well), work began on 6 a few years ago. This is a big one — it packs a lot of new features and a brand new interface. (If you're done reading and just want the bits, go download it!)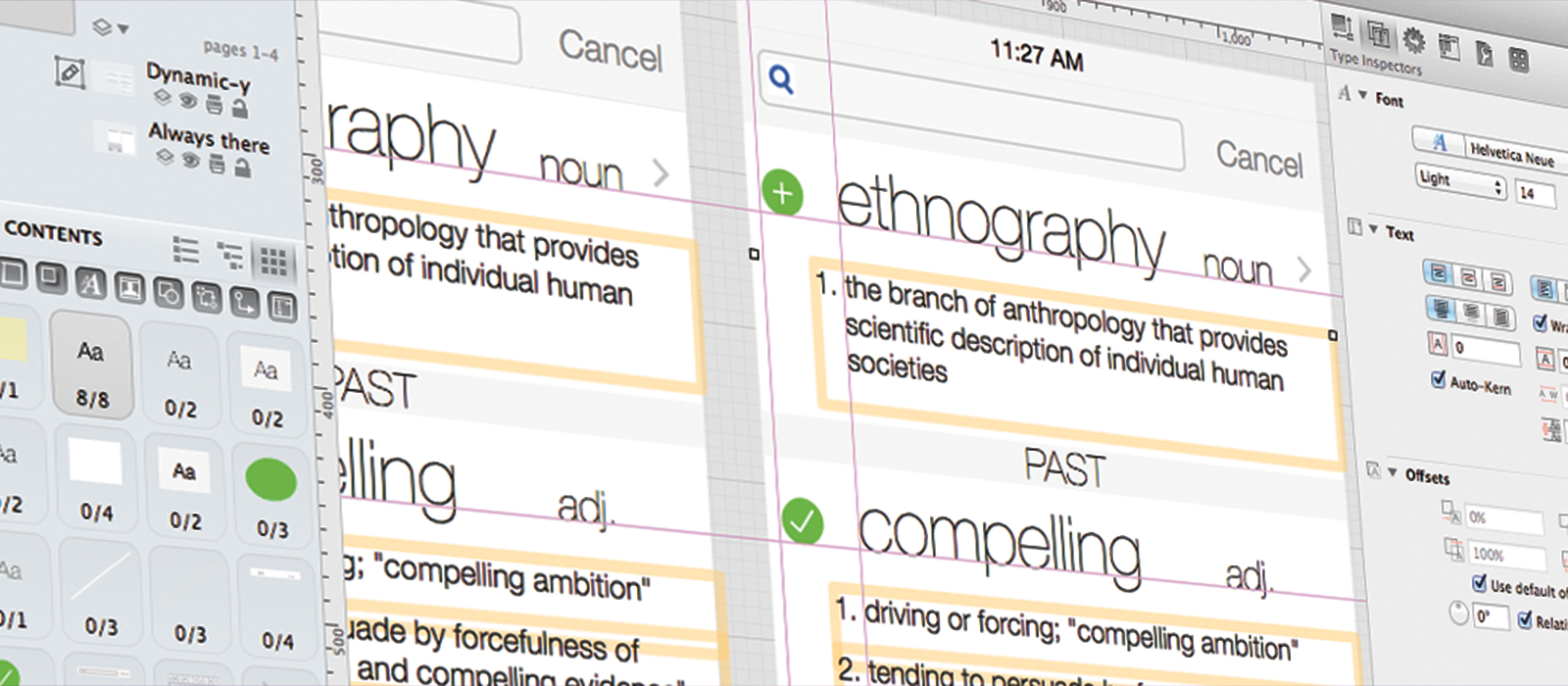 Hot New Features
The amount of underlying work to OmniGraffle's core is vast, but you'll also see a ton of new features. The biggest change everyone will notice is the brand new interface. We've integrated both the Inspector and Stencil window into the right side of the window — it works better on even the smallest of Apple's displays, and inspectors that aren't related to your selection stay out of your way.
In the new Inspector sidebar, you can rearrange each pane up or down. In the "Type" inspector, you'll find some advanced tools, too. Kern individual pairs of characters, or set up tracking for the whole word. You could place images before, but now you can edit and mask directly on the canvas.
OmniGraffle's completely ready for Retina displays — especially when designing for them. For example, let's say you're building a website. You'd like higher-resolution graphics and want accurate displays of size. When zoom is at 100%, choose between representing an Apple point, a PostScript point, or a pixel-for-pixel match.
Not to mention non-destructive shape combinations, some new artistic styles, text on a path, 6400% zoom, and more. The Release Notes and in-app Help list all the new features and changes.
Intro Video
OmniGraffle 6 is the culmination of many feature requests, customer feedback, and careful consideration. The app has been improving our lives for quite some time internally, and we're very excited that you can try it out now, too.
Check out OmniGraffle 6, download a trial, and purchase if you'd like! To make things easier, we decided to bundle both Standard and Professional in the same app. Just plug in a Professional license to unlock additional features. During the trial, you can see which version you need by switching from one to the other, if you'd like, from the OmniGraffle Menu.
OmniGraffle 6 is $99.99; Professional for $199.99. Upgrade pricing depends on which version of 5 you're using, but Standard to Standard is $49.99; Pro to Pro is $99.99. We cannot offer upgrade pricing for Mac App Store licenses. Update: go here for instructions on getting a discount via the Mac App Store
It's available in our store right now, and coming soon for the Mac App Store.
Questions? Tweet @omnigraffle, send an email, or call: +1 800-315-6664.