OmniFocus can be as simple or as complex as you choose to make it. It's essentially an outline of tasks that can be tagged and filtered in different ways. This makes it incredibly flexible—much like paper—which lets it grow with your needs.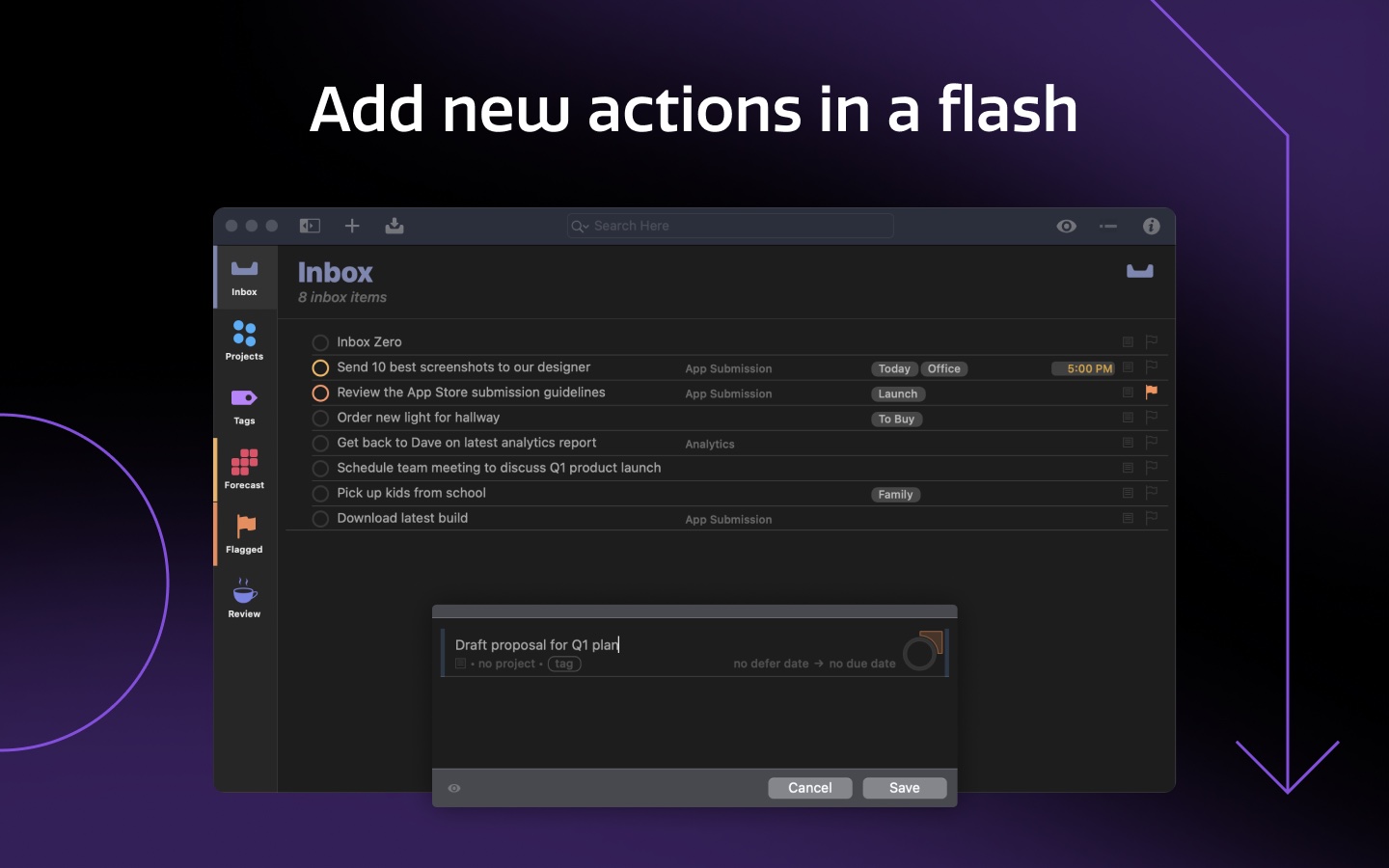 What does OmniFocus do, and how does it actually help you get things done? I know this is a tautology, but for something to be called a "to do list" it has to include (drumroll, please) a list of things to do! That list is the starting point for any tool that helps you stay on top of the work you need to get done.
OmniFocus starts with that basic functionality: it provides an Inbox where you can list things to do. It also provides lots of easy capturing mechanisms to help you get things into that Inbox:
You can add tasks by asking Siri to add a reminder.
You can forward email to your OmniFocus mail drop.
With a single keystroke you can open Quick Entry to create a new inbox item. Simply write down what you need to do, then press Return to capture that task and dismiss the capture window—returning to whatever you were working on without undue distraction.
When you open OmniFocus, you'll can easily see all those captured items in your Inbox. You can drag them around (or use convenient keyboard shortcuts) to reorder them into your preferred order, and you can check them off to mark that you're done with them.
We've designed OmniFocus to be a flexible and powerful system that can grow as your needs grow, helping you focus on what matters as your list outgrows that simple Inbox. But if your current workload is simple, you can stop right there! Capturing things in your Inbox and checking them off as you do them are all you need to know to start accomplishing more every day using OmniFocus. (Install OmniFocus, and begin your free two-week trial today!)
---
(Feedback? I'd love to hear from you! You can find me on twitter at @kcase, or send me email at kc@omnigroup.com.)