The most powerful task management software on the market just got even more powerful! With Omni Automation, every user can leverage plug-ins and scripts to accomplish more every day, automating routine tasks and integrating with other tools and services. Omni Automation scripts work across Mac, iPhone, and iPad can be shared with others and can be written by anyone—using the same JavaScript language that powers dynamic web pages.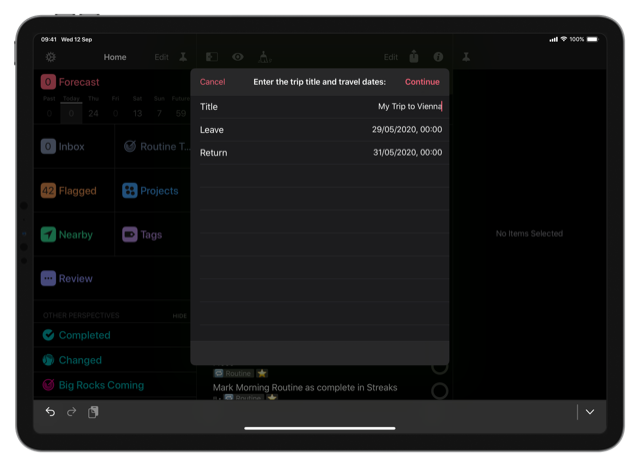 "We've always believed in the strength of iPad as a productivity platform, and in 2016 we set out to bring more of the power of our desktop apps to that transforming piece of glass," explains Ken Case, co-founder and CEO of the Omni Group. "A key element of that power has always been user automation, and with Omni Automation we pioneered delivering a deeply integrated scripting environment which customers could use on Mac, iPad, and iPhone. With OmniFocus 3.8, Omni Automation is available for all of our Mac, iPad, and iPhone apps—and I can't wait to see how our customers leverage this to build great custom solutions for themselves and their teams, saving significant time and increasing their productivity like never before."
Omni Automation plugins and automation in OmniFocus Pro offer a level of customized automation previously not available on iOS. While the Mac has had support for AppleScript since it's earliest days (and was started as a combination of OmniOutliner and AppleScript known as Kinkless GTD), this has left some of the most popular devices out of part of the automation loop. OmniFocus recently added more Shortcuts support, but Shortcuts, like AppleScript, are restricted to one platform—and they can't offer the unique abilities that come from writing a script. Below are two example plug-ins you can download and use, or look at, to see how this new feature can enhance your OmniFocus workflows—on Mac, iPad, or iPhone. Now, with Omni Automation, plug-ins can be written once and will work the same on Macs, iPhones, and iPads.
Packing List Template
When you travel on a trip, one thing that is the same for most people every time is their packing list. You might add snorkels for a beach holiday, and the length of your trip likely determines a parka for a trip to Lapland, but the number of socks you take! You can create and use a plug-in to ask you how long your trip is, and have it use this information to generate a packing list for your trip. As well as smart entries on the list (like six pairs of socks for a six-night trip), it can also add static items (like your iPhone charging kit). Now you don't need to worry about finding your template list or duplicating a base project and editing it—you can just run a plug-in.
New Link-Back Task
In our complex world, we sometimes have tasks that are linked to or even depend on, each other. Ideally, these tasks would be connected to one another—so when you complete one, you can jump to the other and complete that too. With a plug-in, you can make a new inbox task which contains a link to your currently selected task in the notes—saving you the legwork of getting the link to the task and pasting it into the notes of the new task!
Integration with OmniPlan, OmniGraffle, and OmniOutliner
All Omni Group applications now support JavaScript plug-ins—so you can transfer your data from one application to the other with ease. You can also turn a project in OmniFocus into a project plan in OmniPlan, a hierarchical diagram in OmniGraffle, or import templates from OmniOutliner.
We encourage you to explore existing plug-ins and the reference material in each app. Whether you're an automation novice or a fully-fledged developer, we hope you enjoy OmniFocus 3.8.
Download the app for Mac or iOS, and if you have any questions or feedback, email omnifocus@omnigroup.com—our amazing Support Humans are standing by, ready to help.