Just the Facts
"When will OmniFocus 2 for Mac ship?"
June, 2014.
"Can I help you test OmniFocus 2 for Mac before it ships?"
Absolutely! If you helped us test the pre-Mavericks builds last year, you're in for a pleasant surprise.
After listening to your comments on the initial preview, and seeing the direction Apple was moving with OS X Mavericks and iOS 7, we took some time to rethink and redesign OmniFocus 2 for Mac. We're really proud of what we've accomplished, and we're now ready to open the flood gates to share the new OmniFocus 2 for Mac with you.
Head on over to our download page to get the latest build of OmniFocus 2 for Mac.
More Detail, Please!
When we unveiled our plans for OmniFocus 2 for Mac last year and invited you to try our test builds, it was so we could learn from you which parts of the design were working well, and which parts still needed improvement. We didn't know what to expect, so we weren't sure how close we might be to setting a ship date.
The feedback you provided was generally positive: the new design was easier to navigate, and the new Forecast and Review modes were making it much easier to stay on top of all your projects.
But listening to your feedback, we also learned a lot about ways we could make the app even better—and we were further inspired by Apple's latest designs when they unveiled iOS 7.
We paused our test builds and went back into heads-down mode to focus on the hard work of another round of design and development. Since that time, our team has been working tirelessly behind the scenes on a fresh design that preserves the best features of their original work while adapting to the latest changes to the platform.
With this new design in place, I'm thrilled to announce that OmniFocus 2 is now ready for its final round of testing.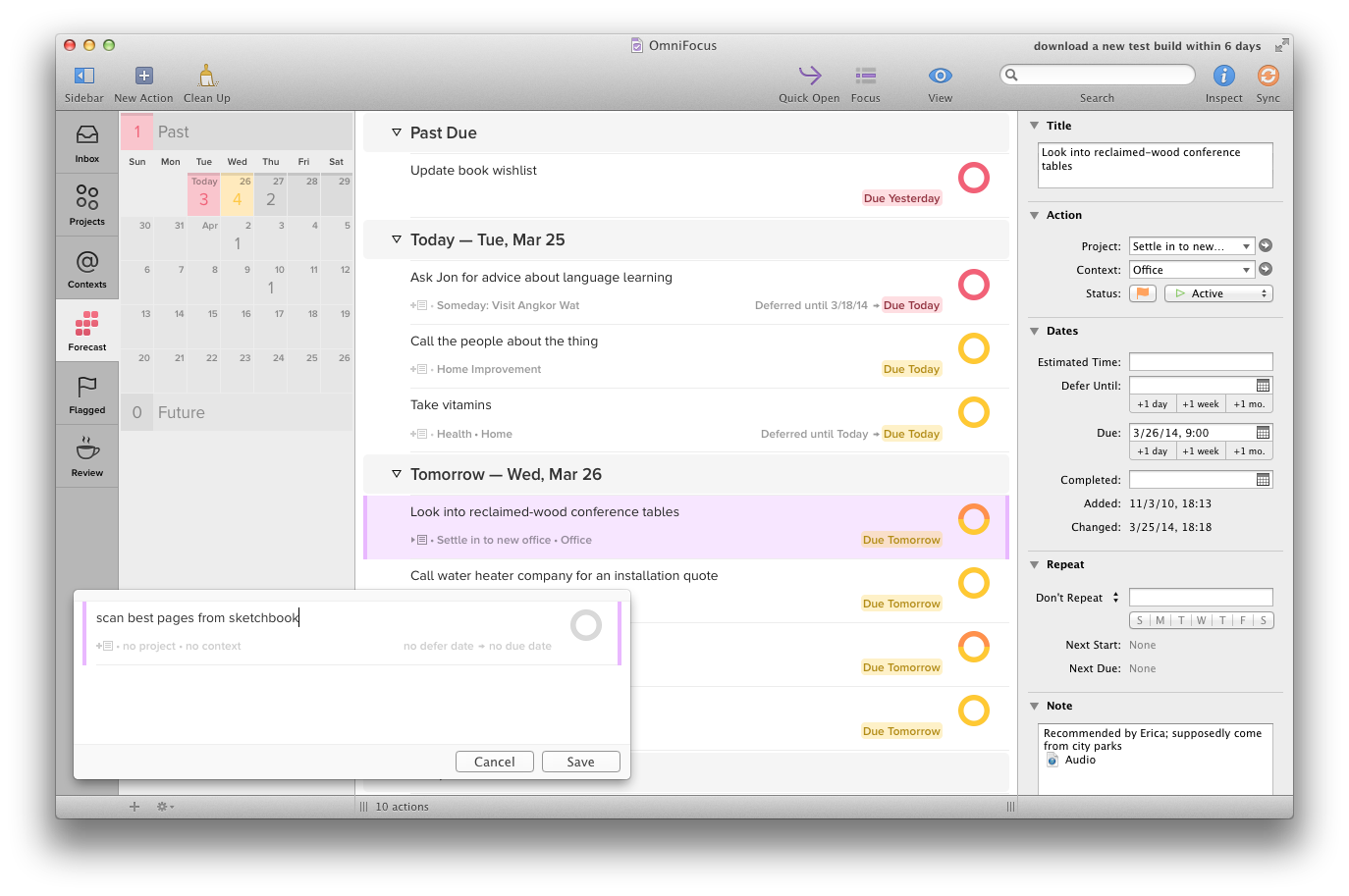 Next Steps
As noted at the top, any of the nearly 30,000 people who participated in last year's testing are welcome to join back in!
What we're most looking for at this point are any issues that make OmniFocus 2 harder to use for your particular workflow than OmniFocus 1 was. We'll be giving your feedback a hard look between now and when we ship in June and trying to address as much of it as we can, so the sooner we hear from you the better.
The best way for you to share your thoughts with us is to contact us by email at ofpreview@omnigroup.com. We've also set up a Discourse test board which you can use to share tips and advice with other testers.
Thanks to all of you who took the time to test OmniFocus 2 for Mac during our private test last year! My hope is that each of you will be able to see how the feedback you gave us made the app even better.
If you didn't sign up for the test last year but would like to be considered for future test releases, please head over to the OmniFocus 2 for Mac test sign-up page to get on the waiting list. (If you did sign up last year but have forgotten your login details, you can also use the sign-up page to retrieve those details.)
How to Contact Us
Now, go grab the latest build of OmniFocus 2 for Mac and let us know what you think! Here's how to reach us:
And, as always, you're welcome to reach out to me personally: I can be reached by email at kc@omnigroup.com, or on Twitter at @kcase.
We look forward to hearing from you!