We always approach WWDC with one eye towards the possibility that our development efforts may be disrupted by improvements in our environment. This month's WWDC certainly brought plenty of those improvements!
Apple gave us a number of great new tools and platform updates—and introduced a whole new computing platform with an operating system for the future. We're looking forward to working with the new features in macOS, iOS, iPadOS, and watchOS, like interactive widgets and SharePlay enhancements—and we've already started using some of the great new Mac hardware they've introduced. (The full lineup presented at WWDC means the Mac's transition to Apple Silicon is now complete!)
We're pleased to report that none of this year's advancements impede our plans for this year. We're continuing full steam ahead on OmniFocus 4 and OmniGraffle 8. Redesigning and rebuilding OmniFocus has been a multi-year effort, and we're extremely pleased with the builds of OmniFocus 4 currently available in TestFlight on iPhone, iPad, Mac, and Apple Watch. OmniGraffle 8 is also now in TestFlight on Mac, and we look forward to shipping both apps as soon as possible! And, as always, you can expect all our apps to be updated and ready for the latest operating systems when they ship this fall.
Peering even further ahead, we look forward to bringing all of our products to Apple's new spatial computing platform! The first product capable of running Apple's visionOS platform will be Apple Vision Pro, which will launch sometime next year. Tim Cook introduced it as "a new kind of computer that augments reality by seamlessly blending the real world with the digital world. With Vision Pro, you're no longer limited by a display. Your surroundings become an infinite canvas. Use your apps anywhere and make them any size you want."
Imagine using OmniGraffle without the constraints of a physical screen! It's still early—but with yesterday's release of the visionOS simulator, imagining that future just got a little easier. (There's still plenty to do, but we had our apps running within an hour of receiving the SDK!)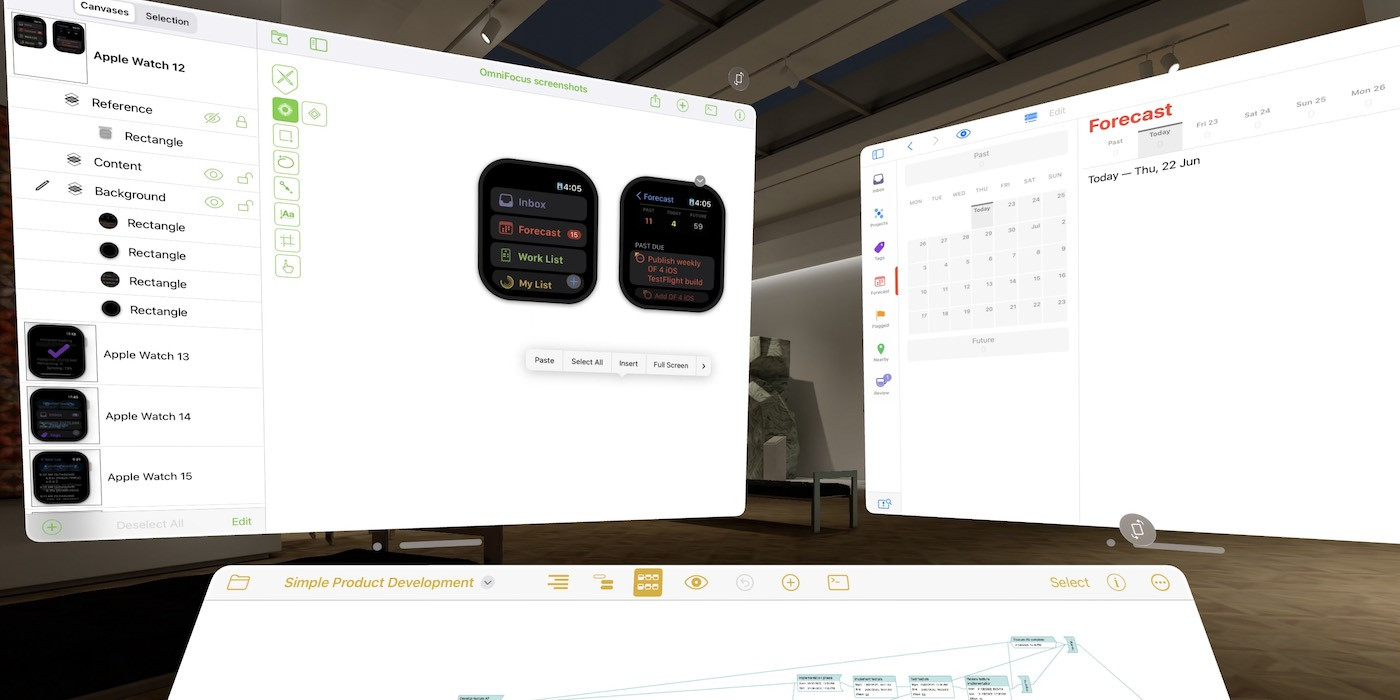 Now, we don't expect this first generation Vision Pro to be adopted by everyone, any more than first generations of Apple's other platforms—the Apple II, 128K Mac, iPhone, iPad, or Apple Watch—were adopted by everyone. But, quoting Tim Cook again, "… in the same way that Mac introduced us to personal computing and iPhone introduced us to mobile computing, Apple Vision Pro will introduce us to spatial computing."
We develop for Apple's platforms because we love being on the cutting edge of new technology. We've had products ready to ship on day one for many of their product launches over the past few decades, including Mac OS X, their first Intel Macs, iPhone, iPad, Apple Watch, and their first Apple Silicon Macs. We love that Apple shares our goal of building products that make us better, more capable humans (building "bicycles for the mind") rather than making us less human. With visionOS, once again, Apple is pushing forward the technology envelope as only Apple can, from their position at the intersection of Technology and Liberal Arts. As Steve Jobs said when introducing the iPad:
The reason that Apple is able to create products like the iPad is because we've always tried to be at the intersection of Technology and Liberal Arts. To be able to get the best of both: to make extremely advanced products from a technology point of view, but also have them be intuitive—easy to use, fun to use—so that they really fit the users. The users don't have to come to them, they come to the user.
We see this in their Vision Pro design goals: to ensure you're never isolated from the people around you, helping you stay connected to those nearby; using a system that relies solely on your eyes, hands, and voice. All while respecting and protecting your privacy.
So, yes: given our DNA, of course we hope to have our apps ready for Apple Vision Pro the moment it ships. That's not a small project, but we think there's incredible potential there, and it's exciting to think about—even if it might take a few more generations of platform improvements before it truly reaches its potential.
But bringing our apps to a new platform is a project for further down the road, after OmniFocus 4 ships! Returning our focus to our roadmap for the remainder of this year, we look forward to shipping OmniFocus 4 and making sure all of our apps are ready for macOS Sonoma (version 14), iOS 17, iPadOS 17, and watchOS 10. We're very excited about the work we've been doing, and—now that we know our summer plans won't be upended—we can't wait to share more details with you all!
---
(At the Omni Group, we make powerful productivity apps which help you accomplish more every day. Feedback? I'd love to hear from you! You can find me on Mastodon at @kcase@mastodon.social, or send me email at kc@omnigroup.com.)