In my last blog post, I reflected on all the things we accomplished in 2012 here at Omni—in particular, the completion of our huge "iPad or Bust!" initiative. But as Professor Hathaway said to Chris Knight, "That was yesterday. What have you done for me today?"
With "iPad or Bust!" out of the way, we've been able to move some of our projects off the back burner and here are some highlights of what's coming: OmniFocus 2. OmniOutliner 4. Automatic document syncing. Sandboxing. Accessibility. Visio and Microsoft Project compatibility in our iPad apps. Upgrade pricing from Mac App Store apps.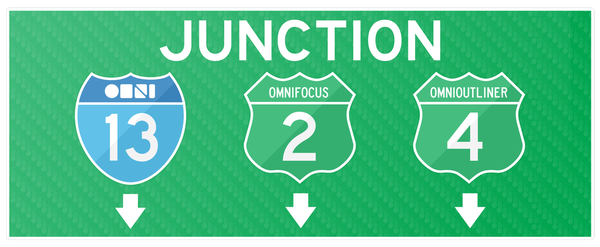 Let's start with OmniFocus 2! For OmniFocus 2, we're bringing back to the Mac all of the design and innovation that went into our iPad edition of OmniFocus: dedicated Forecast and Review modes, clearer navigation, and a fresh look and feel. I'm looking forward to sharing it with you! At 6pm on January 31, you're invited to join Merlin Mann, David Sparks, and me for the first public debut of OmniFocus 2. This will be a free event, hosted at the Cartoon Art Museum (a short walk from Macworld/iWorld), and anyone who attends will get early access to the OmniFocus 2 private beta. Space is limited, so if you plan to attend please let us know.
Next up: OmniOutliner 4! I know many of you have been waiting for this upgrade for a long time—I know I have been waiting for this for a long time! For those of you who might not know the history, OmniOutliner 3 shipped in January, 2005—one year before Macs transitioned to Intel processors. And OmniOutliner 3 certainly hasn't sat still over the last eight years: we've ported to Intel processors and added support for Spotlight, dictionary lookups, LinkBack, Automator workflows, Quick Look, custom toolbars, Word 2008 export, Auto Save, and Versions. But other than a few tweaks to the inspectors and toolbars, its design has mostly stayed the same: it's starting to feel a bit long in the tooth. So… it's due.
What's coming in OmniOutliner 4? We've completely rebuilt the outlining engine to support zooming text, showing and hiding columns, and we've improved link handling and attachments. We've designed a new style system which emphasizes named styles and simplifies the styles interface. And it's built on a modern 64-bit architecture, with a fresh new look and feel. OmniOutliner 4 isn't finished yet, but it's getting close: it's now at the point where I'm using it to edit all my outlines rather than OmniOutliner 3, so I anticipate we'll be ready for public beta sometime in the first quarter.
Automatic document syncing is almost here! We call it "OmniPresence": your documents, synced everywhere you want them to be.
We've designed OmniPresence around open web protocols, so you're welcome to use our free Omni Sync Server or to host your own cloud server. We think that the option to host your own cloud is important—not just because of concerns with respect to privacy and security (though that's key for many businesses), but because it means you can keep that cloud running as long as you want to keep using it. As we saw with MobileMe shutting down earlier this year, individual cloud services can easily disappear as business models change. Building a solution around open standards means that our customers have a choice of hosting providers rather than being tied to a single ephemeral cloud solution.
OmniPresence is not limited to syncing with a single cloud, either: you can choose which folders to sync with which clouds. This means that teams can set up separate folders in separate clouds, and you can access files from any of them on each of your devices.
Because it's open and you can host your own cloud, OmniPresence is designed to sync any documents you want: it's not limited to syncing documents created by our apps. In fact, on the desktop OmniPresence is completely independent of our other apps: if you wish, you can use it to sync TextEdit documents! (But when using OmniPresence with non-Omni apps, we'll ask that you limit the amount of space you use on our Omni Sync Server since we can't provide infinite storage to everyone for free. On your own cloud server, though, do whatever you want!)
On iOS, OmniPresence isn't quite that independent: the sandboxing environment requires that each app embed the OmniPresence logic within its own codebase. We will be publishing our source code for free so other developers can add it to their apps.
OmniFocus 2, OmniOutliner 4, and OmniPresence. Three major upgrades, all coming your way in Q1, 2013.
But as I noted at the top, that's not all! We're also working on sandboxing to help keep your Mac safe; and accessibility (currently in private beta for OmniOutliner for iPad) to make our apps easier to use by those who are visually impaired. And we've been working on adding Visio and Microsoft Project compatibility to our iPad apps, so it will be easier than ever to go completely mobile with your work.
Finally, with OmniFocus 2 coming we've been thinking a lot about how to implement upgrade pricing from Mac App Store apps. As always, we plan to offer discounted upgrade pricing on our own online store, but unfortunately we don't have the flexibility to offer selective discounts in the Mac App Store. We've decided to treat the Mac App Store the same way as we treat retail stores: it's a great way to discover our software, and can give you confidence that it's been vetted by a third party. And, just as you wouldn't get a discount from a retail store if you purchase OmniGraffle 5 while owning OmniGraffle 4, you won't get a discount if you purchase OmniFocus 2 from the Mac App Store. But we're in the process of updating our store so that you'll be able to register your Mac App Store apps to get a discounted upgrade price when you buy an update directly from us. Please see this blog post for more information on upgrade pricing for App Store apps.
OmniFocus 2. OmniOutliner 4. OmniPresence. Sandboxing. Accessibility. Visio and Microsoft Project compatibility in our iPad apps. Upgrade pricing from Mac App Store apps. I hope you're looking forward to 2013 as much as we are! (And don't forget to let us know if you're planning to come to the OmniFocus 2 debut!)