Today, Apple released iOS and iPadOS 15, and Omni's apps are ready to go!
This summer, our testers and engineering teams have made it a priority to make sure our apps work well with the new operating systems. When you update you'll be able to take advantage of several new OS features, such as OmniFocus widgets on the iPad home screen, the Focus feature for contextual control of which alerts deserves your attention, and the ability to capture live text straight into each app.
After updating your device's OS, you'll want to make sure you're using the latest version of each of our iPhone and iPad apps:
OmniFocus 3.11.7
OmniGraffle 3.16
OmniOutliner 3.8
OmniPlan 4.1
These versions run great on the new operating systems right out of the box!
Thanks to all of you early adopters who tried our apps on the beta versions of iOS 15 and iPadOS 15 this summer. Because of your early reports we were able to pass feedback along to Apple quickly, and Apple was able to fix a number of OS compatibility issues before the final release. This collaboration helped shape Apple's releases so our apps could be ready on day one!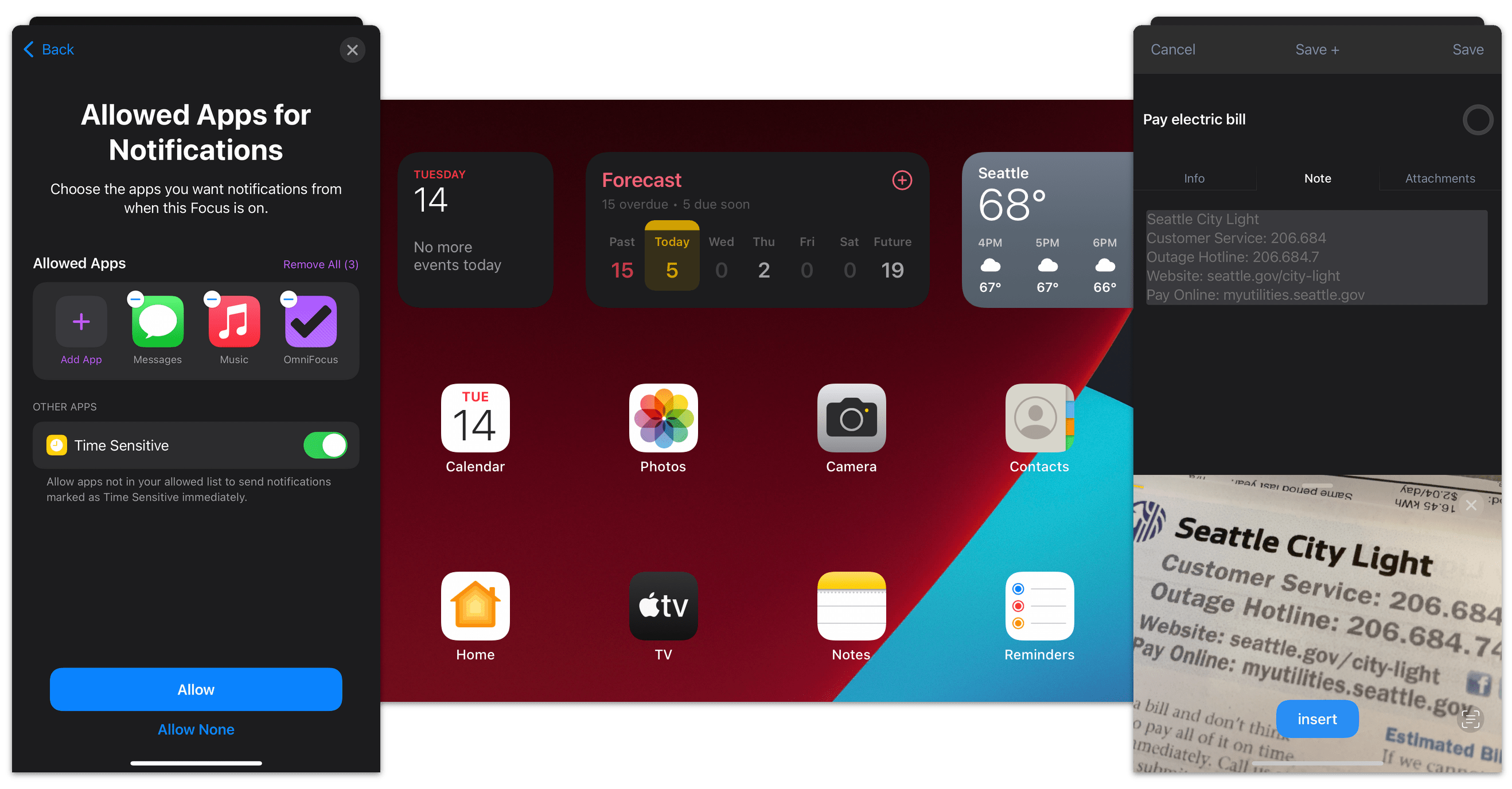 Speaking of testing: once you've updated, you might be interested in taking a look at the TestFlight of OmniFocus 4, which leverages iOS 15 and iPadOS 15 and is currently in its own open testing period.
We're still rapidly iterating on the design and gathering feedback from our testers. The feedback we've received thus far has been invaluable, and we would love to add your voice to the mix. To join today, sign up for the OmniFocus 4 TestFlight.
But if you're not feeling adventurous, no worries! Just stick with the shipping OmniFocus 3, and we'll look forward to sharing OmniFocus 4 with you when it's ready.
I've been using iOS 15 and iPadOS 15 throughout the entire summer and really love their new features, especially Live Text for grabbing text from photos and images. Overall, these have been some of the most stable beta releases Apple has shipped; so I feel pretty comfortable recommending them on day one. I think you will love them.
---
(At the Omni Group, we make powerful productivity apps which help you accomplish more every day. Feedback? I'd love to hear from you! You can find me on Twitter at @kcase, or send me email at kc@omnigroup.com.)