Hey, we've got some updates!
The first, OmniPlan 3.6, features a better dark theme and optimized inspectors, designed to reduce the number of taps required to manage your project. We're also transitioning OmniPlan—and OmniFocus—to free downloads. Both updates contain a free 14-day trial; the Standard and Pro features are unlocked (and discounted for existing customers) via In-App purchases.
OmniFocus 2.20 Doesn't Change Much, But…
Switching over to a free download pretty much does it for this release—there's only one other minor bug fix—so current customers shouldn't see anything different. Plus, if you own version 1 of OmniFocus, you'll see discounts for both Standard and Pro purchases if that version is installed. (If it isn't, you can find more details about upgrading here.)
One hiccup that we've found, though: some of our Family Sharing customers who purchased Pro prior to the switch to free downloads might see OmniFocus run in read-only mode. We already have a fix, but until it's approved, start a free trial to continue as normally as possible. We're hoping the fix is out later today, but if you need help, give us a call or email!
We're also looking for intrepid OmniFocus-on-iOS-11 testers. OmniFocus is looking really good on iOS 11, and we're just about to start a new TestFlight. If you're ready to put up with beta software, head over to our Test page. You'll see Drag & Drop and SiriKit integration.
OmniPlan 3.6 and a Better Dark Theme, Optimized Inspectors, and More
In this release of OmniPlan, we've optimized our inspectors for faster project management, completed its Dark Theme, and added support for importing and exporting elapsed time values from/to Microsoft Project.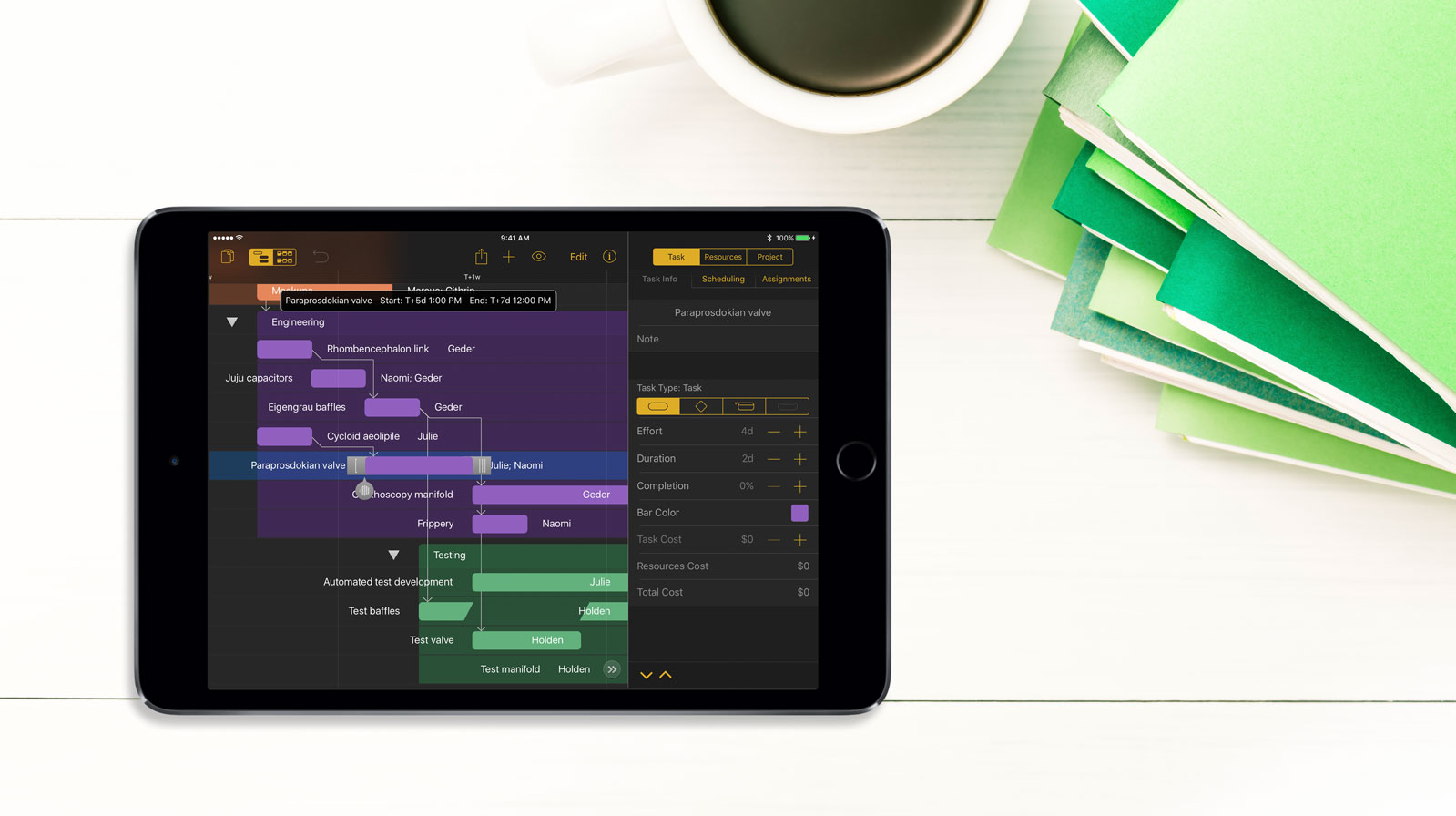 The new inspector-containing sidebar is pretty easy to notice! What used to be contained in three separate popovers, it's now just one unified sidebar. It's a bit similar to our new inspectors in OmniGraffle 3, so we imagine folks will be able to edit tasks, resources, and project-wide settings quite quickly.
Finally, in 3.6 we've enhanced our dark theme to cover everything: Inspectors, Popovers, and Share Sheets.
For new and existing customers, upgrading to Standard or Pro should be straightforward. For a bit more guidance, check out our support article.
Plus, Read-Only Mode
If you go past the 14-day trial on either of these apps, you can continue to read and export your tasks or files. There's no editing, but still works just fine if you need to reference a project or open a file from someone.