Welcome to another installment of our Use Case Profile series, wherein we highlight OMNI APPS—IN ACTION with real working professionals.
We're always delighted to receive email from customers who've experienced unbridled productivity with their favorite Omni app. Every now and then a story like this comes along and we get all giddy about sharing it. Having undoubtedly maxed-out our "this is why we do what we do" affirmations with our loved ones, we figure our blog might be a better outlet for inspiring others to unlock the potential of the Omni productivity suite.
Today's contribution comes from Libby Donovan, a freelance designer from Los Angeles, whose enthusiasm about OmniGraffle prompted her to develop a 'Wireframing with OmniGraffle' class for Seattle's School of Visual Concepts.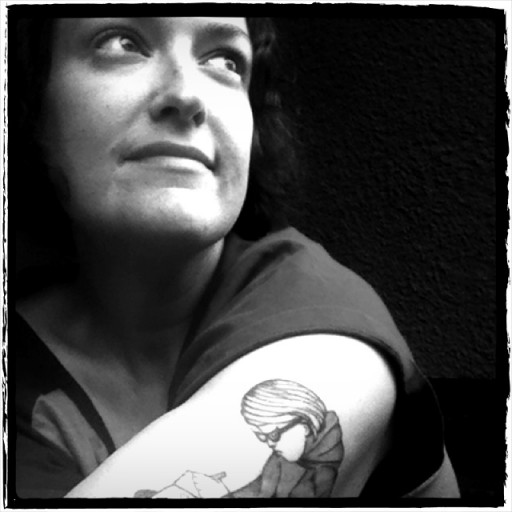 She writes,
I spent ten years working for Microsoft in Redmond, mainly on a PC using Visio for Information Architecture and other work that OmniGraffle would have been perfect for. In 2010, I moved back home to Los Angeles and began looking for work for both myself and my start-up design agency, Mercyluxe Design Group, and found that 90% of the open job descriptions out there required OmniGraffle skills, as it was looked at as what would soon become the industry standard within the IA community. When I began working at MySpace as an independent contractor, I was told that while I could use any program I wished to use, their preference was OmniGraffle as they had already amassed a large set of stencils that were shared amongst the IA and Design teams who were working on the redesign together. The fact that OmniGraffle had taken such a hold on the design and IA communities in LA told me that this was a program that at the very least I needed to seriously investigate.

Larry Asher, who runs The School of Visual Concepts in Seattle is an acquaintance of mine, and we were talking about OmniGraffle and I was (loudly!) singing its praises - specifically discussing how my move from Seattle to LA necessitated me to learn the program. "You just can't get work down here with out knowing OmniGraffle, Larry, it's the future, it's coming!" is pretty much what I told him. Since I moved to LA I've been, what I call "OmniGrafflin' my tail off" for folks like MySpace, Disney and Will >Smith (yup, THAT Will Smith!) :)
Woah! I can only imagine the focus it must have taken to produce AI and UI mockups for Mr. MIB himself. Personally, I couldn't resist the temptation to create a Fresh Prince of Bel Air theme song flow chart, but clearly Libby can get jiggy with discipline.
While working with each client, I have found that OmniGraffle allows me the freedom to build upon each of my design principles and concepts in an almost organic way, bridging the gap between the idea and expression of that idea other programs just don?t >allow.

For example, my desire to find a perfect balance between Swiss design principles and maximum color effectiveness would have faltered under the rigid guidelines of Visio and its inability to work alongside today?s top design programs. During the Will Smith project, however, OmniGraffle showed its chops by allowing for effortless compatibility with Adobe?s Creative Suite, allowing me to fuse Visual Design, Interaction Design and Information Architecture. The finished comps were, looking back, about 80% OmniGraffle, 20% Illustrator and Photoshop. I?ve found [OmniGraffle] allows for such quick mock-ups and edits that you can prototype rapidly – really at the speed of the design conversation.
She goes on to explain which OmniGraffle features are most helpful in her workflow:
I love the ability to draw from my giant collection of stencils, templates and icons, with the ability to add more from the community with ease. The OmniGraffle UI and feature sets also allows for very rapid prototyping, something that other programs just don't allow for.

One of the first things I do when I start a new project (after putting on my official OmniGraffle kick off song, "Intergalactic" by Beastie Boys – true!) is a quick inventory of my stencil collection to see if I have everything I need to get started. Most of the time I don't – I'm in need of a particular UI element like a slider, and it has to be a certain kind of slider, a UI element from a particular brand of mobile device, or even just the right radio button, I'm off to Graffletopia to comb through their huge stencil collection to see if they have what I need. Most of the time they do, thanks to the awesome community mentioned above. When they don't, that's when I head back to Photoshop or Illustrator to create something original that matches the style I'm using and easily import it into OmniGraffle when I'm ready. Doing it old school.
And which Stencil is her favorite?
I am very fond of the Konigi set, it's my absolute favorite and I use it pretty much daily. I love how clean it is and how it lends itself so neatly to almost any project that can be imagined. There's also a unicorn stencil included. What else do you need? Well, maybe the ability to use those stencils to create wireframes while you're out 'n' about, right? First, that OmniGraffle for the iPad EXISTS is a big win, making the program extremely versatile and the very nature of agile. The iPad app feels very much like a natural extension of the Mac version. I like how I can use my stencils from the Mac on the iPad making adjustments to a project or coming up with quick interactions studies for example while on the go that much easier. In addition, the freehand option is also very nice for those high-tech "cocktail napkin" times. Since they both work together so well, it's not possible to pick one over the other, especially as I use them both for very different purposes – the desktop version for my main Grafflin' and the iPad for quick mock ups, changes on the fly and presentation with room for experimentation and augmentation right then and there.
There you have it, folks - another shining example of OMNI APPS—IN ACTION, and a refreshing testament to our raison d'être.
Thank you, Libby, for sharing your story and samples with us - inspiring stuff, indeed!
If you have a use case that you'd like to share with us, please drop a line in the comments or via email, we'd love to hear it!