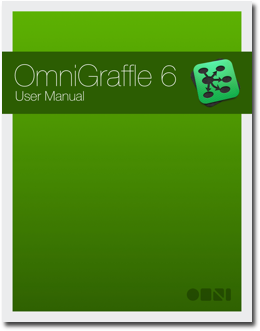 At Omni, we're constantly looking for ways to improve the user experience for our customers, and today we are pleased to announce the release of the OmniGraffle 6 User Manual, freely available on the iBookstore.
We've produced the OmniGraffle 6 User Manual using EPUB3, so it can take advantage of everything iBooks for iOS and OS X Mavericks has to offer. Not only is the book free, it's also DRM-free. By offering the book through the iBookstore, you'll receive notifications whenever we update the manual, just like you do when we update one of our apps.
EPUB3 makes it easy for us to "version" our documentation, so that when you download an update, all of your notes and annotations aren't lost. If you've enabled iCloud syncing in iBooks on iOS and OS X, the notes you make are available wherever you go.
This release on the iBookstore is part of a new initiative to improve the relevance and accessibility of our documentation. We value your feedback and want to hear from you about what you like, dislike, or would like to see from us in the future. Drop us a line at support@omnigroup.com
Requirements:

iBooks:

OS X Mavericks: Available for free on the Mac App Store
iOS 6 or 7: Check Settings > General > About > Version on iPad, iPhone, and iPod touch.

OmniGraffle 6: Available direct from The Omni Group, or the Mac App Store (requires either OS X Mountain Lion or OS X Mavericks).