OmniPlan 4 for iPad and iPhone TestFlight builds gained two exciting new features earlier this week: a brand new Outline View, and an improved experience for entering dates and numeric values in OmniPlan projects.
New Outline View
As previewed in the Omni Roadmap 2021 blog post earlier this month, the OmniPlan team has been hard at work implementing a brand new Outline View for viewing and editing projects in OmniPlan 4 for iPad and iPhone: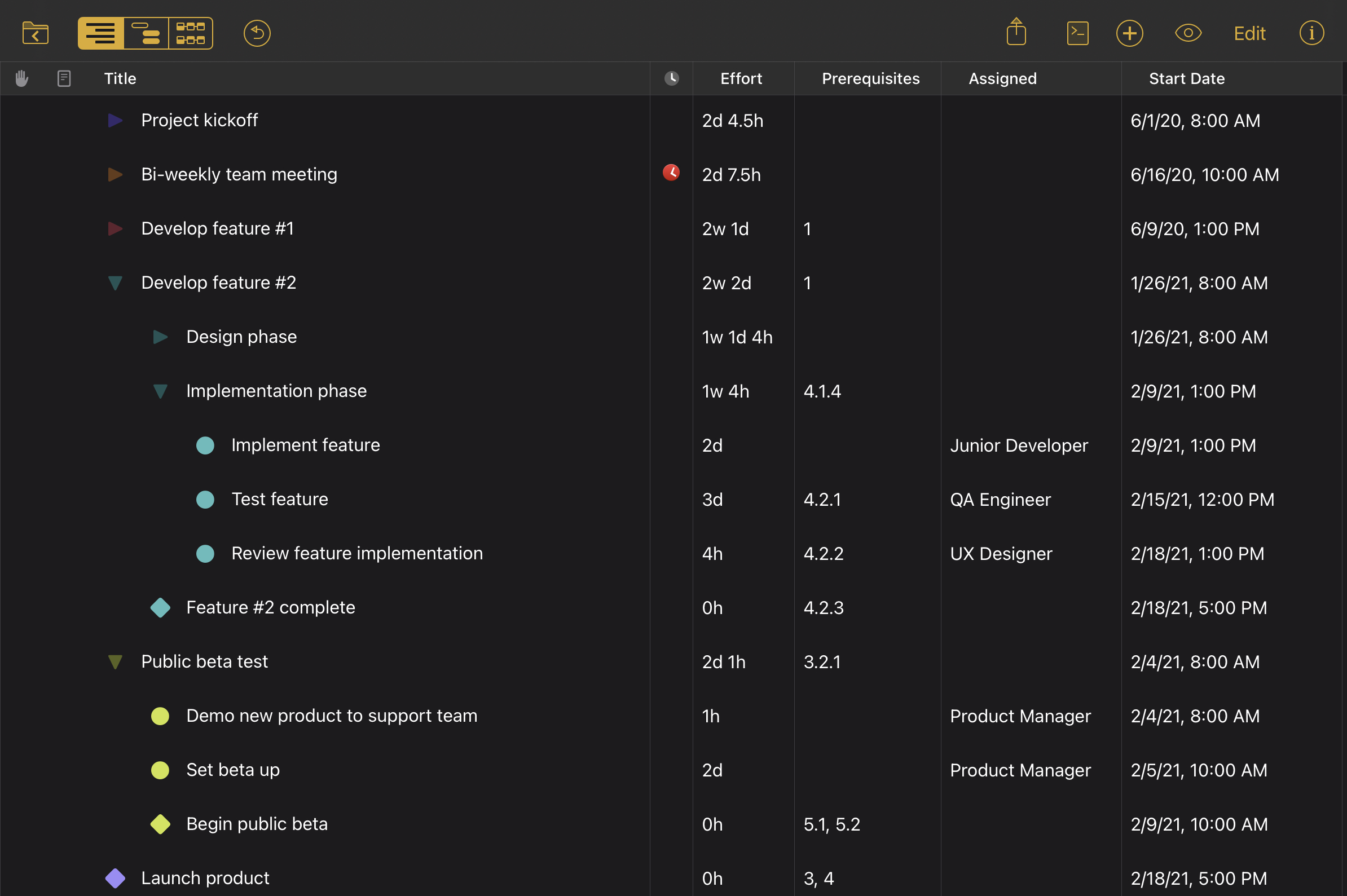 OmniPlan 4's new Outline View supports (or will soon support, in some cases, as development of this feature is currently ongoing) complete in-line editing and project creation, fully customizable column configuration, and efficient keyboard navigation. A dedicated project outline view has been the most frequently requested new iOS app feature since we first released OmniPlan 1.0 for iPad on the App Store, and we're incredibly excited to make this view option available to customers in OmniPlan 4.0.
Date & Numerical Value Input Improvements
This week's OmniPlan 4 TestFlight build also includes an updated workflow for inputting dates and numeric values in OmniPlan projects: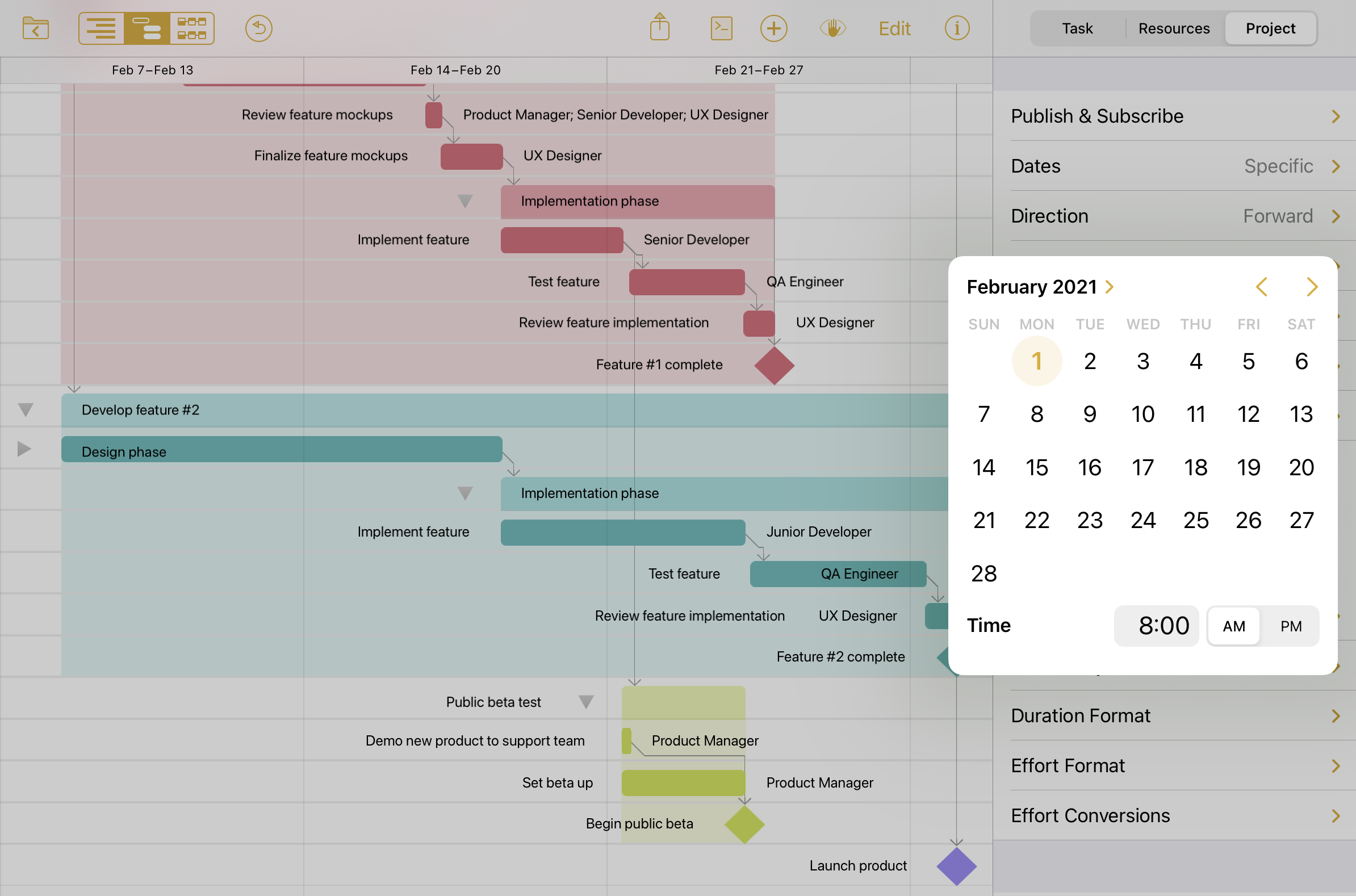 OmniPlan no longer relies on custom on-screen keyboards to input dates or numeric values, like effort and duration. Instead, OmniPlan 4 presents either the native iOS 14 system date picker interface, which supports selecting dates and times in a calendar popover, or the native iOS keyboard. This change simplifies the experience for entering numerical values and improves compatibility with hardware keyboards.
How to try OmniPlan 4 on iPad or iPhone
If you already own OmniPlan 4, sign up and download an OmniPlan 4 for iPad and iPhone test build via TestFlight, then sign in to the app with your Omni Account when prompted. OmniPlan 4 for iPad and iPhone is included in your OmniPlan 4 purchase or subscription, and the appropriate OmniPlan feature set will unlock automatically.
If you have not yet purchased OmniPlan 4, we still invite you to give OmniPlan 4 a try on your iPad or iPhone! Simply sign up and download an OmniPlan 4 test build via TestFlight, then sign in to OmniPlan with your Omni Account to begin your free two week trial. Don't forget to try OmniPlan 4 for Mac, released last year, as well!
A note about backwards compatibility: OmniPlan 4 contains changes to OmniPlan's scheduling logic and file format. While some versions of OmniPlan 3 are able to open files created in OmniPlan 4, those versions of OmniPlan will not use the same scheduling logic when computing project schedules and you may notice scheduling inconsistencies. We do not recommend syncing OmniPlan 4 projects with OmniPlan 3 for Mac or iOS.
As we continue to work towards finalizing OmniPlan 4 for iPad and iPhone, customer feedback and bug reports are tremendously helpful to our development team. Feedback about OmniPlan 4 can be submitted via TestFlight, sent to our Support team by selecting Contact Omni in the OmniPlan for iOS gear menu, or emailed directly our Support team at omniplan@omnigroup.com. We look forward to releasing OmniPlan 4 on the iOS and iPadOS App Store soon!