OmniPlan 4 for iPad and iPhone, available today, introduces a brand new Outline View on iPad and iPhone, optimized for quickly creating and organizing projects, with fully customizable column display and enhanced keyboard navigation support. In addition to this powerful new view, this release brings new scheduling features like recurring tasks and manual task scheduling, originally introduced in OmniPlan 4 for Mac, to iPad and iPhone, as well as a wide range of improvements throughout the app, making OmniPlan easier than ever to use for day-to-day project management tasks, no matter how complex your project is.
And now, for the first time ever, OmniPlan is available as a universal purchase: get full access to OmniPlan 4 on your Mac, iPad, and iPhone with a single purchase or subscription, so your project schedules are always available when you need them.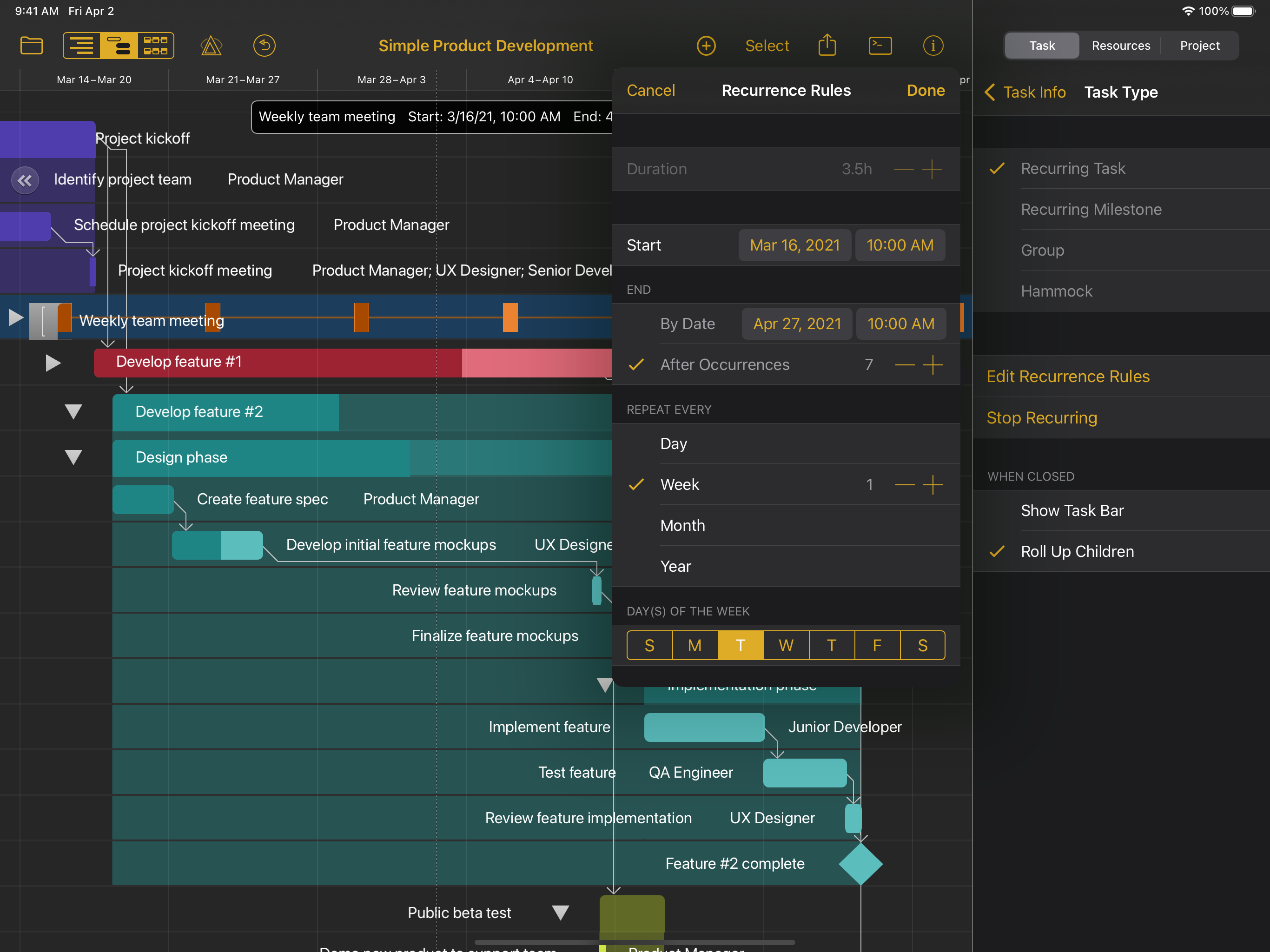 Highlights
Universal App Licensing Get full access to OmniPlan 4 on your Mac, iPad, and iPhone with a single purchase or subscription.
Outline View:

Project Outline: Quickly create and organize projects in a dedicated Outline View.
Customizable Columns: Fully customize column display in Outline View. Select a pre-configured column set, or hide and show individual columns as needed.
In-line Editing: Update a task's Title, Effort, Duration, Resources, Prerequisite, Dependents, and Effort Complete without ever leaving the project outline.
Keyboard Navigation: Navigate & organize your project outline via keyboard shortcuts when connected to an external keyboard.
Scribble Support: Start writing on an existing task in Outline View to insert text, or cross out text to delete it. Write below the existing project outline to quickly create a new task.

Scheduling:

Recurring Tasks: Tasks can now be scheduled to occur at daily, weekly, monthly, or yearly intervals.
Manual Task Scheduling: Tasks now support manual scheduling. Tasks set as scheduled manually will use the start and end dates you provide; OmniPlan will not attempt to automatically reschedule them. (Manual task scheduling replaces the "locked" task date functionality offered by previous OmniPlan versions.)

Inspector:

Inspector Appearance: Appearance, layout, and organization of all inspectors have been updated to increase discoverability and improve access to functionality.
Dates: Dates are now input via the iOS 14 system date picker interface, which supports selecting dates and times in a calendar popover.
Project & Resource Notes: Project and Resource Notes can now be viewed and edited in the inspector.

Keyboards: OmniPlan no longer relies on custom on-screen keyboards to input dates or numeric values like effort and duration. Instead, OmniPlan presents either a date picker or the native iOS keyboard. This change is intended to simplify the experience for entering numerical values and improve compatibility with hardware keyboards.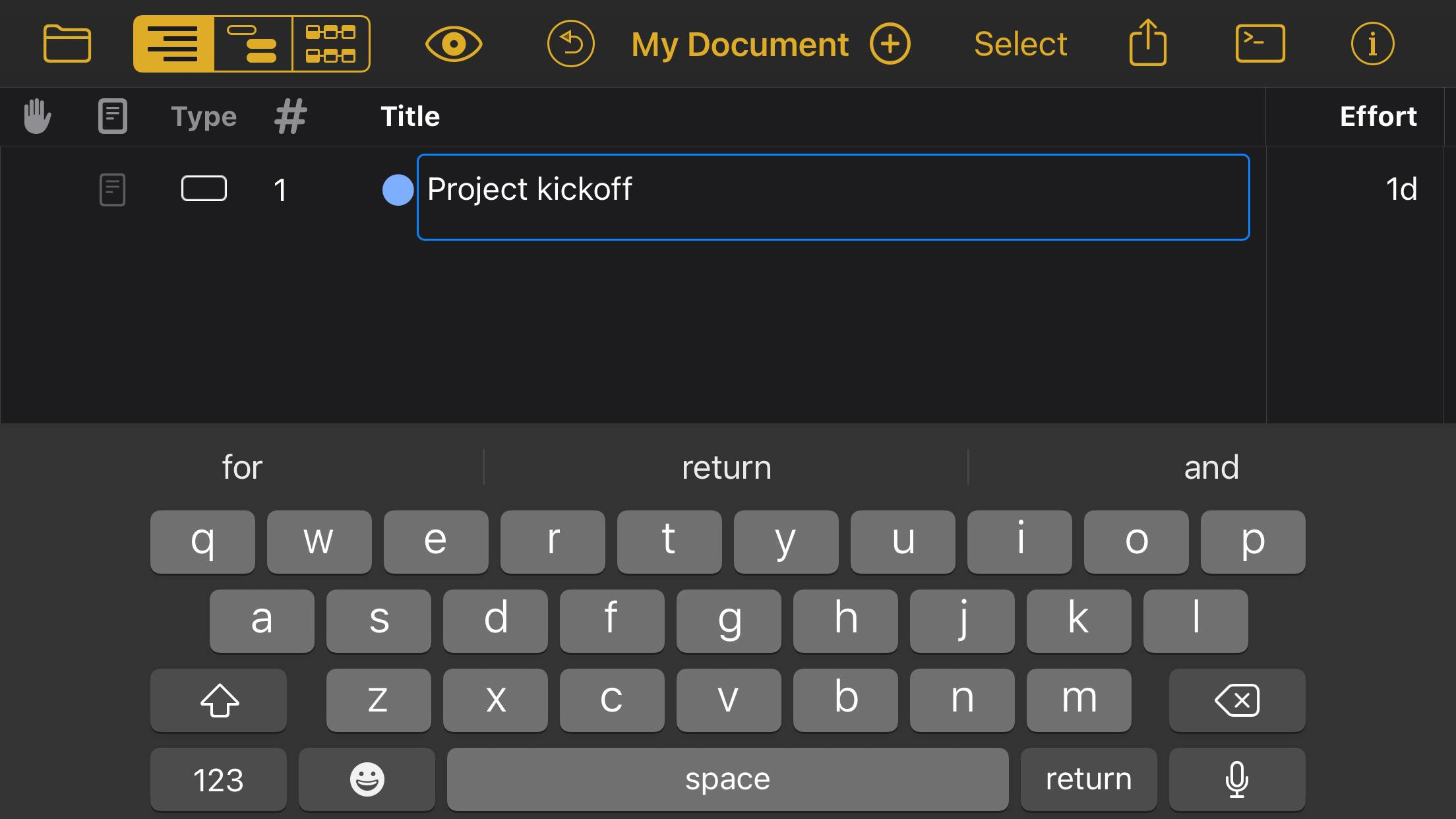 OmniPlan Pro subscriptions are available for $19.99 a month or $199.99 for an entire year. If you prefer to purchase OmniPlan as a one-time traditional license, OmniPlan Standard is available for $199, $399 for Pro. Customers who own a previous version of OmniPlan are eligible for a 50% discount on upgrades to traditional licenses of OmniPlan 4. If you previously purchased OmniPlan 4 for Mac, simply install OmniPlan 4 on your iPad or iPhone and sign in with your Omni Account to unlock your purchase.
We are proud of the success of OmniPlan 4 for Mac since its launch nine months ago, and our team is incredibly proud to have now brought this release to iPad and iPhone. To get started with your free two week trial of OmniPlan 4, download OmniPlan 4 on your Mac, iPad or iPhone. If you have any questions or feedback, email support@omnigroup.com—our amazing Support Humans are standing by, ready to help!