YET ANOTHER BLOG POST FROM OMNI!
I know, the excitement is almost too much to bear. Let's just all take a second before we head back over to that Caps Lock key…breathe…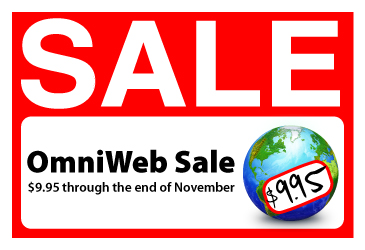 OMG OMNIWEB IS ON SALE!!
(I am seriously going to sprain something, here.)
From today until the end of the month, OmniWeb is available for $9.95. That's 20 bucks off the normal price, so if you've been using the app in demo mode but loving all those handy features, now is the perfect time to get a license key of your very own. Licensed users get to customize their start page, among many other benefits (such as earning our nearly-stalkerish level of wove, sweet wove).
We also have discounted pricing for OmniWeb family packs and educations licenses, so tell all your Alternative Web Browser friends, okay?