News from The Omni Group, Summer 2021
Hello, and welcome to the Summer 2021 edition of the Omni Newsletter! The time is here once again to bring you the highlights of what's been happening at the Omni Group in recent months.
It's been a busy first half of of the year! We started things off with our usual Roadmap blog post, where Omni CEO Ken Case laid out plans for the upcoming year of app development. Spoilers: we're all in on SwiftUI, and Omni's apps are headed for some exciting changes to match emerging technology across Apple's devices.
OmniPlan Goes Universal
We got the chance to show that commitment right away with the public TestFlight of OmniPlan 4 for iPad and iPhone, our first app to make extensive use of SwiftUI in its brand-new outline view. Following a fruitful test period we released OmniPlan 4 for iPad and iPhone in April, to the excitement of project managers everywhere.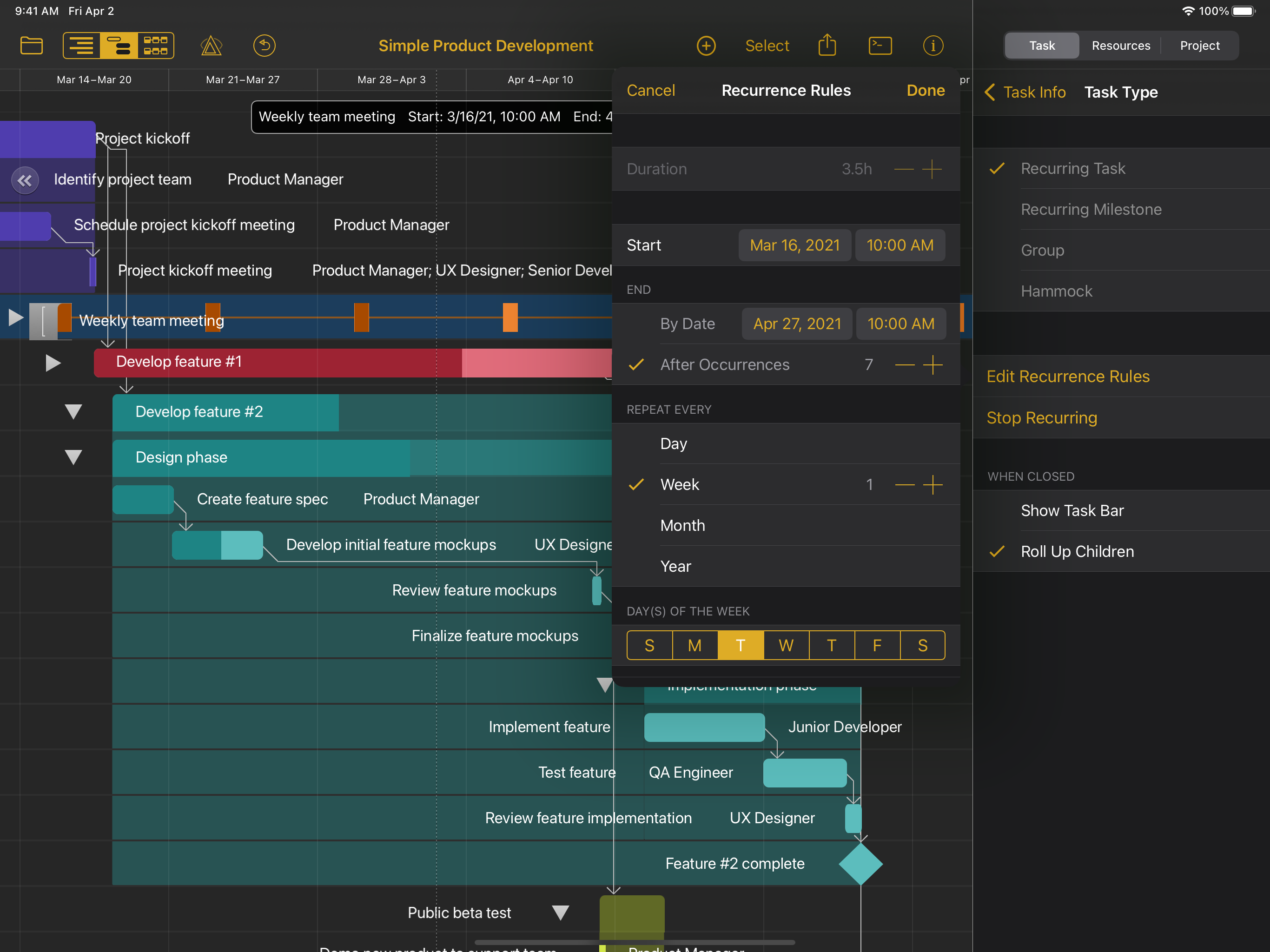 OmniPlan 4 for iPad and iPhone joins OmniPlan 4 for Mac in becoming our first fully universal app—a single traditional license or subscription unlocks the application on all of your devices. This marks an important milestone in our initiative to offer our products to you in the ways you find most useful, anywhere you are—universal subscription options are available for each of our apps right now, and you can look forward to universal traditional licenses for our other applications in the future.
OmniFocus 4 for iPad and iPhone TestFlight Begins
After OmniPlan 4 for iPad and iPhone, we shifted our sights to the next big target: OmniFocus 4. We've been redesigning OmniFocus for over a year, built around SwiftUI to make the app experience even more consistent wherever you use it. Its public unveiling came in May, with a first look and invitation to help test OmniFocus 4 for iPad and iPhone.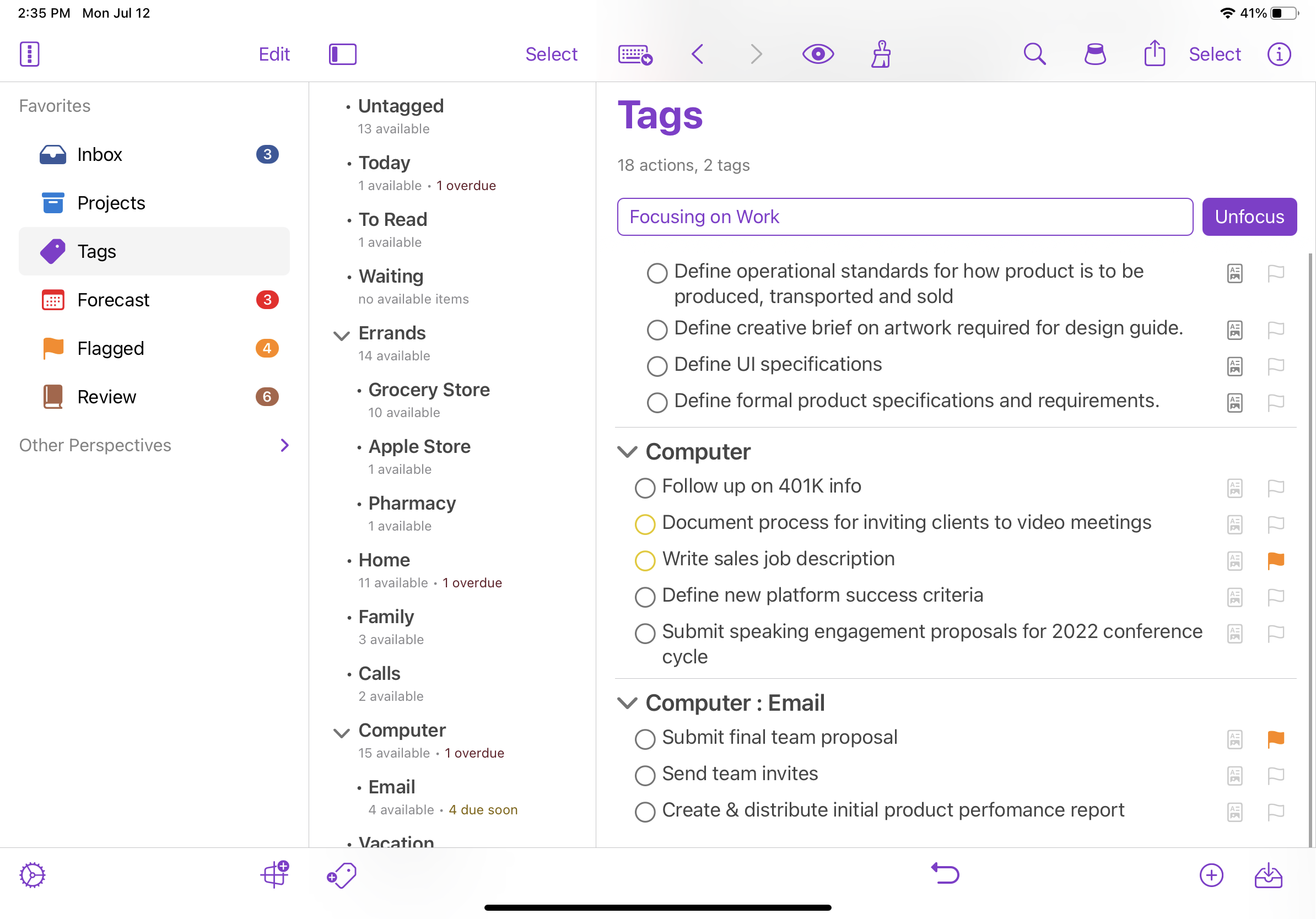 It's hard to overstate our excitement for this new version of OmniFocus. We've reconsidered every aspect of the app from the ground up with a design philosophy oriented around helping you accomplish tasks even more effectively, removing friction and unnecessary complexity to meet you where you work. We've added Quick Open and Focus, improved sidebar navigation, and centered the outline as your workspace, so you can edit tasks and details there no matter what perspective you're in.
OmniFocus 4 is still under active development, but we can't wait for you to give it a try, and we'd love to hear your thoughts. Sign up to receive an invitation to the TestFlight here, and join the conversation on the Omni Group Slack here.
Reaffirming Our Commitment to Your Privacy
While we've been hard at work on OmniFocus 4 and other projects, we took some time this spring to highlight one of Omni's core values: privacy. Since its founding the Omni Group has taken the privacy of your data and personal information with utmost care, with the firmly held belief that your data belongs to you and no-one else. Our CEO took a moment to reaffirm this in an open letter on our blog and in an interview on The Omni Show podcast, joined in its second part by Cindy Cohn of the Electronic Frontier Foundation. If this topic is important to you we hope you'll take a moment to give these a listen.
Highlights From The Omni Show
Speaking of The Omni Show, host Andrew Mason continues to bring a series of engaging conversations spanning a diverse range of topics and guests, each highlighting their own story for how Omni's apps have helped them solve problems, work better, and get stuff done. Some recent highlights include:
What's New With Omni Automation
Before we wrap up, it's time for a new newsletter feature—the Omni Automation corner! Alongside our regular app updates, we continue to enhance what is capable through scripting and plug-ins, automating tasks within and between Omni apps, across devices, and beyond. Omni Automation features added in recent months include:
Improved connectivity for data retrieval with support for secure calls to network resources and services requiring authentication, through the use of a RESTful API. URL Fetch API docs

The new Credentials class, offering use of the OS Keychain to securely store passwords and logins used by scripts and plug-ins. Authentication is quicker and easier than ever before! Credentials class docs

The new Preferences class, enabling plug-ins to store and retrieve their relevant data locally on the host device. Whether you're retrieving the latest JIRA updates, or generating a full-featured chart from your data, Omni Automation provides the means to get things done. Preferences class docs
Catch up with recent changes or get started with Omni Automation at OmniAutomation.com.
Coming Soon…
So what's coming up next for Omni, this summer and beyond? CEO Ken Case returned to the blog at the end of June with a roadmap update, hot off the presses following Apple's Worldwide Developer Conference. There you'll find all the details on how the latest platform and OS developments inform the work we're doing, with the new features we're excited to include, and an updated focus on delivering the best apps we possibly can with the new technologies coming up in iOS 15 and macOS Monterey.
It's an exciting time to be building software, and we look forward to sharing our next update with you in the fall! In the meantime, keep up with all the latest Omni news on our blog. Until next time, be well, and thanks for subscribing!
Want to catch up on past newsletters? Check out the archive here.