Fall 2021 Brings Omni Updates for iOS 15, macOS Monterey, and More
A chill is in the air here in Seattle, and that means it's time for another issue of the Omni Newsletter! We have a lot to talk about since we last saw you, so let's get right to it.
iOS 15 and iPadOS 15 Are Here, and Omni Apps Are Ready
We've been working hard through the past months to ensure that Omni apps would be ready for the new versions of iOS and iPadOS, and we're happy to report that when the new OSes arrived in September, we brought fully compatible releases of OmniOutliner 3, OmniFocus 3, OmniPlan 4, and OmniGraffle 3 to you on day one.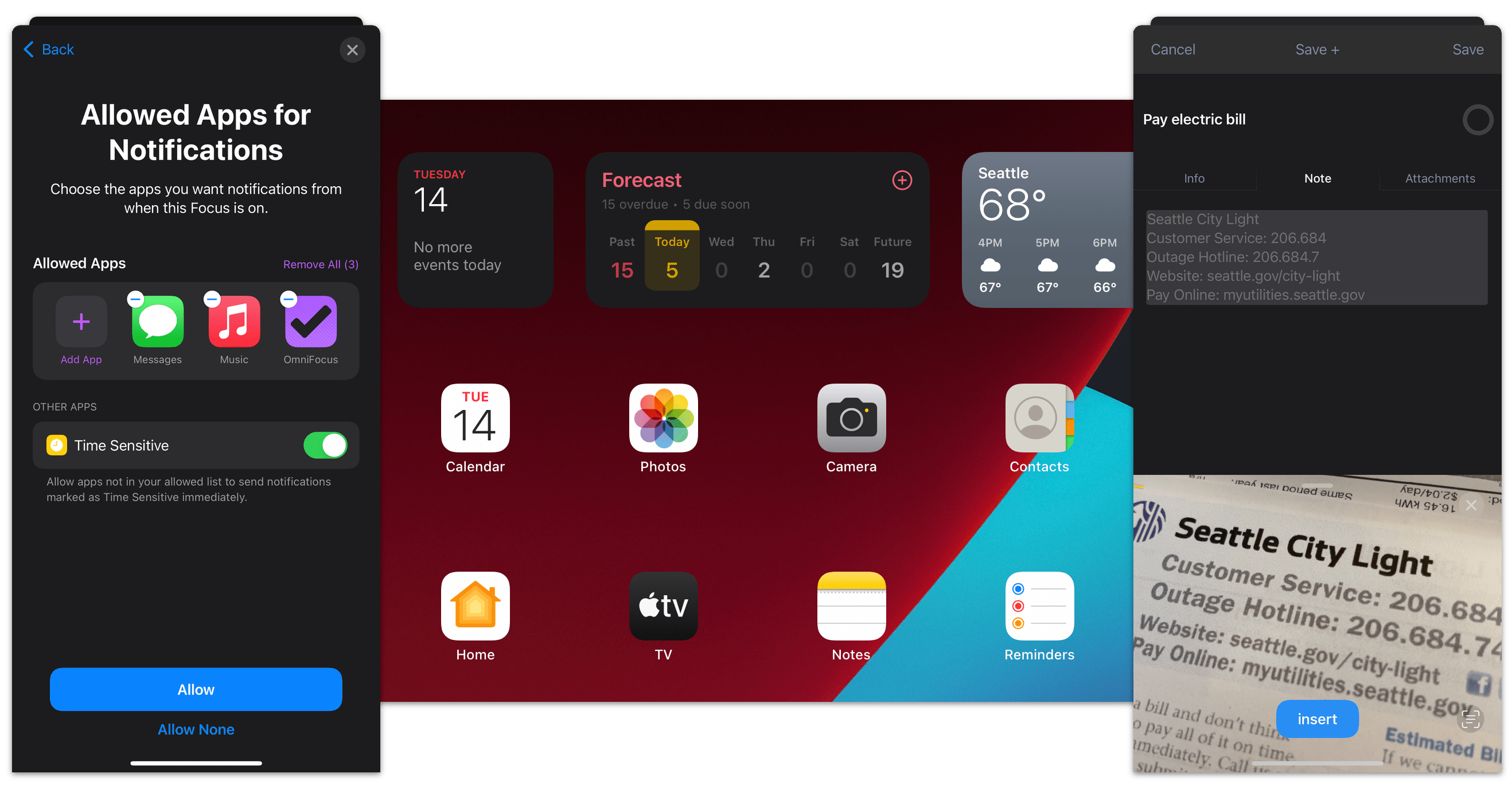 Not only do the current versions of our iPadOS and iOS apps run great on the newest operating systems, they also take advantage of many of their exciting features—including system-wide Focus settings for selective notifications, the powerful Live Text feature for capturing text from images and the camera, and for the first time, OmniFocus widgets on the iPad home screen.
We're really happy with these releases, and we hope you'll have the chance to give them a try!
Omni Automation Takes a Shortcut With macOS Monterey
Hot on the heels of iOS and iPadOS 15 came the news that the next major version of macOS would ship in October, and we've been brewing up a special round of releases just for the occasion.
When macOS Monterey was released on October 25th, our Mac apps were there with fresh updates—running smoothly in tandem with the latest features of macOS, and a little something extra special for our Pro users: support for Shortcuts automation on the Mac, through integration with Omni Automation.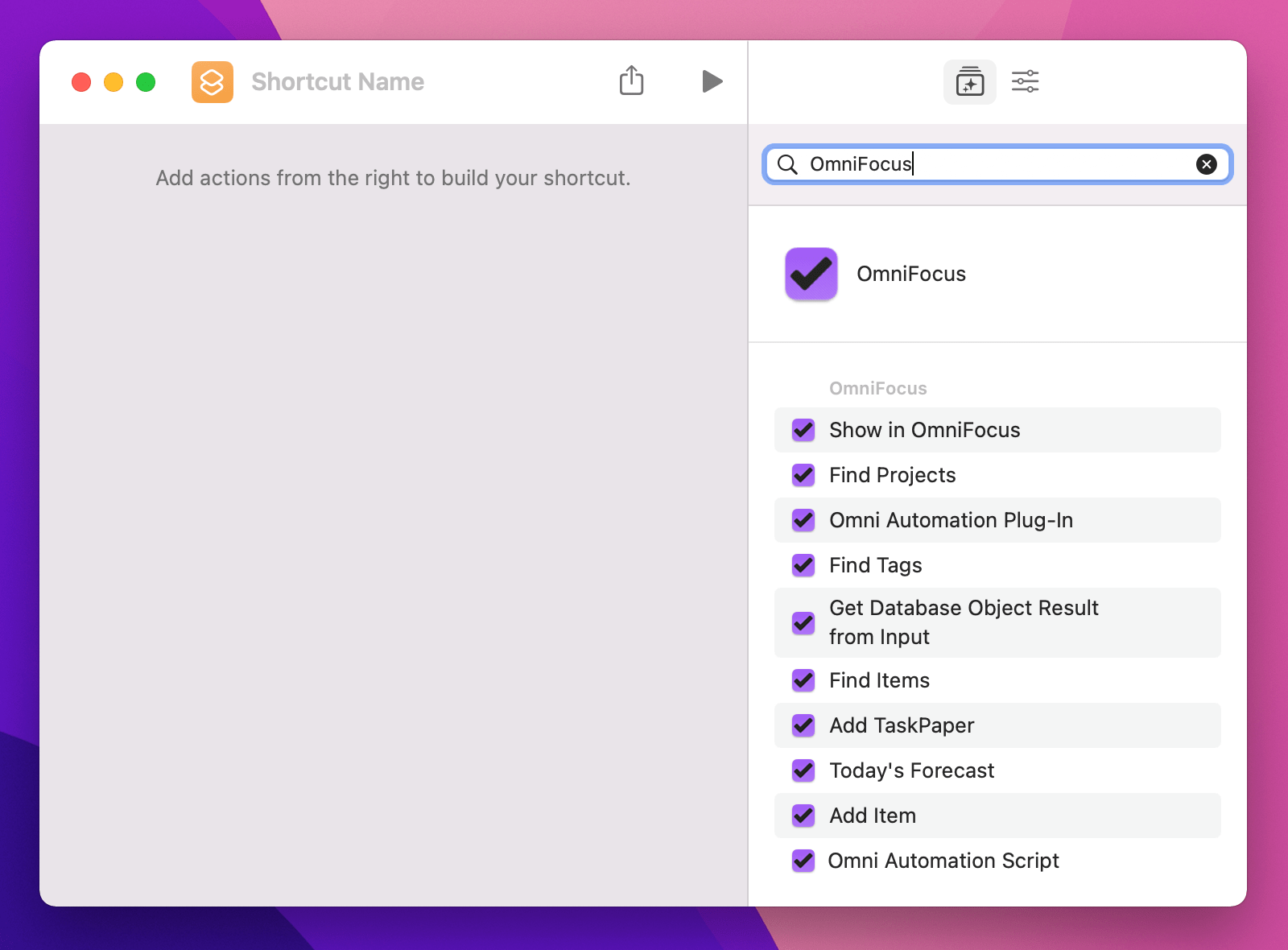 Now, with current versions of our Mac apps installed on macOS Monterey, you'll find a list of each app's shortcut actions in the brand-new Shortcuts app. OmniOutliner, OmniGraffle, and OmniPlan each include actions that integrate with the robust Omni Automation scripting system, and OmniFocus includes those and several more.
We can't wait to see what you'll create using the powerful new scripting tools available with Shortcuts and Omni Automation working together. To learn more about how these technologies can help you get stuff done, see the announcement post on the Omni Blog, and the Omni Automation Shortcuts documentation page.
Highlights From The Omni Show
Along with all of the app updates from the past few months, we've been busy at The Omni Show podcast as well, bringing a bevy of guests with fascinating insights on how Omni apps have helped them do—and make—cool things. If you're looking for a healthy dose of inspiration to kickstart your productivity, look no further than:
OmniFocus 4 TestFlight Update
While keeping our apps current with the latest operating systems and features is always top of mind, we've also been moving forward at full strength with the ongoing development of OmniFocus 4. The public TestFlight period continues, and we've been iterating rapidly based on the tremendous feedback you've been providing. The result has been an app that is functional, mature, and cohesive in a way that wouldn't have been possible without the collaboration of our testers. We're incredibly grateful for the suggestions you've given—and bugs you've filed—so far.
As the app continues development, we're still eager to hear your voices, especially if you haven't looked at it in awhile (or ever). We hope you'll be pleased with the direction it's been traveling in the past several months—but any and all constructive feedback is most welcome! You can sign up for the public OmniFocus 4 TestFlight here.
For a little more insight into the current state of OmniFocus 4—and the exciting new Shortcuts integration with Omni Automation and macOS Monterey—check out this recent episode of the Omni Show, featuring Omni CEO Ken Case and Automation wizard Sal Soghoian.
What's Next
That's about all we time for in this issue of the Omni Newsletter. This represents just a part of what we've been working on lately, and we've got some great stuff saved for coming issues! We hope you'll stay tuned for our next correspondence, and until then, stay warm, stay safe, and have a wonderful holiday season.
Want to catch up on past newsletters? Check out the archive here.