Better browsing for everyone
OmniWeb is a powerful, feature-rich alternative to the standard web browser. Save time and be more productive by using built-in web shortcuts and unique drag-and-drop tabbed windows. Stay organized with workspaces that save web pages you have in your tabs, your history, and even the location of your windows on your screen. Tell OmniWeb how you want the web to work—on each individual domain you can choose how to interact with its content, from changing the text size to blocking ads, managing cookies, or telling OmniWeb where to save downloads. Instead of being limited to a standard set of page viewing functions, OmniWeb gives you total control over your entire browsing experience.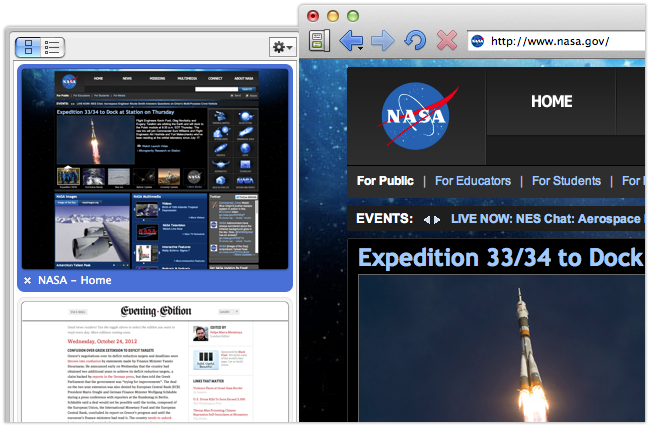 Visual tabs
Most browsers have tabs, but OmniWeb builds on the idea of viewing multiple web pages in a single window by offering thumbnails. When you create a new tab in your tab drawer, a thumbnail graphic allows you to easily identify the page. Keep your browsing organized and productive by quickly switching back and forth between them, changing their position in the drawer, creating new tabs on the fly, and even dragging and dropping tabs from one window to another. For those times when you have a lot of pages in a single window, you can change to a list mode so you don't have to scroll.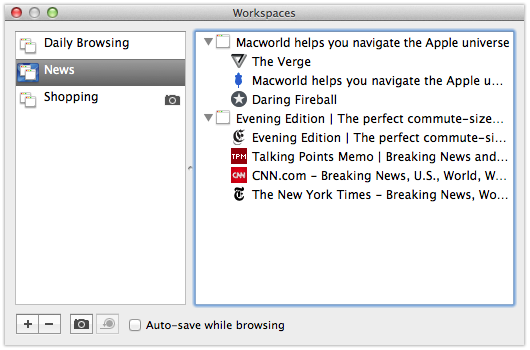 Workspaces
With OmniWeb's Workspaces feature, your individual web habits can be saved in one convenient location. When you create a workspace, OmniWeb saves which web pages you have in your open tabs, history, and even the location of windows on your screen. Take a snapshot of a workspace and instantly restore the workspace from the snapshot, clearing away any changes made to the workspace in the meantime. You can even share your workspace files with other OmniWeb users.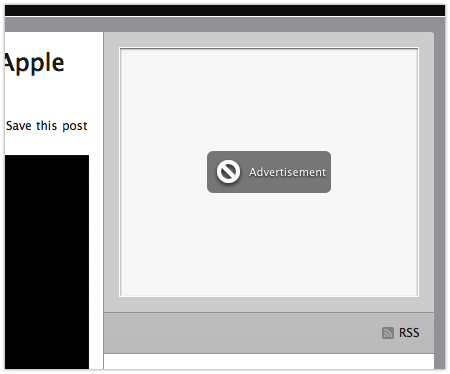 Ad blocking
You can do much more than simply block ads with OmniWeb. You can choose to view popups only when you ask for them (like if you specifically click a link), you can tell OmniWeb to block any ad content coming from a known ad server, you can block all Flash content, and much more.
Latest release: July 20 2012
OmniWeb is now signed with Developer ID so it works well with Gatekeeper on Mountain Lion.