UPDATE: Our deepest apologies, everyone! OmniFocus 2 for iPad shipped with our test build expiration still in place, so it expired Friday evening. Version 2.0.1 was submitted Friday to fix the issue, and was approved Saturday afternoon. It will shortly be available as a free update in the App Store; if you're not seeing it on your local device yet, please wait an hour or so and check again.
Once again, our sincerest apologies! The Omni Group has a no-questions-asked 30-day refund policy on all our apps. If you would like one, please contact sales@omnigroup.com.
---
Response timeline:
Friday, 5:46pm — Issue first reported by a customer.
Friday, 6:11pm — Ken (CEO) reproduces the problem and notifies the team, begins reviewing code with the team to identify where the problem lies.
Friday, 6:15pm — The problem is found to be that the new iPad 2.0 app's expiration logic is reading the iPhone app's test build flag rather than its own, which is why the iPad app's test flag was correct but its expiration happened anyway.
Friday, 6:17pm — Team begins reviewing the 28 changes made to 2.0.1 since the initial 2.0 release to see whether they're ready to include in an update. Determines that most are ready to go, but that the release has had insufficient testing and it will be safest and fastest to submit 2.0.1 with a single change fixing the expiration logic.
Friday, 6:23pm — 2.0 tag is branched to form the basis of the new 2.0.1 build. (Former 2.0.1 branch renamed to 2.0.2.)
Friday, 6:25pm — While engineers work on fixing the code, a public tweet is sent from @OmniFocus to tell our customers about the issue. Continue responding to all customers affected by the issue.
Friday, 6:35pm — Fixed code checked into the 2.0.1 branch, 2.0.1 tag created and build started on build server.
Friday, 6:37pm — While build proceeds on the build server, start defining new release on App Store with release notes containing an apology and explanation.
Friday, 6:47pm — Problem also fixed for the upcoming 2.0.2 release.
Friday, 6:48pm — OmniFocus 2 for iPad pulled from the App Store until this is resolved. (The discounted Omni Productivity Pack will also be unavailable until this is resolved.)
Friday, 6:49pm — New 2.0.1 build completes.
Friday, 6:55pm — New 2.0.1 build signed and uploaded to the App Store.
Friday, 7:12pm — App Store processing completes, now waiting for review from Apple. Begin writing up request for an expedited review.
Friday, 7:16pm — Expedited review request submitted to Apple.
Friday, 7:20pm — Updates posted to Twitter.
Friday, 7:44pm — Email autoresponders for OmniFocus are updated to explain the issue and our support humans notified; some return from their Friday evenings to start responding to customer messages on Twitter and email.
Friday, 10:58pm — Blog post updated to include an explanation of the issue.
Saturday, 1:27am — Hundreds of individual responses sent to customers over Twitter and email.
Saturday, 6:25am — Blog post updated to include this response timeline.
Saturday, 12:34pm — The 2.0.1 update has finished App Store review! Should start showing as a free update in the next hour or so. Our apologies again, and thank you so much for your patience.
---
How times change! When we introduced OmniFocus for iPad in the Summer of 2010, it was widely considered to have the best, most modern design of the three OmniFocus editions. So much so that when we set about building OmniFocus 2 for Mac, our top priority was to bring the design lessons we'd learned from the iPad app back to the Mac app.
But then Apple inspired us with iOS 7, and our priorities changed. We completely redesigned OmniFocus 2 for iPhone, then OmniFocus 2 for Mac. We started getting rave reviews for these new designs—and now, instead of constantly getting questions about how soon we would make the other editions match OmniFocus for iPad, those questions flipped to ask when we were going to update the iPad app to match the new designs in the other apps.
I'm very pleased to announce that the long wait is over—that (for the first time!) all three editions of OmniFocus have the same design language: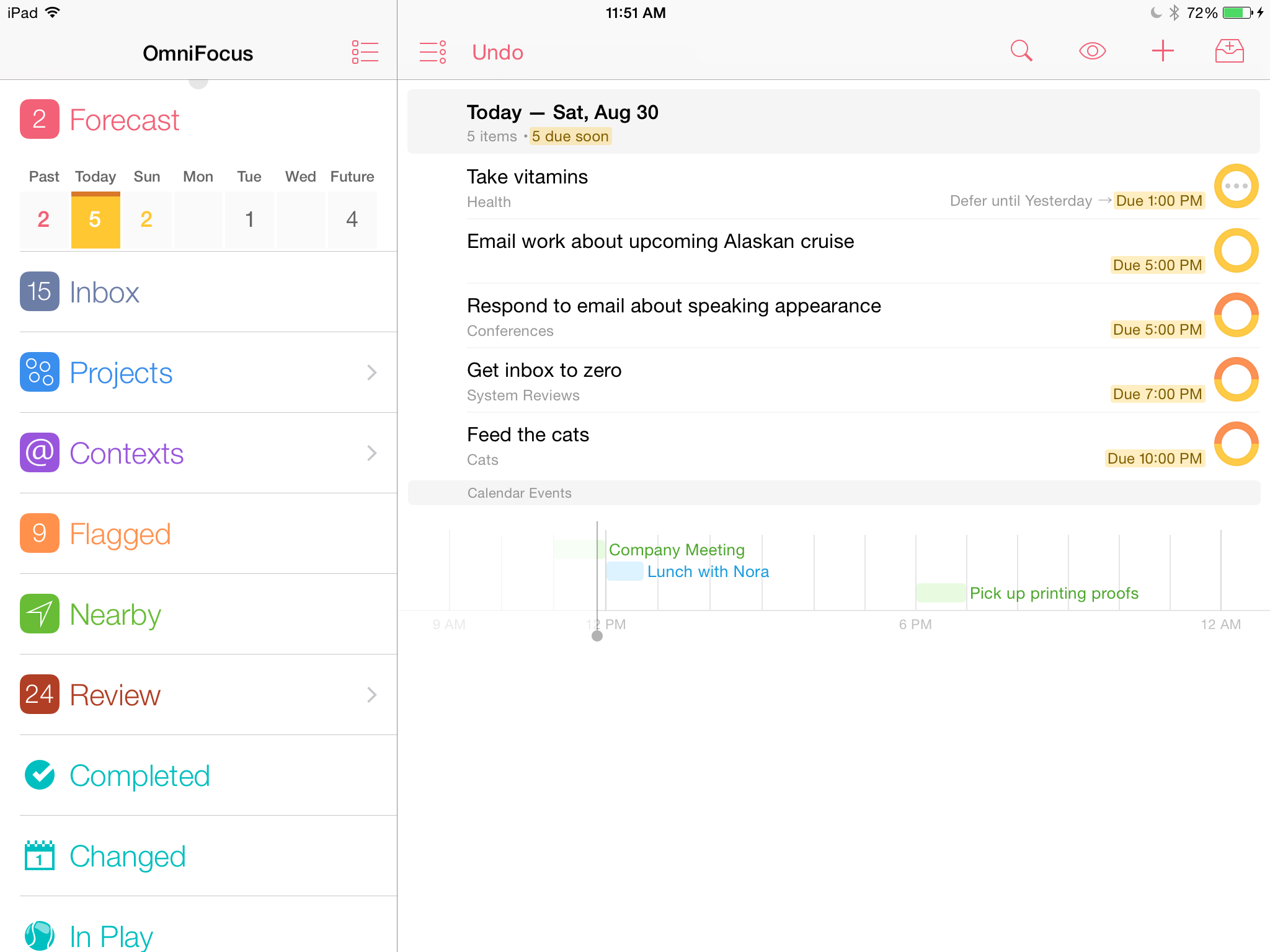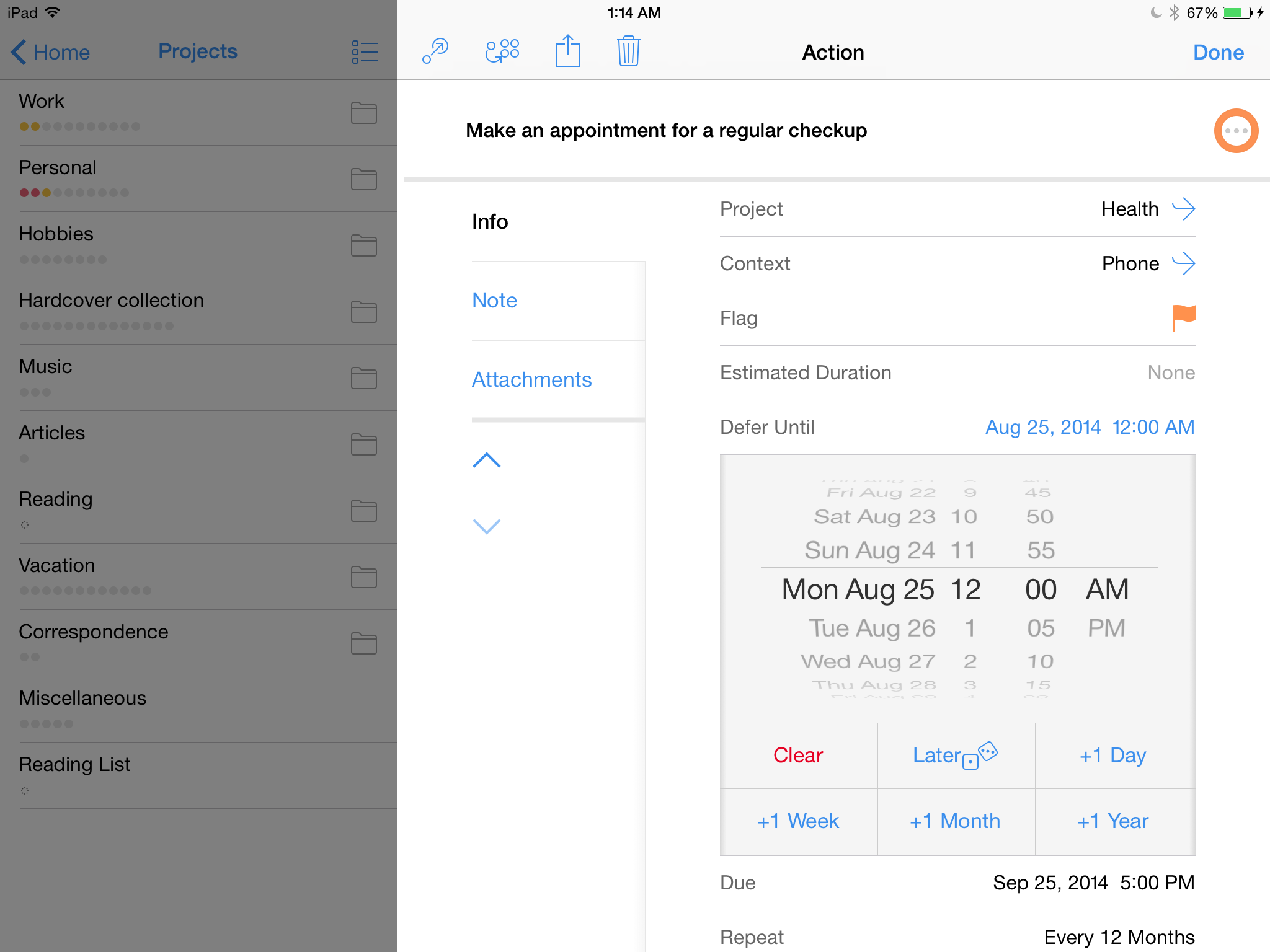 Beyond its new design, OmniFocus 2 for iPad offers two great new iOS 8 extensions, interactive notifications so you can immediately complete or snooze a reminder, improved searching, and background syncing. And, of course, all of the great features pioneered in the original iPad app, such as the built-in Forecast and Review perspectives.
It's a great upgrade—but we didn't stop there! On the Mac, one of the features we offer in the Pro version of OmniFocus 2 is the ability to go beyond the built-in perspectives by creating your own custom perspectives. Customers have often asked if we would ever provide similar capabilities for iOS, and I'm pleased to share that we've finally done just that, in the optional Pro upgrade to OmniFocus 2 for iPad: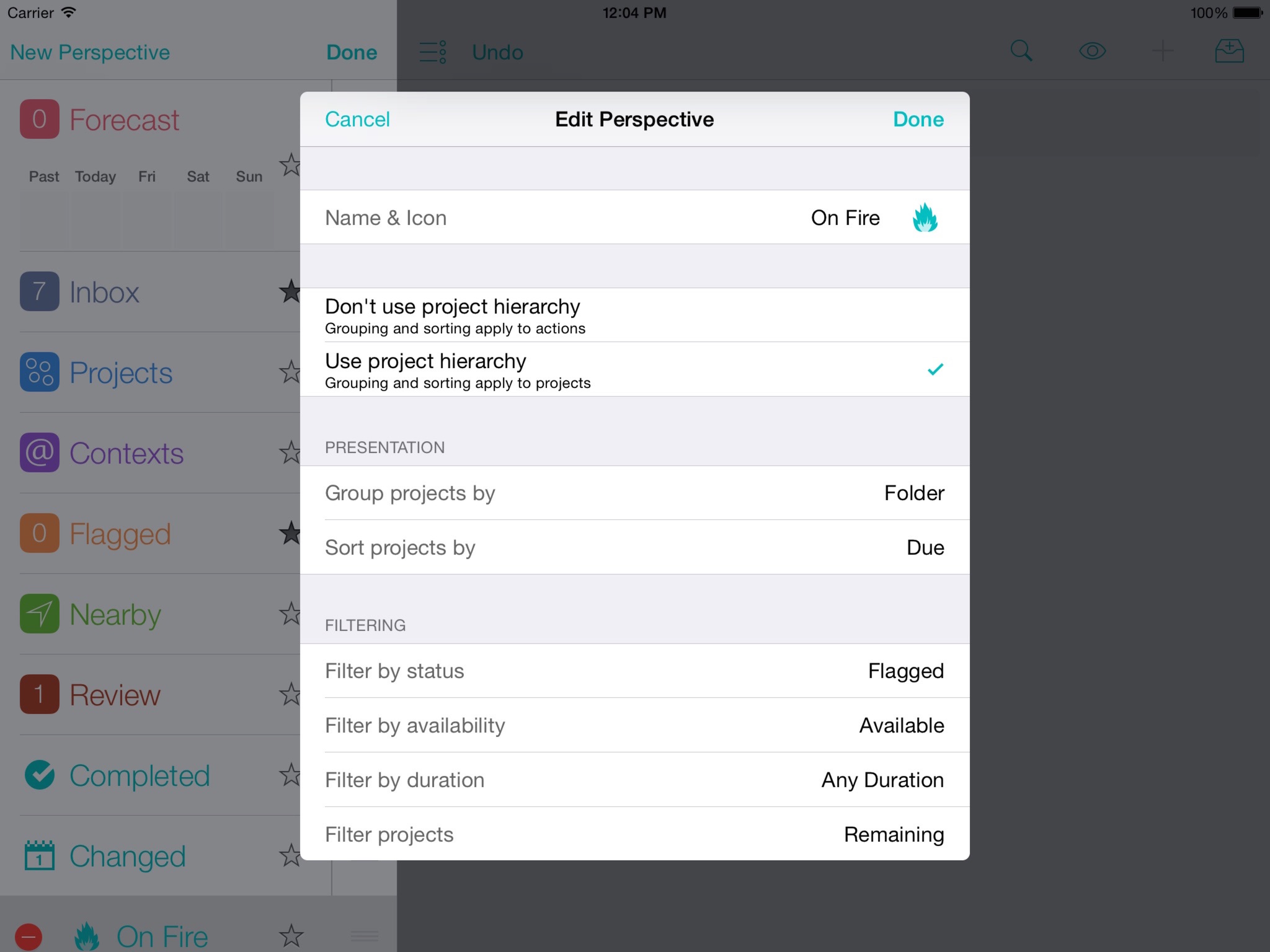 With Pro, you can create your own combinations of view settings, searches, and filters to see your work in exactly the right way. You can also arrange the top-level sidebar however you like, for quick access to your favorite perspectives.
Whether or not Pro is for you, we know you'll enjoy all of the other new features OmniFocus 2 has to offer! OmniFocus 2 is now available for just $29.99, and its Pro upgrade is now available as an optional in-app purchase for $19.99.
For those of you who purchased the first version of OmniFocus for iPad, we have a very special deal: we appreciate the support you've given us through the years, and we're showing our appreciation in a very concrete way by giving you the $19.99 Pro upgrade for free when you purchase version 2. Thank you for your support through the years!