OmniOutliner starts as a blank page. But as you collect, compose, and rearrange text, its powerful outlining features emerge to organize your ideas. Hierarchy, columns, styling, notes — use them all in concert or keep things simple, depending on the project at hand. From basic lists and tables to serious writing and data wrangling, OmniOutliner understands how to keep your work structured and tidy.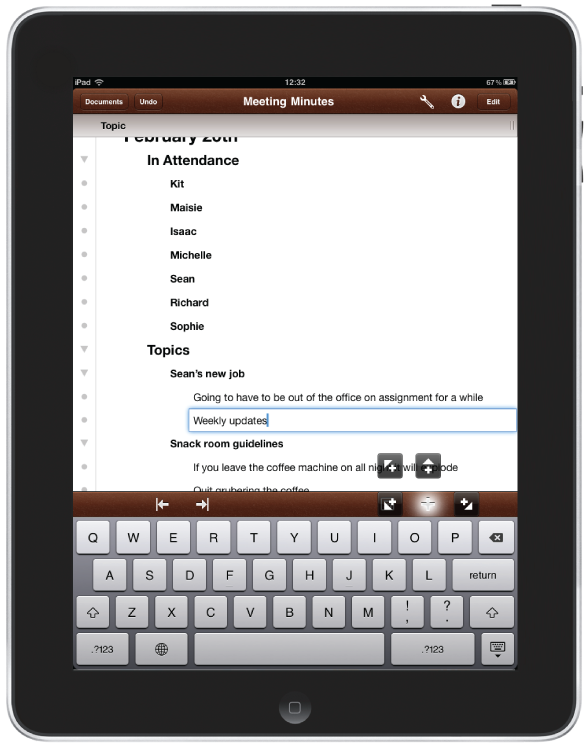 Structure
Expand and collapse groups to concentrate on what's important now. Use the flyout Plus buttons to put new items right where you need them. And of course, just drag items around when you need to rearrange the order. If you need to make a bigger change, use Edit mode to move or modify a bunch of rows at once.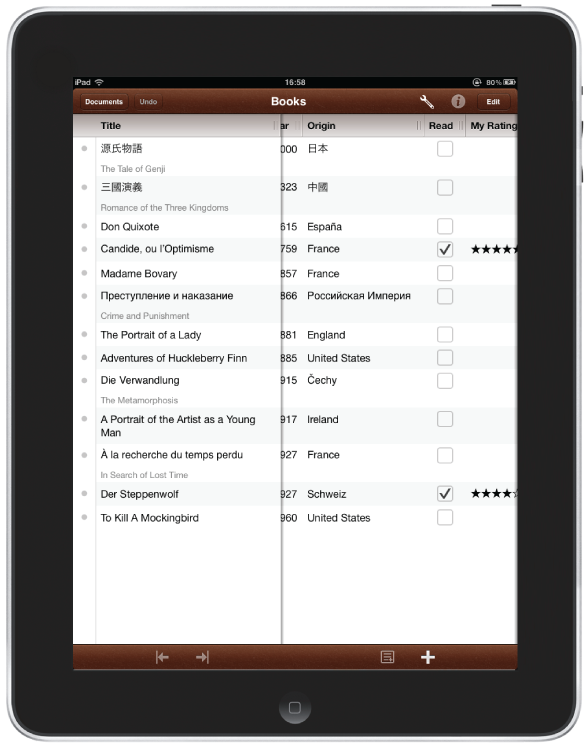 Columns
Checkboxes, formatted numbers, pop-up lists, dates… Keep track of any number of different fields in each row. If you have too many columns to see at once, you can hide some. Or just temporarily slide them underneath the main outline column to get at the ones you're interested in. You can even sort your rows by any column, then restore their original order.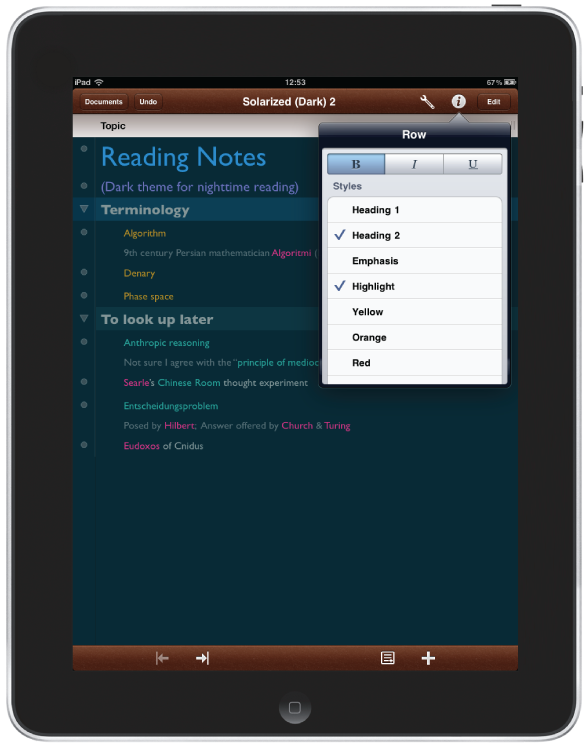 Styles
Thanks to the included sample documents and styles, you may never need to adjust anything yourself. But if you want to, check out our custom rich-text editor, with more detailed styling than you're likely to find anywhere else on iPad. Save your favorites as named styles, for quick and consistent styling across your document. Even chain styles together to automatically change rows based on their position in the hierarchy.
Latest release: April 08 2013
OmniOutliner for iPad 1.4.3 fixes a couple issues related to the audio recording feature and updates localizations.
Bug Fixes
If an audio recording is inserted into a cell that doesn't support attachments, it will instead be added to the note of the row.
Fixed an issue with the appearance of audio attachment icons on non-retina iPads.
Fixed a couple issues dealing with undoing the deletion of audio recordings.
Localized help files have been updated for the audio recording feature.
Some minor updates to the Spanish and Japanese localizations.
-------------
OmniOutliner for iPad 1.4.2 fixes a crash encountered when setting the summary type on a column as well as a couple other regressions.
Bug Fixes
The summary type for a column can be set again without crashing.
Fixed a possible crash encountered when editing notes and undoing those edits.
Notes will reappear correctly after undoing the deletion of the note.
A couple fixes to audio recording support to deal with some edge cases.
-------------
OmniOutliner for iPad 1.4.1 fixes a critical issue supporting date formats that use forward slashes when saving audio recordings.
-------------
OmniOutliner for iPad 1.4 adds audio recording and improved VoiceOver support.
Features
Audio Recording

Just tap the speech bubble in the middle of the bottom toolbar to record audio straight into your outline.

VoiceOver Improvements

We've been working on accessibility for OmniOutliner for iPad, but we know we still have a lot of work to do. Please send any feedback you may have about it to omnioutliner-ipad@omnigroup.com, so we can continue to make it better!