Perfect for quickly visualizing ideas and presenting them, OmniGraphSketcher for iPad helps you make elegant and precise graphs in seconds. Using simple multitouch gestures, you get the numeric precision of a charting application—with no complicated equations necessary. Whenever you need to produce a sharp-looking graph on the fly, OmniGraphSketcher for iPad combines the quantitative power of data plotting with the ease of touchscreen drawing.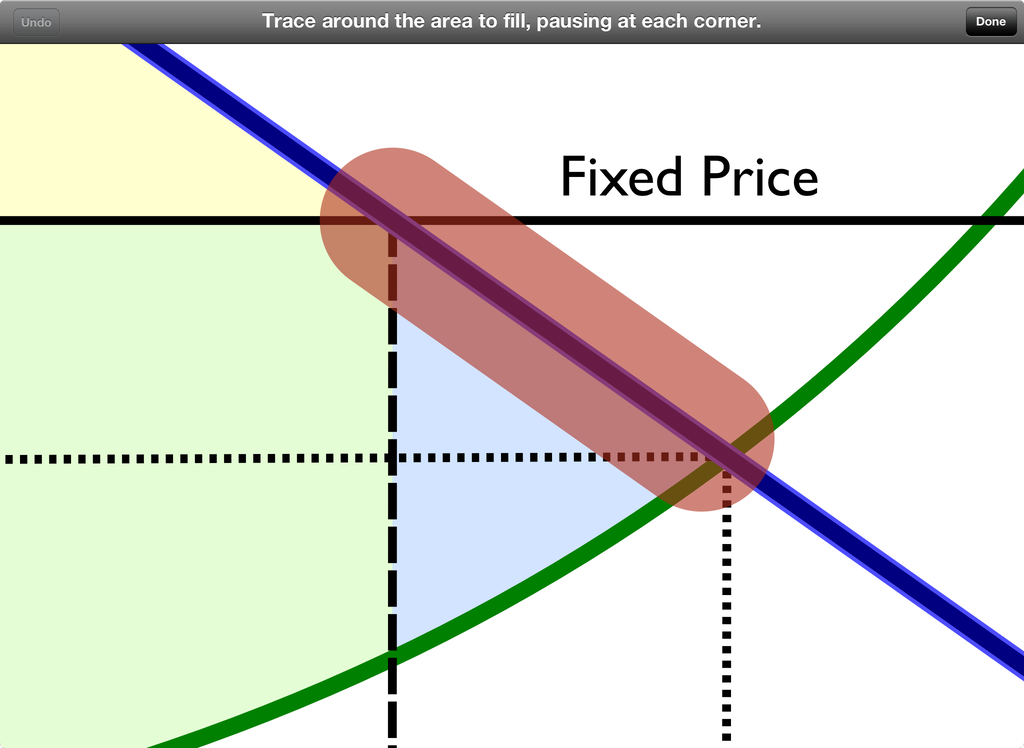 Easy Multi-Touch graph drawing
Get hands-on to create lines and data points, draw curves, and shade in important areas as easily as if you were drawing with numerically-precise fingerpaints. Sketch recognition turns whatever you draw into a smooth curve, so don't worry if you aren't the artistic type.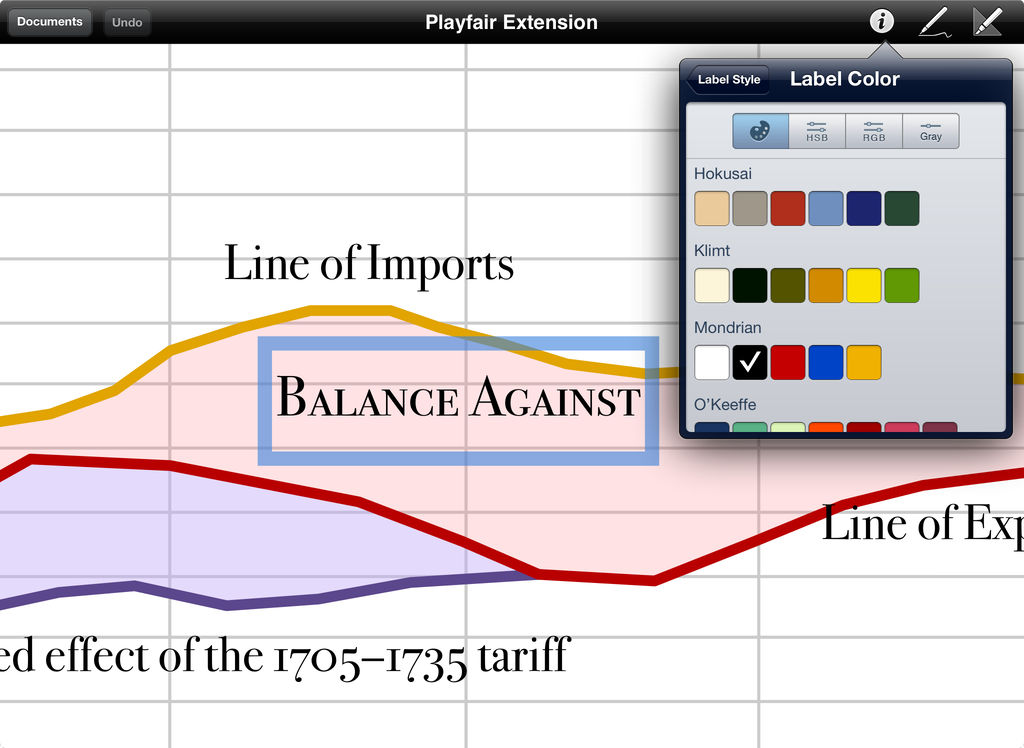 Professional results
OmniGraphSketcher for iPad makes it a breeze to quickly create high-quality charts and graphs without the need for complicated data plotting software. The simple, intuitive interface turns your freehand sketches into elegant, professional graphs. Behind the scenes, OmniGraphSketcher takes care of all the mathematical details so your graphs don't just look good, they're beautifully precise.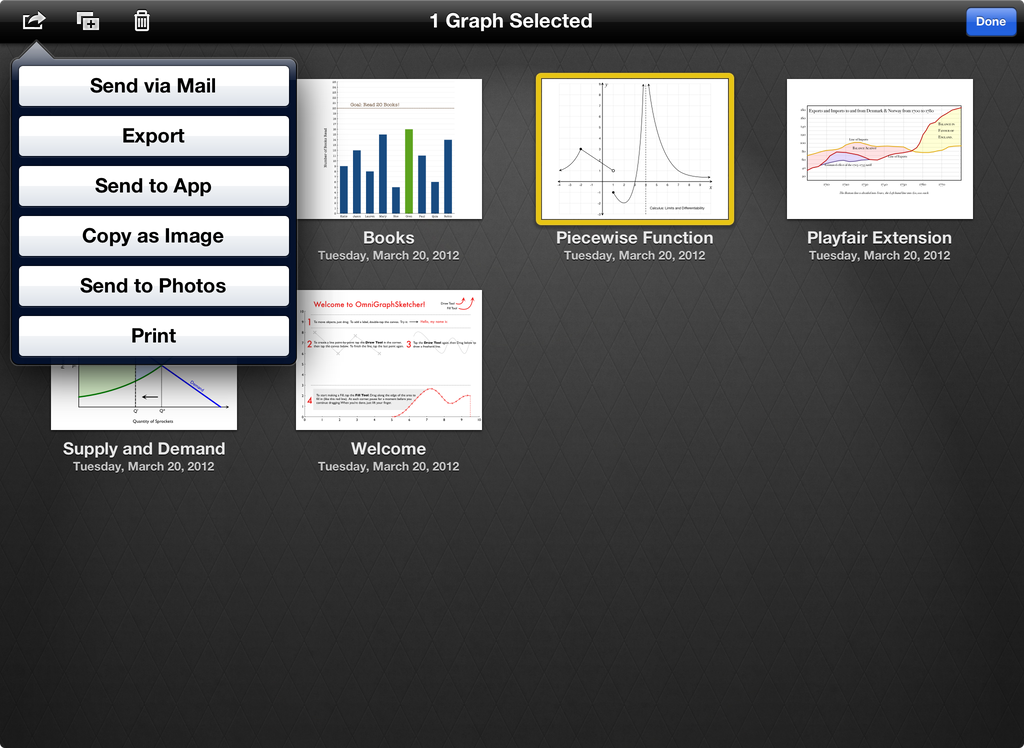 Easy export, collaboration, and sharing
Save your graphs to an iDisk or WebDAV server for easy collaboration with other OmniGraphSketcher users, or just email a PDF or PNG for quick approval. You can "Copy as Image" and paste into Pages or Keynote with just a few taps, or send a graph to the Photos application. Teaching a class or giving a talk? Plug in a VGA adapter and let your audience follow along as you create graphs on the big screen.
Latest release: May 22 2013
OmniGraphSketcher for iPad v1.7 is a major update that adds automatic document syncing through OmniPresence. (This release requires iOS 6.)
——
OmniPresence is designed to work well with any Mac app which supports OS X's Auto Save and Versions. Using the same underlying document coordination as Versions, OmniPresence lets your app know when a document has been changed on another device, and double-checks to make sure it always syncs a current and complete copy of any documents currently being edited. OmniPresence can't prevent conflicting edits from multiple devices—but when that happens it automatically saves both versions of conflicting edits so that no edits are lost.
OmniPresence is also designed to support document syncing within teams. By creating a shared sync account for your team, you can make sure that everyone on your team always has the latest copy of every document available on all their devices.
We believe in building solutions that will stand the test of time, and we believe that your data should be yours to control—whether you're syncing your personal files or your company's confidential information. So rather than use a proprietary syncing service which might not be available in five or ten years, OmniPresence is built on top of open web server technologies. This means you can sync documents using your own web server, such as the Apache server built into Mountain Lion Server. (We've posted instructions for setting up WebDAV file sharing on Mountain Lion Server on our support pages.)
We know that some customers would rather not have to set up their own service, so we're currently scaling up our Omni Sync Server to support OmniPresence. We're not quite sure how much additional traffic to expect from customers using OmniPresence, so we're not opening the floodgates to all our customers just yet—but we are trying to make OmniPresence available to all accounts as quickly as possible. (Anyone who has checked the "I am brave" box at sync.omnigroup.com should already have access, and anyone else who checks that box will be given priority access.)
——
New Features
Support for syncing your documents between devices is now available through OmniPresence. View the help documentation for more information on how to use it.
When renaming files through the toolbar, the whole width of the toolbar is made available for the file name.
Bug Fixes * Editing existing labels now puts the cursor at the end of the text rather than selecting the entire label text. * New line tick marks now use the correct color when added to a line after its color changes.