Your iPad is your canvas with OmniGraffle for iPad. Use simple gestures to draw shapes, create objects, and style it all until it's just right. Share your creations via PDF or keep up the fine tuning in OmniGraffle for Mac. When you have a vision for how your information needs to be presented or your processes are carried out, OmniGraffle for iPad is the tool to help you organize your thoughts visually, document them beautifully, and communicate your ideas to the world.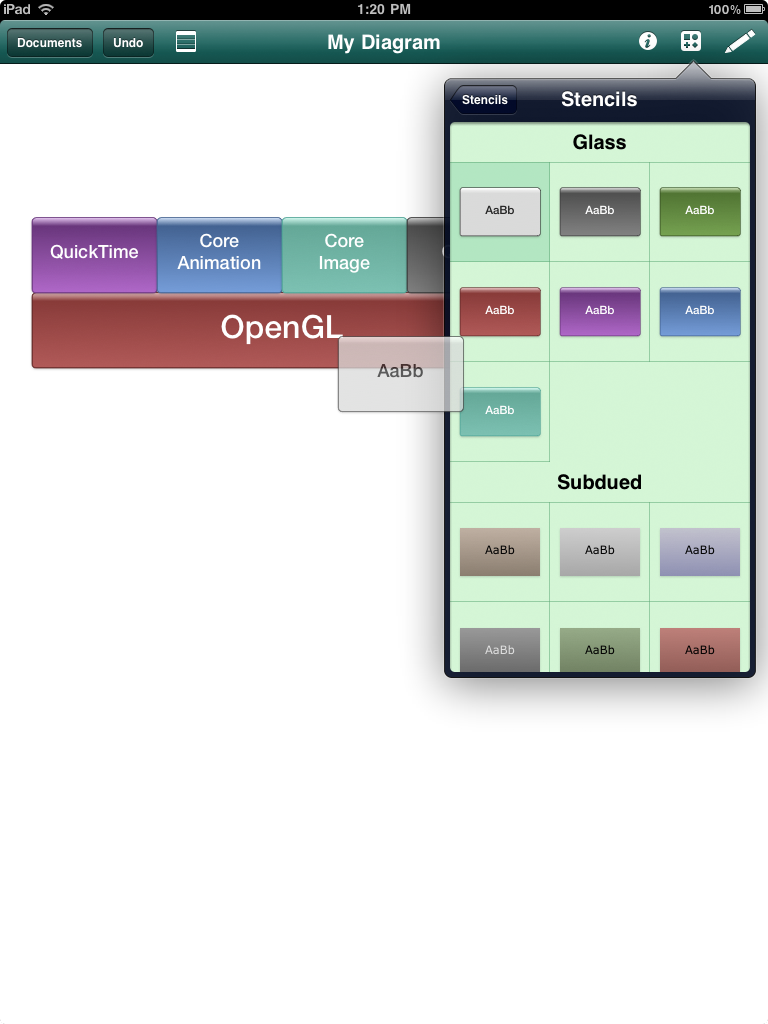 Stencils
Start with OmniGraffle for iPad's built-in Stencil collection for fast document creation: just touch and hold a shape, then drag it into the canvas. If you prefer a more hands-on approach, tap the Draw button in the toolbar to enter Draw mode. Choose the shape you want from the Shape Inspector, then drag out custom-sized shapes. To draw a line, just touch and hold the canvas, then drag. Adjustable shapes such as stars and circles can be manipulated with the touch of a finger, so you can easily change a 5-pointed star into an 12-pointed star (and decide just how pointy you want its points to be) or draw a perfect quarter-circle.
Built-in stencils include Shapes, 3D Shapes, Connections, Fonts, Fills, Software, and Variables. Many third-party OmniGraffle stencils are also supported.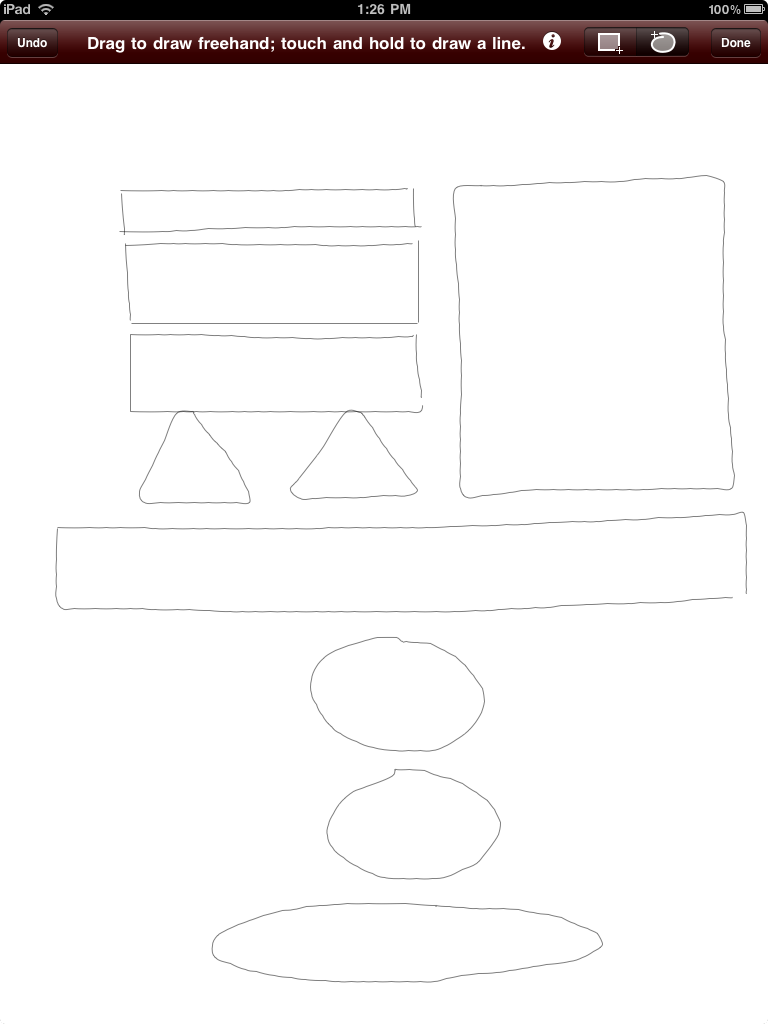 Freehand Drawing
OmniGraffle leverages the unique capabilities of the iPad by allowing you to sketch freehand shapes directly onto your canvas. Remember fingerpainting? It's not that different: just drag your finger across the screen to draw. If the end of a drawing nears the beginning, OmniGraffle for iPad closes the shape for you.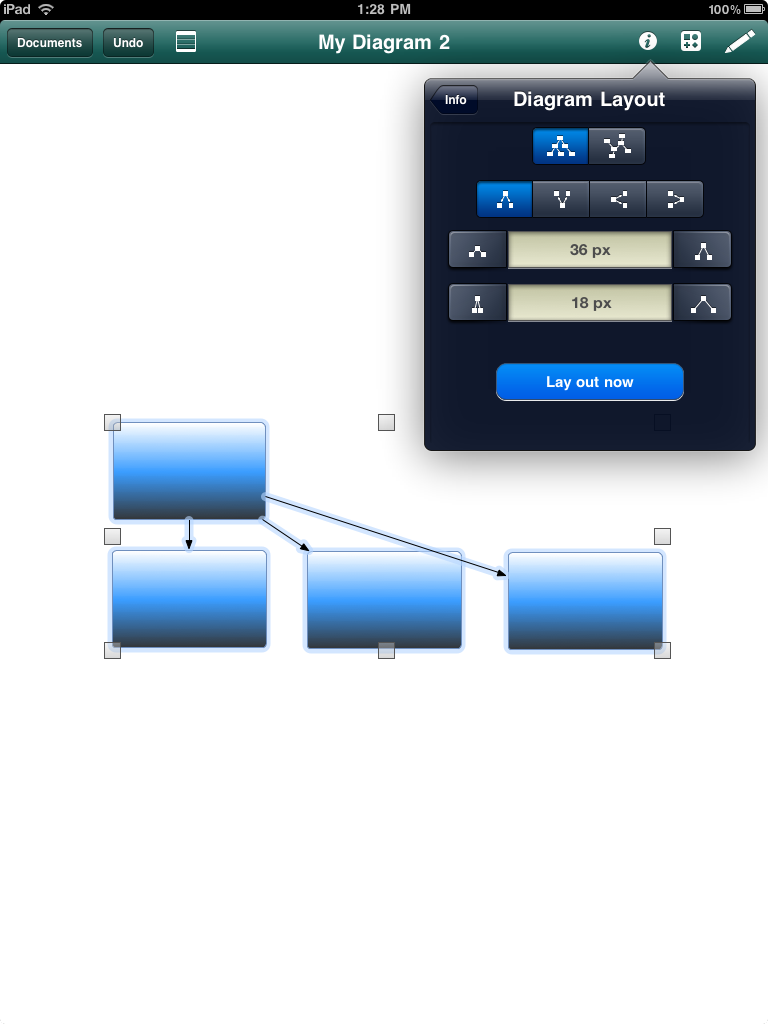 Diagramming Tools
OmniGraffle for iPad knows what makes a diagram different from a drawing, and can keep lines connected to shapes even when they're moved. In Draw mode, touch and drag to connect shapes together. The Diagram Layout inspector gives you several options for automatically rearranging your diagram—touch "Lay out now" and your shapes will be magically organized across your canvas. Use the standard pinch gesture to zoom in and out, so you can focus on a detailed area of your canvas, or zoom out to see the big picture.
Latest release: May 22 2013
OmniGraffle for iPad 1.9 is a major update that adds OmniPresence Document Syncing, a new Notes and Data Inspector, and offers a number of important bug fixes.
New Features
OmniPresence Support - OmniGraffle documents that are present in an OmniPresence folder will sync to OmniGraffle for iPad.
New Notes and Data Inspector - Annotate objects with handy notes and key-value metadata pairs.
Bug Fixes
Interface improvements have been made to the Drawing Tools Inspector popover.
Interface improvements have been made to the Stencils popover to better relay information about stencils in an OmniPresence folder and their state.
Very small objects in the Stencils popover will now scale up to fit in their respective cell.
When snap to grid is on, dragging out a stencil should now place it snapped to the grid.
Snap-to-Grid should now prefer the closest edge of an object instead of the closest corner.
Zoom state is now saved along with the document.
Opening the Info Inspector with a locked object selected should now return to the root level of the popover.
Fixed a hang when attempting to open documents created in previous versions of OmniGraffle for iPad.
The Text Position Inspector popover now works when text is selected.
Fixed a crash when tapping away from the radial fill before it finished loading in the Fill Inspector popover.
In progress text edits are now saved when backgrounding the app.
Fixed a bug where resizing an object could cause it to move position when aspect ratio was on.
Minor localization fixes have been made.
Fixed a bug where text that overflowed its object wouldn't fully redraw after changing the text alignment.
Fixed a number of zoom-related gestures.