A Spring 2022 Update from the Omni Group
Welcome to another issue of the Omni Newsletter! The rainy days of spring are upon us in Seattle, signaling another batch of news from Omni land. This time around we have updates for you from a variety of corners, so let's get this show on the road!
OmniPlan 4.4 Adds Localizations and Improved Scheduling
OmniPlan shipped a significant update at the end of March, with version 4.4 coming to all platforms. This release brings localized UI to OmniPlan 4 for iPad and iPhone, joining OmniPlan 4 for Mac in Dutch, French, German, Italian, Japanese, Korean, Portuguese, Russian, Simplified Chinese, and Spanish. With OmniPlan 4 localized across all platforms, working in your language of choice — and collaborating with stakeholders around the world — is now easier than ever.
OmniPlan 4.4 also includes a collection of enhancements to the app's resource leveling and scheduling capabilities, improving how OmniPlan handles complex project scenarios with even more accurate and responsive forecasting. With these changes at work under the hood, we're happy to call this the most powerful and precise version of OmniPlan yet. Check out the release notes for details, or give OmniPlan a try.
OmniOutliner 5.10 for Mac Adds MORE Import Support
There's a long, rich history of outlining apps for Mac, few with as central a role to many folks' workflows as Symantec's MORE, created by Dave Winer in 1986. While MORE itself no longer runs on modern Mac hardware, versions of OmniOutliner through the years have supported its file format, and with the release of OmniOutliner 5.10 for Mac we're happy to say that MORE is once again supported for import.
This has been a big request from some of our most dedicated users and outliner advocates, so it's great to re-establish this continuity for folks with valuable data that they'd like to reclaim. We're proud to be a part of the long lineage of Mac productivity software, and we love taking the opportunity to forge connections like this where we can.
OmniFocus 4 Check-In
Development on the iPhone and iPad versions of OmniFocus 4 continues to progress, and each experiment we try in our weekly TestFlight builds brings us closer to shipping. We're narrowing down solutions for the last big design questions we have, and we're excited to move ahead into the polish phases leading up to the app's release.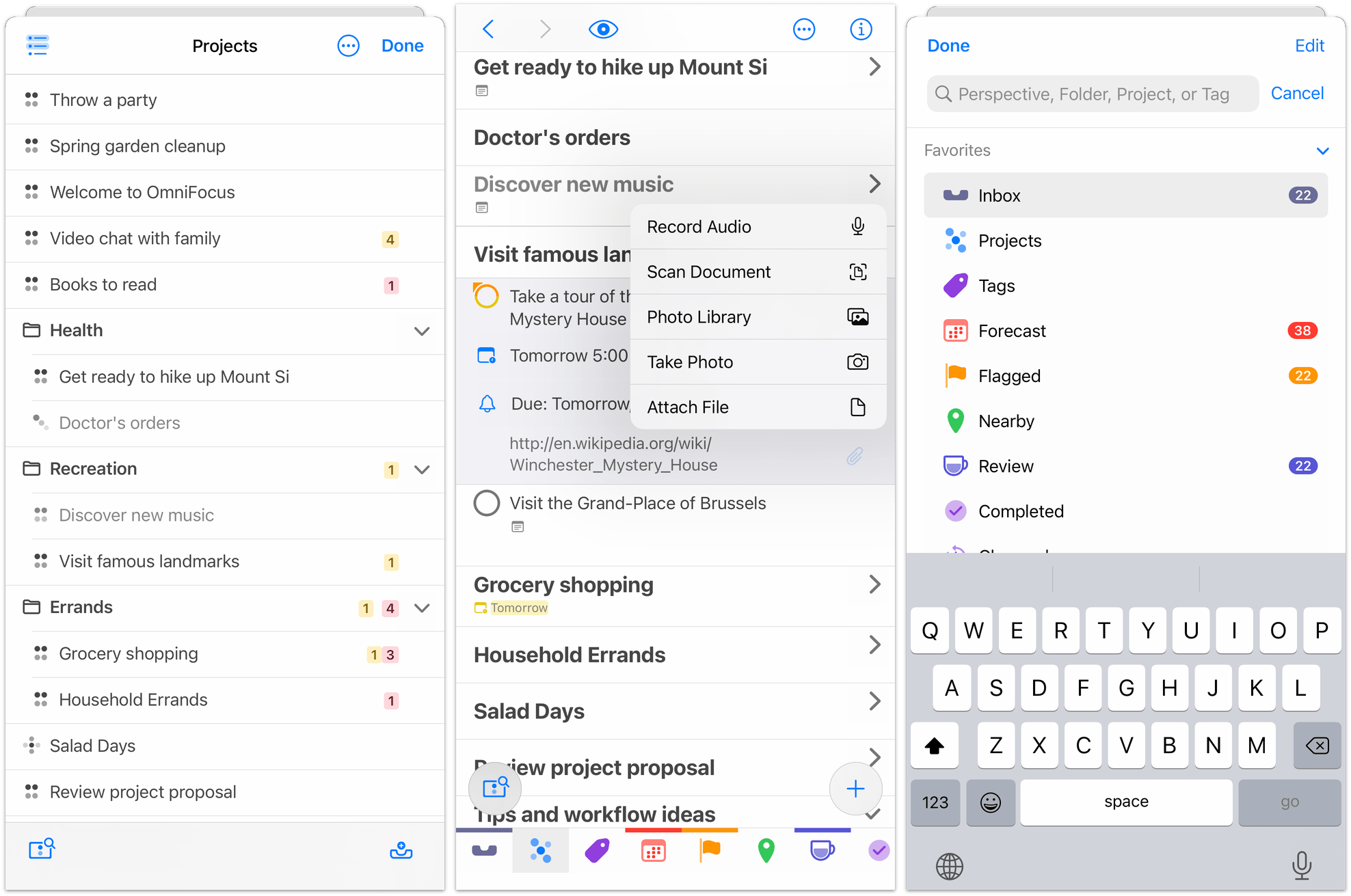 While we're not quite ready to announce a release date yet, we'd like to remind folks that anyone who purchases OmniFocus 3 today will receive a free upgrade to version 4 when it ships. In the meantime we're still welcoming feedback on the TestFlight and in our public Slack, so please stop by and check it out if you're interested.
Finally, a note that our engineers are hard at work bringing OmniFocus 4 for Mac to life. We don't have specific news to share at the moment, but watch this space (and keep an eye on the Omni Blog)!
Highlights From The Omni Show
As we look ahead to the summer, we've got some great episodes of The Omni Show to share with you — packed with productivity tips to help you make the most of your time, on or off the job:
Same Omni, Different Newsletter
We've switched up our newsletter delivery system with this issue, and while we've tested to make sure the letter gets sent off to you without a hitch, there's always the chance that things got scrambled a bit in the wires. If you notice anything amiss with this issue, please contact Support and let us know.
What's Next
As savvy followers of Apple software development will be aware, Apple's Worldwide Developers' Conference is nearly upon us! The one thing we can predict is that change will be coming, and the best laid plans of developers are often reevaluated in the light of new features coming in the fall — so look forward to a Roadmap update from us after the event to hear how Omni's plans might be affected.
Until then, stay warm (or cool), stay safe, and we'll see you next time.
Want to catch up on past newsletters? Check out the archive here.